The Tranquil Bliss of an Adults-Only Hotel – Perfect for your Special Day
When you're booking a hotel for your wedding, you want an exquisite magical location that's just perfect for you, your beloved one, and your guests. You're looking for that idyllic location you've always dreamed of for a beautiful setting for the ceremony, you'll want delicious food that is out of this world, and a lovely place for your guests to gather and celebrate your special day with you. It's highly likely that the hotel you choose will be where you'll stay for some time before and after your wedding day, so it also needs to be truly special, relaxing, and romantic for your honeymoon. Somewhere luxurious, to prepare for your big day and savour every single moment. An adults-only resort is the perfect option, as they will cater to the specific needs of adults and will offer the ultimate perfection for such an important event.
Pick an adults-only hotel and enjoy a wide range of benefits, tailor made for you, the perfect start to married life. Firstly, you're guaranteed to have a calm ambience. You'll be able to find quiet, romantic spots around the grounds where you can enjoy each other's company, to reflect on the special day, and simply appreciate all that you have in majestic settings. Everything spanning from the food to the entertainment will be designed to delight adults.
This is your big day. A day to share and make wonderful memories with your true love, captured in your mind and in your photographs, to always treasure.
We've picked out a selection of the most luxurious and romantic adults-only hotels, all of which can be booked for your wedding Instantly through BookYourWeddingDay.com.
Amavi Holiday Perfection for Couples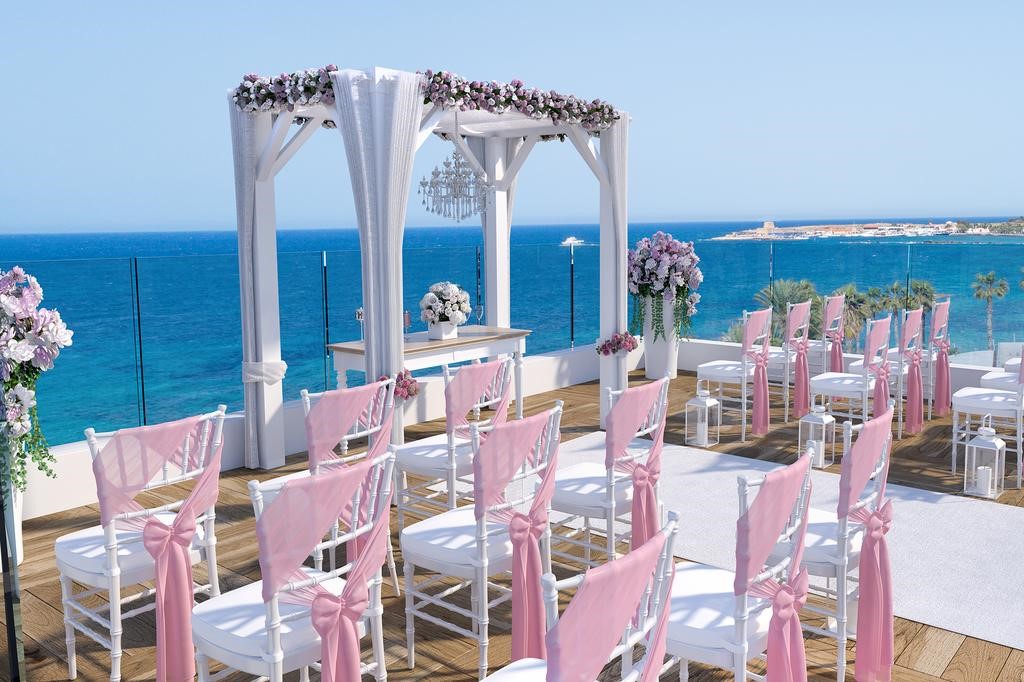 This brand new hotel has been specifically designed for couples, with a focus on offering the most stunning setting to have a peaceful and romantic time together. Perfect for a special event, this five-star luxurious hotel is set upon a beautiful "Blue Flag" beach in the historical city of Paphos – Cyprus. Renowned for its tasty signature dishes created by a team of award-winning chefs, and its fine spa facilities complete with relaxing massages, your stay at the Amavi hotel will be perfect in every way possible. The innovative "Made for Two" concept is the first of its kind in Cyprus, with togetherness being the centre to everything you do here. It makes the perfect place to bond, for the most wonderful beginning to the rest of your lives together!
Discover more about Amavi Hotel and make your booking
Stella island Luxury Resort & Spa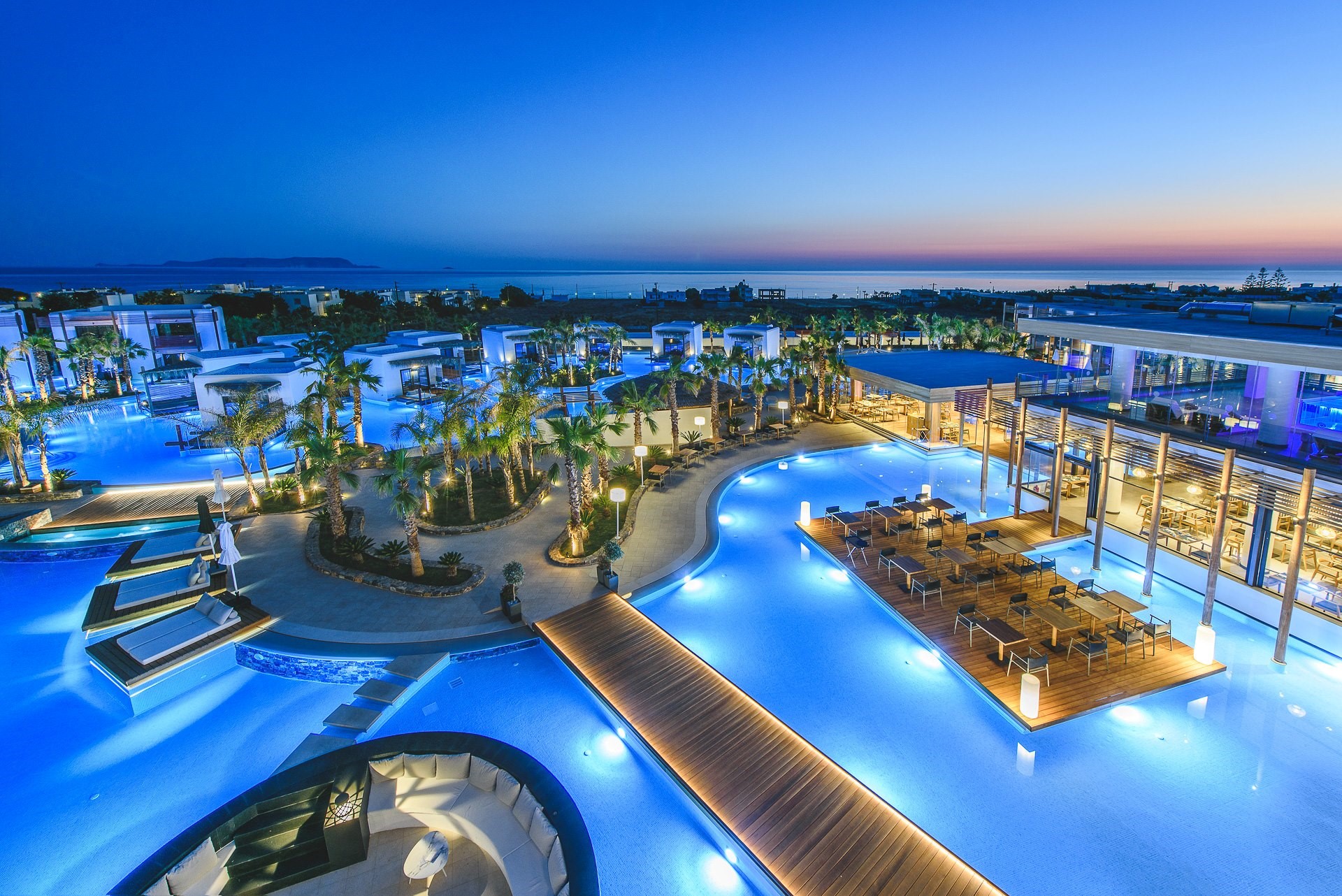 Stella Island Luxury Resort and Spa, in Analipsis Hersonissos – Crete, is a popular wedding venue and once you see the place you'll know why. It's exactly tailored to offer couples a relaxing atmosphere with luxury services. Choosing from a plethora of wedding ceremony locations and everything you could possibly want for your honeymoon, you're surely going to get pampered here. How about your own luxury villa with private pool? Doesn't that sound like a gorgeous way to start your married life? You can also enjoy a private dinner prepared by executive chefs and relax with a couple's spa treatment. Get to live your Grecian dream!
Discover more about Stella Island and make your booking
Aquagrand Exclusive Luxury Resort and Spa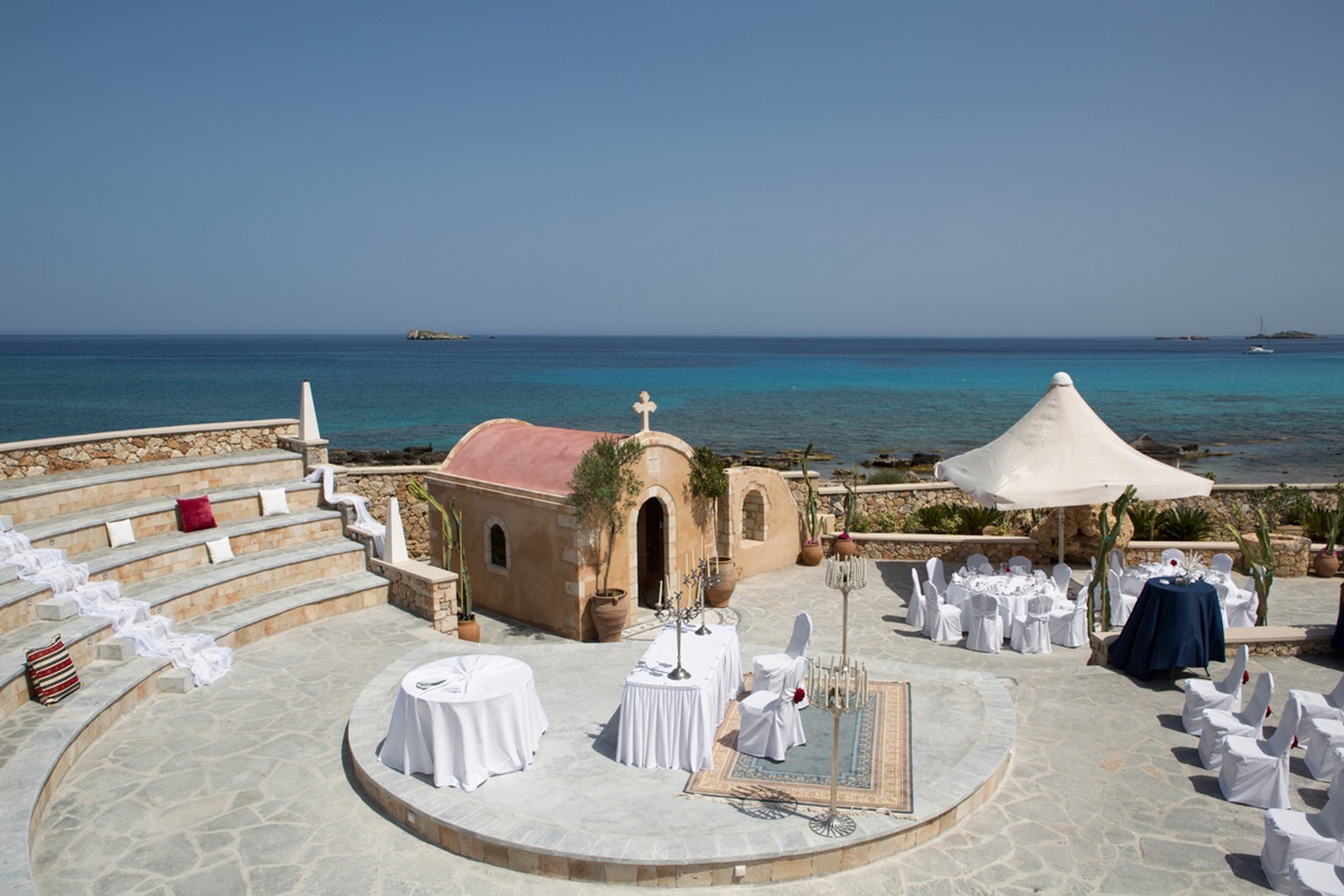 This exclusive deluxe resort is located two kilometres from the village centre, situated by the beach in Lindos – Rhodes, overlooking the stunning Aegean Sea. Imagining making your vows right on the beach here with spectacular breath-taking ocean views, or in one of several other glorious locations around the resort. Their sea-view suites and private pools are truly special, certainly treating you to a stylish wedding, or welcoming you for an unforgettable honeymoon. The Resort prides itself on being specialised and experienced to answer all your questions and offer a personalised service to you. Aquagrand combines luxury with elegance and the island's unique history to help you live in your own perfect peaceful heaven.
A piece of trivia that might excite cinephiles is that Aquagrand is located on the beachfront that hosted the Oscar-awarded "Guns of Navarone".
Discover more about Aquagrand and make your booking
Oceanis Beach & Spa Resort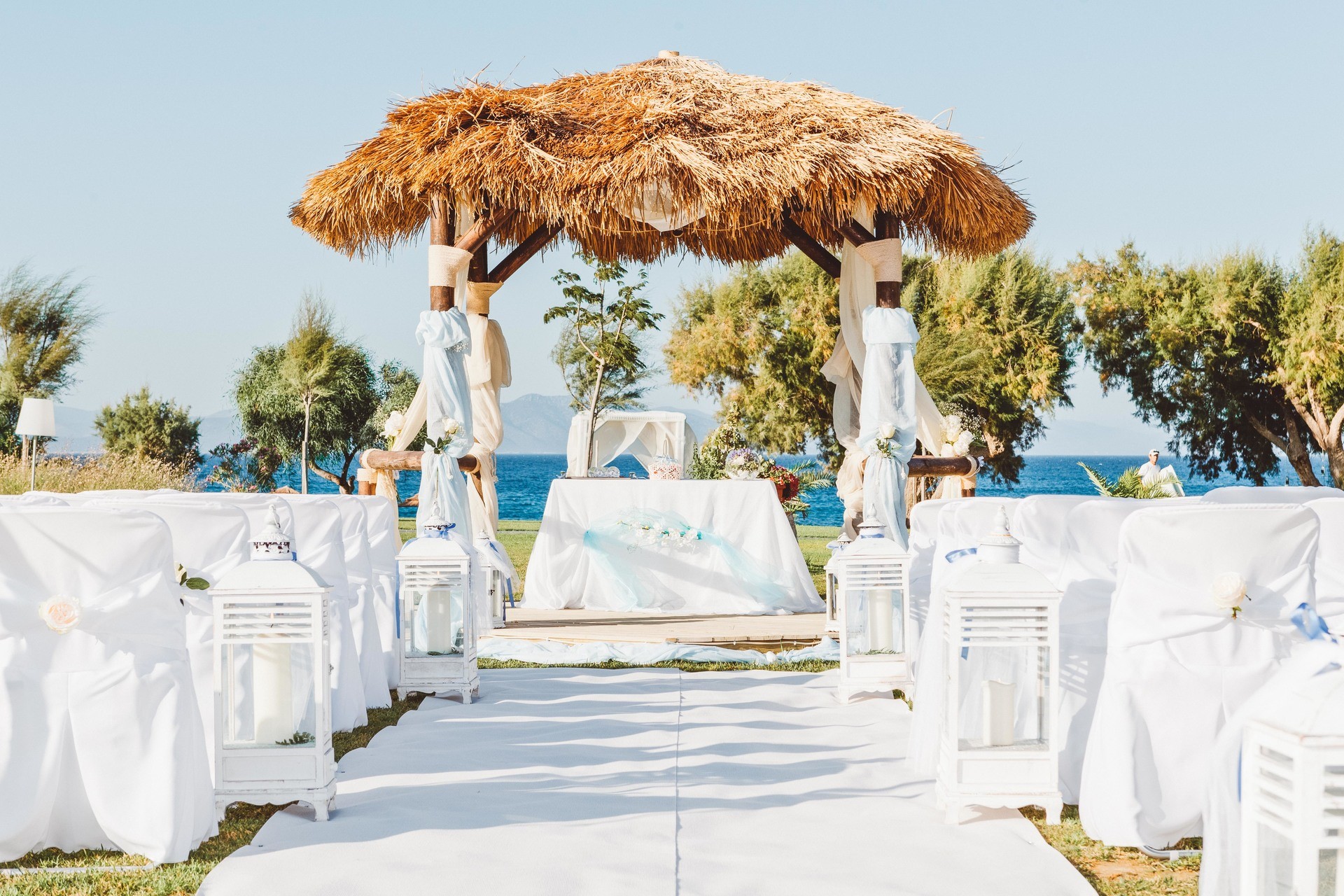 The Oceanis Beach and Spa Resort , on the breath-taking island of Kos – Greece, has a picturesque church within its grounds that's perfect for your wedding ceremony or vows' renewal. Especially designed for couples and oozing in romance, the resort is on a quiet spot right on the beach, ensuring a peaceful, relaxing break for the build up to your wedding, your ceremony, and your first holiday as a married couple. Should you wish to venture out and explore, you're just 4km from the centre of Kos town. With a beautiful main pool, great food, and delicious cocktails, it's the perfect place to make some great memories. Watch the sun set over the ocean as you await the next perfect day in paradise.
Discover more about Oceanis Beach and Spa Resort and make your booking
Book your wedding date at your dream hotel today!
Although hard to keep this list short, we hope that you've enjoyed what you've read so far and pop on to BookYourWeddingDay.com to continue your hunt in finding the venue that fits you and your needs perfectly! If you've dreamed of your wedding venue, you can find it, and so much more. Now, all you have to do is book it right away!
Recent Posts
Santorini is often said to be the most popular Greek island, and once you've visited this ...
Newly engaged or just started thinking about your wedding? Congrats! You are one step closer to ...
In most places around the world, the winter months can bring gloomy weather and short, dark ...
Have you been dreaming of white-sand beaches, jaw-dropping ocean-views and magnificent ...