First ever wedding booked via innovative BookYourWeddingDay.com conducted in Paphos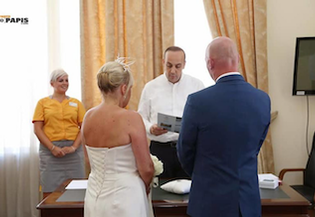 A day after the magical summer solstice, June 22nd 2017 witnessed the successful execution of the island's very first civil ceremony booked via the innovative BookYourWeddingDay.com platform by the tourist organization Thomas Cook.
The occasion saw a British couple jet in from the UK to tie the knot, with the duo choosing to exchange vows in the idyllic seaside town of Paphos in a ceremony conducted by Paphos Mayor, Phedona Phedonos.
"It is with great pleasure that I conducted the first civil wedding that was booked through the innovative BookYourWeddingDay.com," says Phedonos. "We are proud that Paphos Town Hall was the first Town Hall to partake in this inspiring initiative, well-aware of the great importance of promoting wedding tourism in the historic seaside town, recognizing the multiple benefits that it bestows on our island and its economy as a whole."
To date, an impressive 860 bookings for civil ceremonies have been made via BookYourWeddingDay.com, following the official launch of the platform on March 14th. Patented in Cyprus, the international wedding tourism portal guarantees that all interested couples can instantly secure their wedding date at their preferred venue via an automated booking system, in a fast, efficient and hassle free manner.