A brand new innovative platform: BookYourWeddingDay.com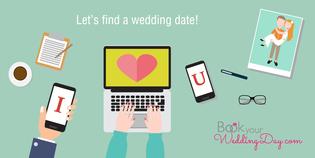 A brand new innovative platform is about to dramatically impact the wedding tourism market in Cyprus, expected to not only encourage positive change and facilitate current procedures, but also generate substantial income for the Cyprus economy. BookYourWeddingDay.com, the first and only international civil weddings service for booking a wedding date in Cyprus and the only service of its kind in the world, will be officially launched in August.
The platform, which is a Cyprus-born idea, is expected to revolutionize and simplify the lengthy procedures needed to book a date for civil marriages on the island; a phenomenon that sometimes discourages couples looking to wed in the country. Following on from the automation of the date validation process, tour operators, wedding planners and couples living in Cyprus or abroad wishing to get married on the island, will now be able to instantly check availability and book their desired venue with the click of a button.
It is worth noting that a great number of town halls and hotels already participate in the platform, making their job easier, faster and more efficient. Not only will it provide them with increased visibility, but it will also help them save time while cutting costs. More specifically, the platform, which will be available at no cost, through its automated process will save the government employee's valuable time due to increased practicality, but it will also provide them with important information and statistics in real time. Furthermore, the whole booking process will become far more efficient with the help of the platform, due to the greater organisation and control over personal details filled in by the respective couple, avoiding multiple bookings that have resulted in many cancellations in the past.
This revolutionary idea has received important honours and awards at both local and international innovation competitions, and has already captured the attention of the media in Cyprus, Greece and the United Kingdom.