BookYourWeddingDay.com celebrates 10,000 wedding bookings in Cyprus and Greece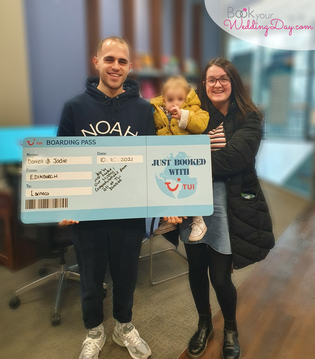 Global Innovative wedding tourism platform BookYourWeddingDay.com reached a significant milestone on Sunday, February 2nd 2020, having received its 10,000th wedding booking since its launch!
The booking was made at one of global travel agent TUI's stores in Edinburgh, strategic partner of BookYourWeddingDay.com, for Darrel and Jodie who booked their wedding through the platform, at the Olympic Lagoon Resort in Ayia Napa on October 10th 2021. The wedding will be conducted by the Mayor of Ayia Napa.
Within the framework of the celebrations of the 10,000 bookings, BookYourWeddingDay.com offered the happy couple a week's vacation at the Olympic Lagoon Resort for their first wedding anniversary.
Founder and CEO of the platform BookYourWeddingDay.com Maria Evripides stated: "We are extremely happy and we would like to thank our partners, and of course the 10,000 couples who booked their wedding through our platform. It seems that our hard work has paid off, as within three years we managed to grow on a global level, forming strategic partnerships, promoting Cyprus and Greece abroad and contributing to wedding tourism."
BookYourWeddingDay.com launched its operations in Cyprus in 2017 as a startup, offering the opportunity to travel agents, wedding planners, and couples to book their civil wedding date and ideal venue in Cyprus and Greece. Today, having established collaborations with most municipalities, hotels and wedding venues in Cyprus and Greece, as well as global travel agents such as TUI, and Thomas Cook in the past, the platform has expanded enabling couples to book their wedding in various countries, facilitating processes and broadening their choices around the world.