BookYourWeddingDay.com expands its network New collaboration with Thomas Cook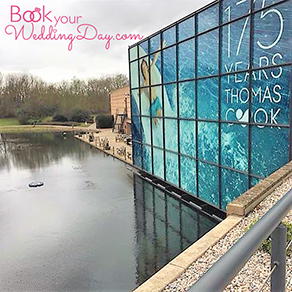 BookYourWeddingDay.com, the first and only international online booking platform that allows tour operators, travel agents, wedding planners and wedding couples to book overseas wedding dates and venues with instant online confirmation, has just announced its collaboration with Thomas Cook, the oldest and best known name in leisure travel.
This announcement is the second major strategic collaboration, following a similar agreement that was concluded with TUI UK, only a few weeks earlier. The welcome that BookYourWeddingDay.com has received from two market leading tour operators reflects the value of this innovative platform that has revolutionized the destination weddings market. By synchronising the calendars of hotels and other ceremony venues with their respective town halls, BookYourWeddingDay.com instantly eliminates weeks of waiting and a lengthy chain of correspondence, and instead offers instant online confirmation of overseas wedding dates and venues.
The award-winning platform is currently linked to the most popular municipalities and wedding venues in Cyprus and Greece that are licenced to conduct internationally recognized civil marriage ceremonies. As such, BookYourWeddingDay.com will have an enormous and positive impact on several levels. It is a valuable tool in the hands of tour operators and a godsend for the couples planning a wedding overseas. At the same time, it will give wedding tourism to Cyprus and Greece a competitive advantage and a powerful boost.
Thomas Cook staff members have already received thorough training at the Company's central offices in Peterborough, UK, in order to be fully conversant with the BookYourWeddingDay.com system and be able to serve their clients with just a few clicks.
After signing the agreement, Maria Evripides, the Founder and CEO of BookYourWeddingDay.com, said: "We are delighted to have the opportunity to add value to the service that Thomas Cook offers couples who would like to get married in Cyprus or Greece. In this day and age, time is of the essence; anything that saves businesses and consumers precious time is valuable. The fact that we have now earned the trust of the Thomas Cook Group further validates our vision which was clear right from the start: to support everyone involved in wedding tourism, and above all the happy couples themselves."