Your Destination Wedding Timeline
You may have already decided to get married overseas, or are still toying with the idea. Either way, you are probably wondering what the timing of a wedding away from home would look like.
BookYourWeddingDay.com was created to make it easy for you to confirm the date and venue of your wedding abroad. And now we want to offer you additional, practical assistance to ensure your destination wedding plans are all under control!
The following timeline and checklist will allow you to plan comfortably, without stressing or panicking – or forgetting any important steps!
12-18 months before the wedding
Every wonderful stage or special occasion in our lives calls for a party! Gather your friends and family and share your exciting news with them. And after the fun of the party, you'll be all set to get to work.
First things first: You can't really make any fixed plans without a confirmed wedding date and venue – and the earlier you start, the less you will have to rush, and the more you will enjoy every step. To allow yourself plenty of time, visit BookYourWeddingDay.com at least 12 months before the date you are aiming for and browse through the directory of venues in the most popular overseas wedding destinations. Book your preferred date, time and venue, and save the instant confirmation e-mail that you will find in your inbox. Now you're ready to start planning all the wonderful and romantic details! Remember, the BookYourWeddingDay.com platform also offers you the option to send out "Save the Date" notices to everyone on your guest list.
With a confirmed wedding date and venue, and about one year before the big day, it's time to start combining research and your own imagination, to choose the style and theme you would like to have for your wedding celebration: Bohemian or sophisticated luxury? Country style or urban finesse? Vintage charm or contemporary class? Whatever you prefer, make sure it reflects your own and your partner's personalities. Once that is finalized, you'll be ready to choose your bridesmaids and groomsmen. They will help you organize the details and share all the excitement!
9-11 months before the wedding
At this point, and once you have booked your wedding destination and location, it's time make arrangements for the actual journey. With your confirmation e-mail from BookYourWeddingDay.com in hand, visit your travel agent to book your air tickets, make hotel reservations for your stay and perhaps the honeymoon. Most couples agree that the beauty of a destination wedding is that you can combine it with a honeymoon that starts the morning after the wedding, without any further travel!
Once your own trip is sorted out, the next step is to formally inform your guests. Send out the invitations and make sure to request RSVPs. As your wedding will involve traveling, let your guests know the details as early as possible, to allow them ample time to make their arrangements. You could also recommend your travel agent to them and suggest that they book the same hotel where you will be staying, or an alternative nearby, to maximize the time you can spend together and minimize the transfers and transportation. By sharing this information, you can save your guests a lot of time and research, which they will surely appreciate.
Also, for gifts, organize a wedding registry in your home town. It really makes no sense to have your guests carry gifts to the wedding destination, only for you to carry them back home!
If you insist on the services of your trusted local hair and make-up professionals, book them early – at this point! Alternatively, you can find styling professionals at your wedding destination and meet with them as soon as you arrive. By this time, chances are you already have an idea of the kind of wedding dress you would like, so start shopping around!
4-8 months before the wedding
It's best to finalize your air tickets and hotel reservations about 4 to 8 months before your big day. Talk to the suppliers to confirm flowers, decorations and all other details of your wedding celebration. You will want to capture this special occasion in photos and film, so do some research and check out the websites of wedding photographers at your wedding destination. Your wedding planner can offer assistance, recommendations, and help you book your preferred photographer. Above all, now is the time to log in to your BookYourWeddingDay.com account to upload all the necessary legal documents that have been requested by the municipality at the wedding destination.
2-3 months before the wedding
By now, you should have made all the decisions and bookings. It's time to focus on the final touches and fittings of your wedding dress, and help your bridesmaids shop for their own outfits. Your groom and his groomsmen should be doing the same – give them a gentle nudge or reminder, to make sure everyone is on track. This is shopping season for the couple, with jewellery, shoes and accessories on your list. If you haven't already done so, go out with your future husband and enjoy shopping, selecting and sizing your weddings bands; write your vows, finalize the music and confirm all bookings one last time to ensure a smooth and hassle-free wedding.
1 month before the wedding
If your wedding dress is easy to pack, you can take it with you in your luggage. Otherwise, contact your travel agent or the flying company to advise you on how you can safely ship your wedding dress to the destination.
Once everything has been arranged and confirmed, you can relax and enjoy your bachelor party and hen night! Your singles life is nearing the end… celebrate and have fun with your closest friends!
1 week before the wedding
Prepare your packing list to make sure you don't forget anything, or you can even pack and be ready. Arrange any outstanding payments and review your checklist one last time.
The final week before the big day is always exciting! But if you've followed a detailed plan, everything will be just perfect – and you'll be ready for your journey to a new life to begin.
At the destination, a few days before the wedding
As soon as you arrive at the destination of your dreams, and before you completely let go and relax, make sure to meet with the wedding reps or wedding planners and the hotel's wedding team to go over all the details of your wedding day. Next, you will have to visit the town hall with your wedding assistant to sign the necessary papers and pay the marriage fee. Don't forget to book your final hair and make-up rehearsal. There is one more important thing to do before your wedding day: Go to the beach, get a cocktail and a tan, and relax. You have been planning this for a year… everything will run like clockwork.
1 day before the wedding
Every bride wants to look and feel great on her wedding day. So make sure you pamper yourself and visit a spa, have a manicure, a pedicure and do all those things that make you feel happy and relaxed. Get a good night's sleep. At this point, you will be only hours away from turning your wedding dreams into an awesome reality. Enjoy every moment…
Careful planning is the secret to a smooth and memorable wedding, whether at home or abroad. With an instantly confirmed wedding date and venue through BookYourWeddingDay.com and by following a timeline you can make your wedding dreams come true. Have fun planning your wedding!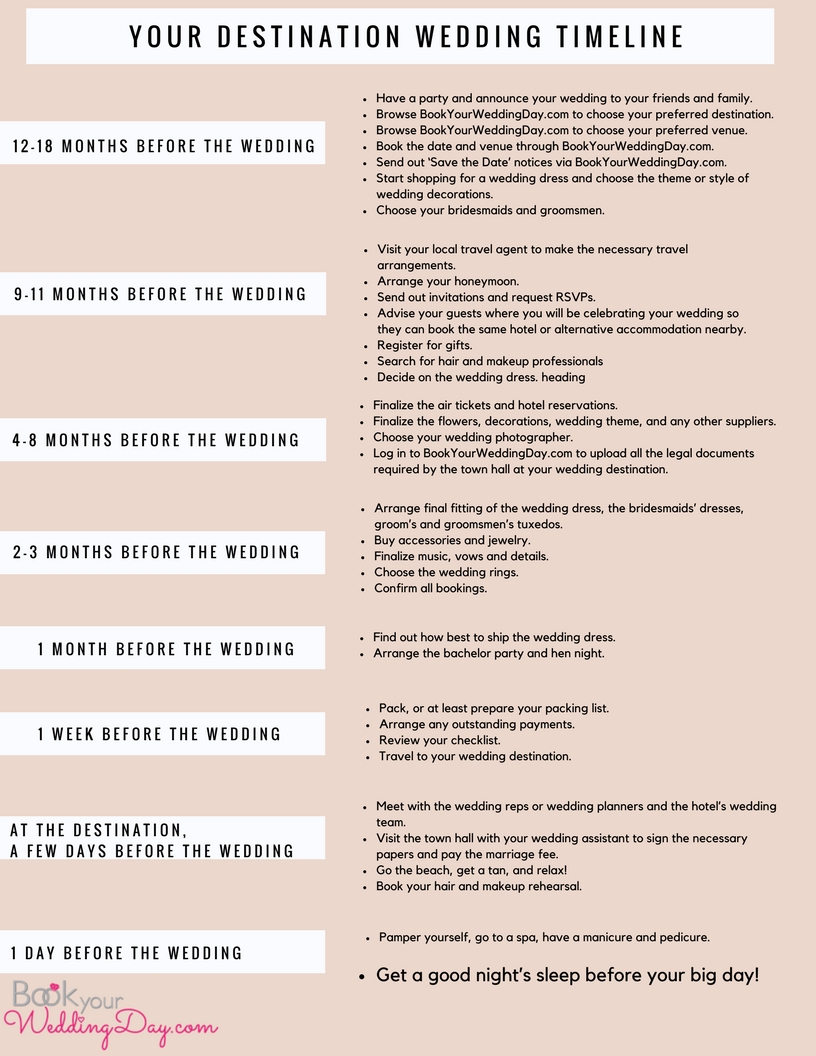 Recent Posts
Picture you and your partner saying your vows with surrounded by your loved ones, luxury and ...
Abroad weddings can be very magical. Picture yourself on a sun-kissed beach with the ...
Santorini is often said to be the most popular Greek island, and once you've visited this ...
In most places around the world, the winter months can bring gloomy weather and short, dark ...