L is for pledging your Love in Limassol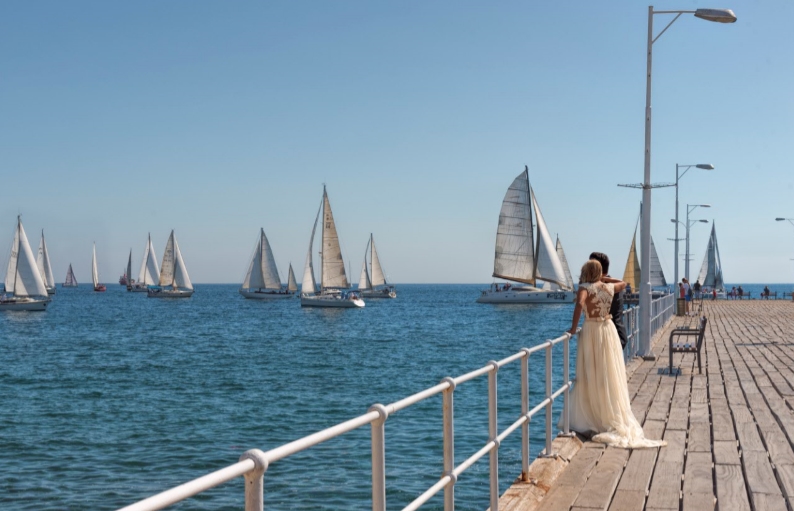 Limassol (Lemesos) is a glamorous destination in a magnificent location along an extended sandy strip that melts into the Mediterranean Sea. It is the second largest town in Cyprus and the main cosmopolitan business hub and tourist resort. It is also known for its party atmosphere and luxurious hotels and venues, waiting to accommodate your wedding celebration and entertain you every minute of your honeymoon. BookYourWeddingDay.com showcases the most popular hotels, resorts and wedding venues, and introduces you to all the reasons that make Limassol an exciting place to get married.
1. Why Limassol?
Limassol is situated on the southern coast of Cyprus, at almost equal distance from Nicosia – the capital that lies inland – and the two coastal towns of Larnaka and Paphos. Being the business centre of the island, it is continuously and rapidly evolving. New establishments pop up, without interfering or destroying the historical part of the city, while tourism infrastructure is steadily improving.
The city's cosmopolitan coastline features a string of luxurious 4 and 5-star hotels that cater to the needs of the most demanding traveller. With private beaches, exquisite restaurants and high-end spas, the resort hotels are all set to pamper you and your wedding party from the first to the very last day of your stay.
Moving around Limassol is easy. Rent a car, call a taxi, or ride the bus which operates quite frequently, especially along the main roads and to key locations.
Limassol is conveniently located between Larnaka and Paphos airports, it will only take you approximately 40 minutes by car to reach Limassol from both airports. This makes Limassol convenient for all travellers, regardless of whether their flight lands in Larnaka or Paphos. Wherever you are coming from, the city welcomes you all year round with its bright lights and imposing contemporary architecture. Shops, restaurants, clubs and bars welcome both residents of tourists, offering them professional local hospitality. You can rest assured that fun and comfort will define your stay.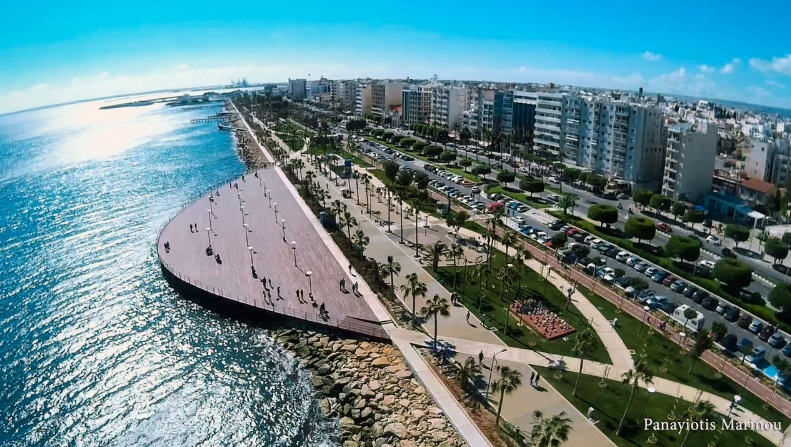 2. What to do in Limassol?
No matter what style of entertainment you prefer, in Limassol, you'll have a blast. Let's start with some R & R: Give your body a sample of heaven by spending a day in your hotel's spa, where you will be spoiled with treatments from head to toe. Nine months of year, you'll have ample opportunity to relax on one of the countless beaches in and around the city. Work on your tan at Dasoudi beach or Akti Olympion, which are within walking distance from the city centre. If you are into something more exotic, Pissouri and Kourion beaches will satisfy your quest. For a more relaxing swim, drive to Lady's Mile beach, only a few minutes from the city centre.
Make sure to allow some time for history and culture, by dedicating at least a day to the city centre. Start by visiting the imposing Medieval Castle. Built in the 13th century, it has been flawlessly preserved showcasing medieval pottery, tombstones, superb silver Byzantine-era plates, weapons, crosses and coins. Yes, Limassol will take you back in time, to Byzantine and Venetian days. And as you come out of the alleys of history, you'll stumble upon Limassol's polished gem: the newly built Marina demonstrates the rapid evolution of this district. It is packed with shops, restaurants, bars and an extravagant display of exclusive apartments and yachts, the perfect setting for a leisurely stroll, a bite or a drink.
The Marina connects to the Limassol Promenade, with the sea on one side, and a beautiful park with tall trees and wonderfully choreographed flowers on the other. Here too, enjoy a walk, or rent a bike to cycle on the water's edge. This is a very popular place, which is always bustling with cyclists, joggers and couples strolling at sunset while children enjoy a day out with their parents. And yet, it's never overcrowded, with plenty of space to move around freely and comfortably.
Along the coastal road you will encounter the Municipal Park, which hosts the Limassol Zoo. Though relatively small, the zoo is well maintained and designed to support the preservation and breeding of rare species. At the exit of the park, you'll find the Limassol Archaeological Museum, where artefacts take you on a journey through history, from the pre-Neolithic period up to the late Roman and early Byzantine period.
For amusement and exciting summer activities, visit the Fasouri Watermania Waterpark on the city outskirts. You can drive there yourself or make use of the dedicated Shuttle Bus Service, which operates for the benefit of visitors. Allow a full day for the waterpark, so you can enjoy every slide, ride and all the water games.
Also highly recommended is a day trip to Pissouri beach, where water sports or scuba diving are a must. At Pissouri Bay you'll find diving centres that will help you discover and explore the fascinating offshore, underwater world along the coast. If you prefer to stay on terra firma, consider visiting one of the Limassol ranches where you can enjoy a tour on horseback, or take a trip up to the Troodos mountains. Charming villages such as Platres, Omodhos, Lofou, Kakopetria, and Lefkara, and a network of nature trails are only some of the beauties you will encounter between the city and mountaintops.
In short, from the historical city centre, to the glamorous Limassol Marina, the promenade, Limassol's long-stretched coastline, and all the way up to the Troodos mountains, you will be enchanted by the beauty and opulence of this district.
3. Where to get married in Limassol?
With the sea creating a stunning backdrop, Limassol is a preferred wedding destination; a city that has it all. Apart from the proximity to both airports and its extended coastline, Limassol is famous for the high quality venues, hotels and resorts that welcome wedding couples. The majority of the 4 and 5-star resorts are lined up on the eastern side of the Limassol, but there are amazing hotels and wedding venues across the city.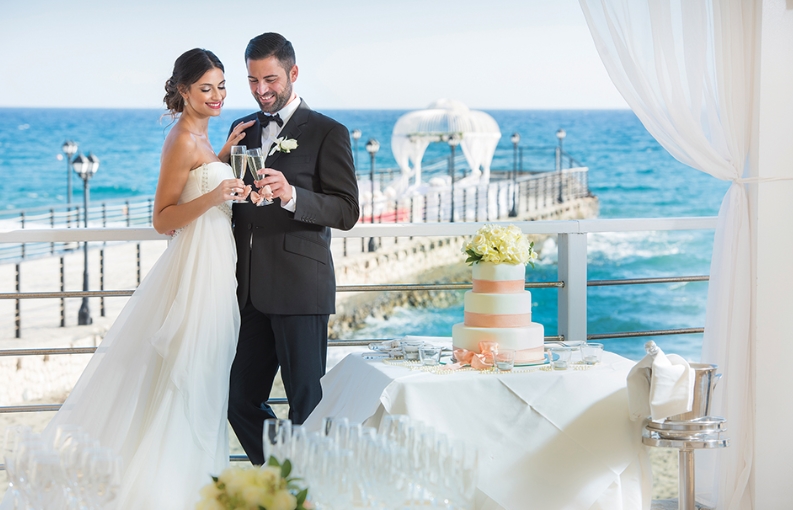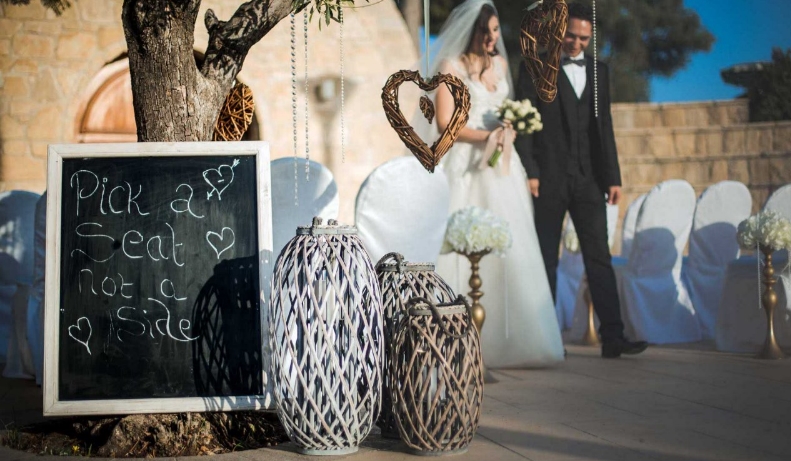 The Limassol Municipality is preparing a wonderful surprise for couples in love: new and unique dedicated wedding venues to satisfy different preferences – including a setting for ultra-lux celebrations. Taking shape in prime locations, the new venues will combine superior services with breath-taking views. Their unique features will give your wedding ceremony a distinctive touch.
In order to choose the ideal venue for your wedding, consider the budget, the style, and the number of guests that will be attending. Note that there are plenty of budget friendly options for wedding venues and honeymoons, even in the most luxurious settings. The city can accommodate all your wedding fantasies: you can get married on the beach, by the sea or even have the ceremony in the hills overlooking the endless blue.
To identify the most suitable wedding venue for your big day, visit BookYourWeddingDay.com, browse through the Limassol directory and choose the spot that puts a smile on your face. Remember that it is advisable to book a venue for the wedding ceremony and reception at the same location, or nearby, to avoid the hassle of transportation for yourself and your guests. That shouldn't be too difficult, as there are so many options, and all are presented on BookYourWeddingDay.com, so you can take your time viewing and comparing online, before you make a final decision. Discuss your preferred venue with your wedding planner and travel agent who will help you choose an attractive destination wedding package.

4. When to get married in Limassol?
Cyprus is an island that enjoys over 300 days of sunshine. So the best way to choose a date is to start by roughly marking the convenient time of the year, then shortlisting your favourite venues. The real-time venue availability system on BookYourWeddingDay.com gives you instant answers. If your preferred venue is not available on your ideal date, the system will suggest the next available date to book. In just a few minutes and with a few quick clicks, you can be ready to book and confirm an overseas wedding date and ceremony venue. And since the weather is sunny and mild most months of the year, you're bound to find the right place and the right time to get married in Limassol.
5. How to get married in Limassol?
On BookYourWeddingDay.com, you can view the complete list of wedding venues, hotels, resorts, outdoor parks and yachts that can host your wedding ceremony – and the list will be extended as soon as the new municipal venues are ready. If one of the municipal venues echoes your dream wedding, you can book it for your wedding ceremony, and arrange accommodation separately, in any hotel of your choice. And with so many to choose from, you're sure to find at least one that satisfies your expectations. If you still need additional local help and guidance, BookYourWeddingDay.com operates a 24/7 chat support service that will answer any questions to help you book your wedding venue with immediate confirmation. Once that is done, share the details with your travel agent or your venue's wedding planner in order to make all the other arrangements for your dream wedding overseas.
Consider the climate, the location, the venues and the lifestyle of Limassol, and you will understand why it is among the most desirable destinations for a seaside wedding and honeymoon.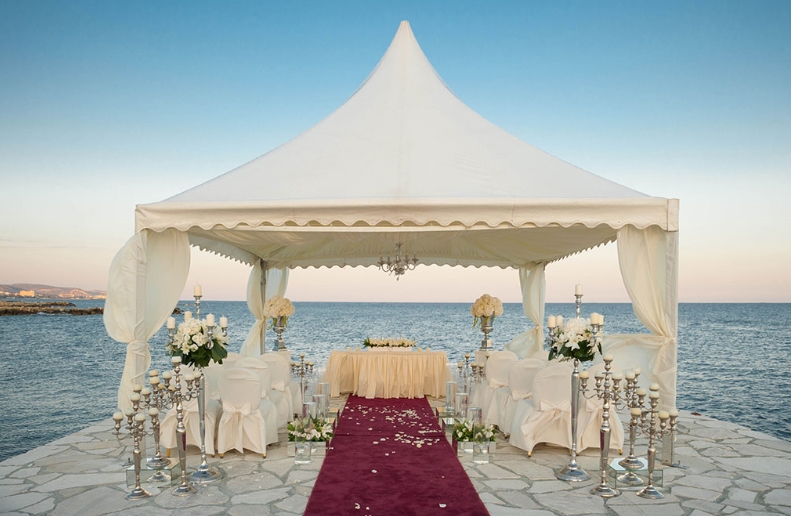 Recent Posts
Picture you and your partner saying your vows with surrounded by your loved ones, luxury and ...
Abroad weddings can be very magical. Picture yourself on a sun-kissed beach with the ...
Santorini is often said to be the most popular Greek island, and once you've visited this ...
In most places around the world, the winter months can bring gloomy weather and short, dark ...