Almost 13,000 Couples Have Booked Their Wedding Date with Us!(You Can Too)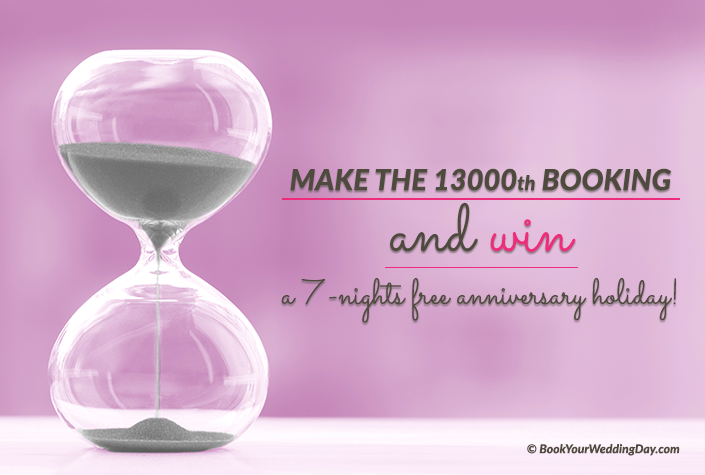 Have you booked your date yet? If not, decide on a date soon because we have a surprise for you. Want to see what it is? Then read on…
Here at BookYourWeddingDay.com we really like to celebrate milestones achieved and as we are approaching 13,000 bookings, we are offering to the lucky couple with the booking number 13,000 a special gift. What is this? A 7-nights free anniversary holiday at the same accommodation that you will be staying in for your wedding!!!
Yes, you heard right! What a great way to get started on planning for your future as a couple! This would be the ideal way to celebrate your wedding anniversary after an entire year you've spent together as newlyweds. You'll get a chance to physically relive the moments before and after your wedding at the location that you choose for your wedding accommodation. You can bet that it will be fun and definitely an unforgettable experience just for the two of you! We're so excited about this, are you?
It's very easy, just look and book! To qualify, all you have to do is visit BookYourWeddingDay.com, check Real-Time Availability, and book your date online with Instant Confirmation. And who knows, you might be the lucky 13000th booking and the big winner of the 7-nights free anniversary holiday!
How Will We Know We've Won?
You don't have to stress yourself at all. The lucky couple will be notified by email when the 13000th booking is made!
Book Your Wedding Date Abroad Today!
Are you tempted enough by our exclusive gift? Get in touch with us then. We'd love to assist you in finding the perfect venue for your dream wedding abroad and secure your preferred date.
Our 24/7 online live chat support service, which is located on the bottom right of BookYourWeddingDay.com, is available for your inquiries, and our team of professionals is always here to assist you in the best way possible.
So, what are you waiting for?
Recent Posts
Picture you and your partner saying your vows with surrounded by your loved ones, luxury and ...
Abroad weddings can be very magical. Picture yourself on a sun-kissed beach with the ...
Santorini is often said to be the most popular Greek island, and once you've visited this ...
In most places around the world, the winter months can bring gloomy weather and short, dark ...