8 Reasons to Choose Elias Beach Hotel for The Perfect Destination Wedding in Cyprus in 2021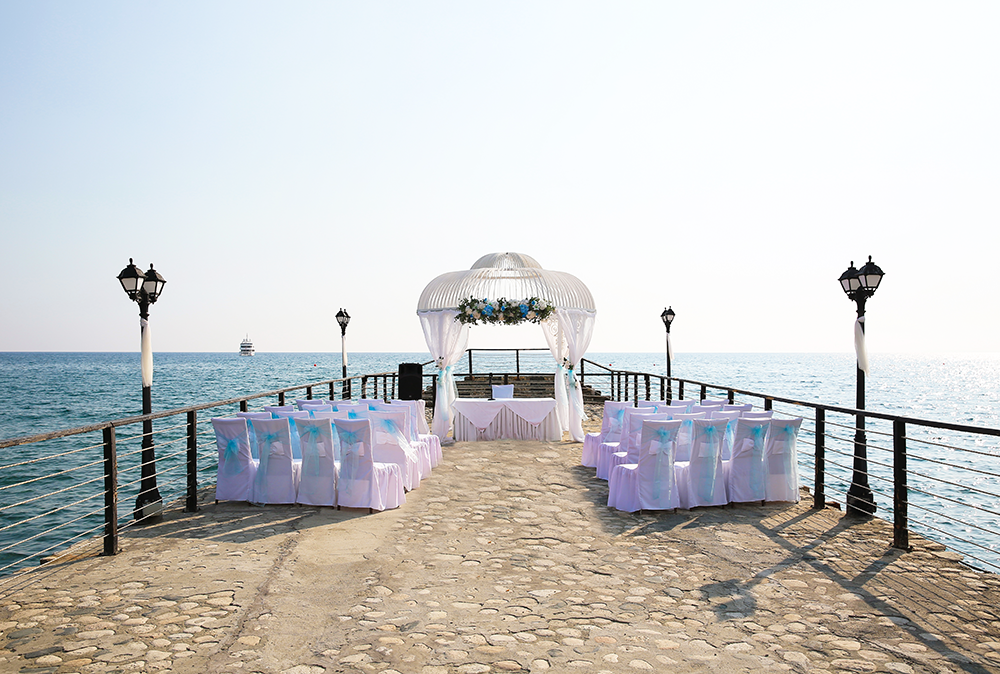 Cyprus is a beautiful and perfect location for your destination wedding. If you have plans to tie the knot next year, you should definitely consider the so-called island of love. No place speaks romance like it! And if you asked us to choose a location in Cyprus, we'd say Limassol. This beach city is a perfect blend of modernisation and the ancient. It offers a couple countless opportunities for romance. You'll love the proximity to the sea and shore alongside the numerous water parks, the hip restaurants and lovely café clusters.
So where in Limassol can you have your destination wedding? Let us introduce you to the lovely Elias Beach Hotel. Easily accessible and available year-round, this hotel is a favourite for couples who want the best facility for a destination wedding that Cyprus can offer. The best part, for every booking that you make at Elias Beach Hotel through BookYourWeddingDay.com, you can take advantage of the free ceremony venue hire fee and receive a personalised "Save the Date" for free.
What other perks would you get for choosing Elias Beach Hotel for your destination wedding in Limassol? Here are 8 reasons why this seaside paradise is just perfect for you…
1. Ease of Access
Elias Beach Hotel is located in Limassol, which is just 40 minutes driving from airports in the two coastal towns of Larnaca and Paphos. This means that whether you choose a flight that lands in Larnaca or Paphos, you'll be in Limassol in less than an hour. Limassol would ever be ready to welcome you with bright lights, magnificent architecture and hospitality.
2. Great Views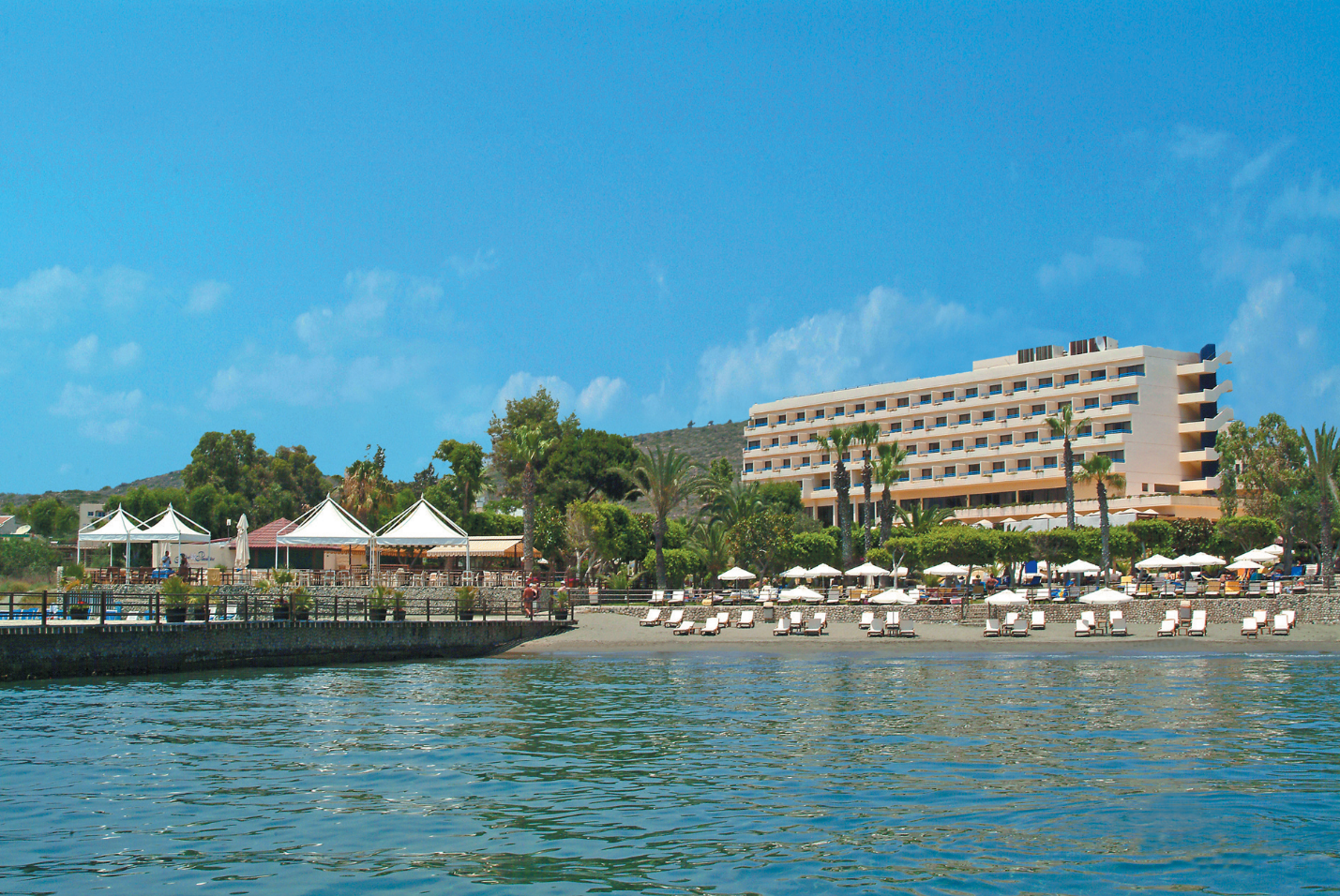 Elias Beach Hotel is situated on a "Blue Flag" sandy beach in the ancient Amathus areas of Limassol. This means that the beach is clean and safe. You'll love the amazing views of the sea that you'll get from this hotel and when the sun sets, it'll be an experience you'll be ready to repeat over and over during your stay.

3. Quality Service
You might have heard of the Olympic Lagoon Resort Ayia Napa and Paphos. They are known for their quality food, luxury entertainment and fun activities. Elias Beach Hotel is the sister hotel of these highly successful and popular hotels. That means you'll get the same excellent quality service when it comes to the food, entertainment and other activities that this hotel has to offer.
4. Amazing Cuisines
Elias Beach Hotel is an all-inclusive hotel with three lovely restaurants that you can choose from. You can enjoy a variety of delicious meals, snacks and drinks at all of three of them. Do you crave fresh local food? You'll get it at any of these restaurants with the atmosphere perfect to match your mood and your appetite.
5. Variety of Spacious Room Options
At the Elias Beach Hotel, you'll get many gorgeous options to choose from when it comes to rooms. They are all very spacious too. All the rooms are designed with travellers and their practical needs in mind. You can get rooms for families, couples and singles all designed to provide comfort for all.
6. Child Friendly
Elias Beach Hotel is a place that caters to not only your needs but those of your children as well. There's a wide range of fun and creative activities to keep the little ones entertained, and you'll love this hotel's children programme. This programme which is professionally designed includes lots of indoor and outdoor activities to keep the kids busy throughout the day. You'll find that it has the perfect mix of arts, crafts, outdoor sports and other activities that will ensure that everyone has a good time.
7. Huge Pool and Lovely Garden
You'll have a feeling of being at a tropical paradise when you visit the pool at Elias Beach Hotel. This main lagoon-style pool is located in the centre of a lovely garden with palm trees and has water jets. It is divided into areas with different depths to match swimming skill, and there is a delightful children pool where your kids can splash and paddle too.
8. A Unique Wedding Venue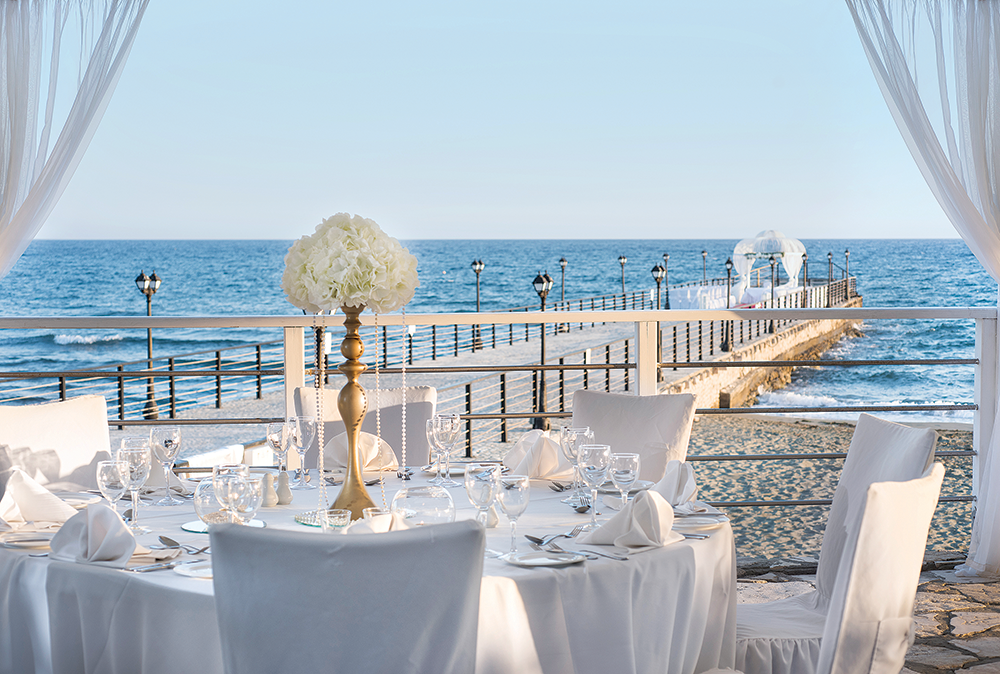 Imagine getting married on a pier overlooking the sea with the magical sunset we mentioned above as your backdrop. You have to admit that this is as unique as it gets. Not many of your married friends would be able to boast of having such an experience.
Blaze the trail amongst them when you choose to have your wedding ceremony at the 'Sunset Pier' which has been designed to perfection. This venue also has lovely views of the Mediterranean Sea and is a dream come true for many couples.
After your enchanting wedding ceremony at the 'Sunset Pier', you can head to the 'Blue Paradise Restaurant' for your wedding dinner. It is also a seafront location and is only a few steps away from the hotel. You'll have the best time of your lives!!!


Book Your Wedding Date For 2021 And Take Advantage of the Free Ceremony Venue Hire Fee!
Are you interested in booking Elias Beach Hotel for your dream wedding in Cyprus? Don't miss our special offer and book your wedding date at Elias Beach Hotel for 2021 with free ceremony venue hire fee and a personalised 'Save the Date' for free.
So, let's get in touch! Our 24/7 online chat support service is available for any queries you may have, and our experienced team would be more than delighted to give you all information.
Recent Posts
Santorini is often said to be the most popular Greek island, and once you've visited this ...
It is true that we are experiencing unprecedented times following the outbreak of COVID-19. ...
Cyprus is a top location not only for a spectacular wedding celebration but for dreamy holidays as ...
Love is an exceptional experience, and although it has taken this long, we are happy that we ...