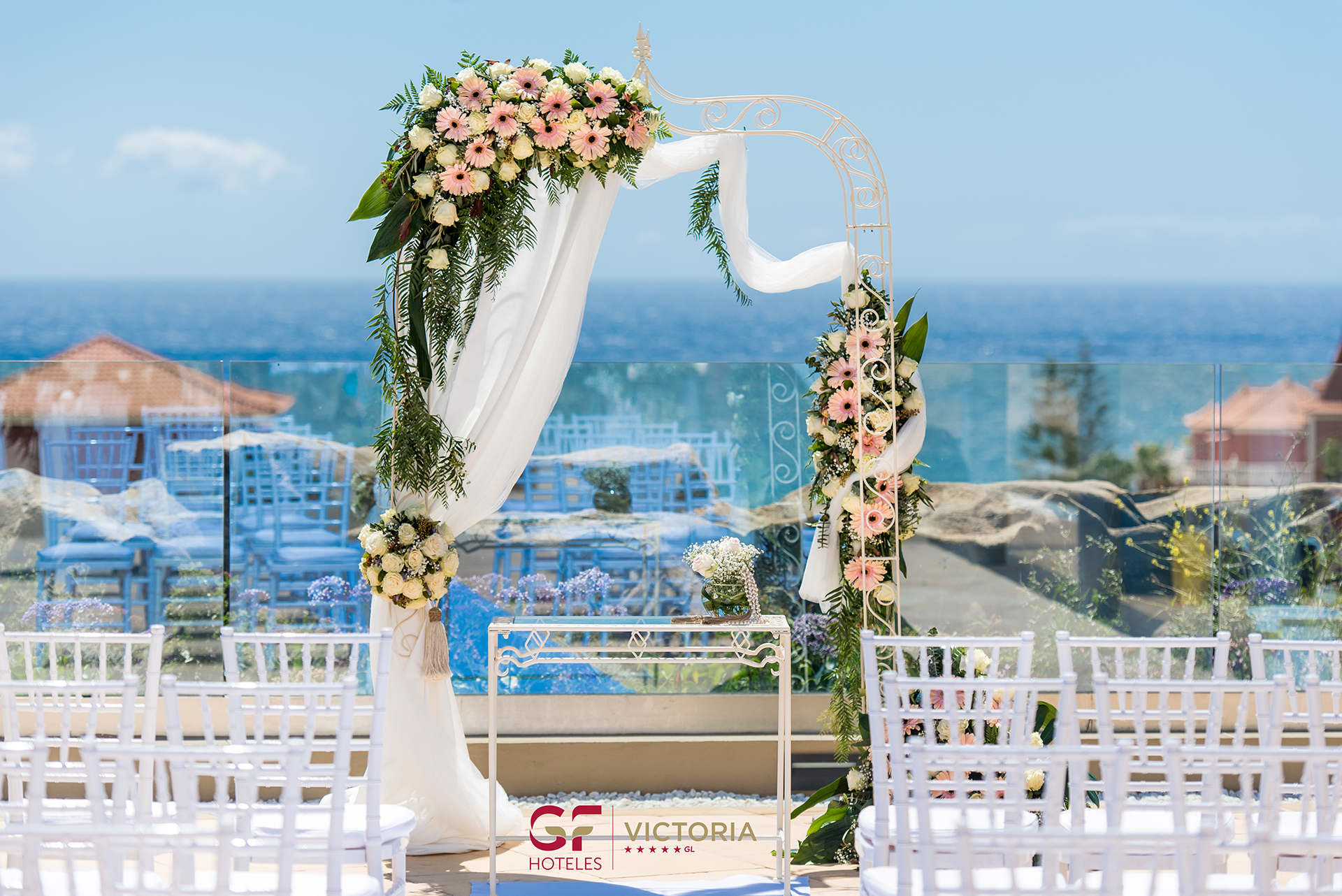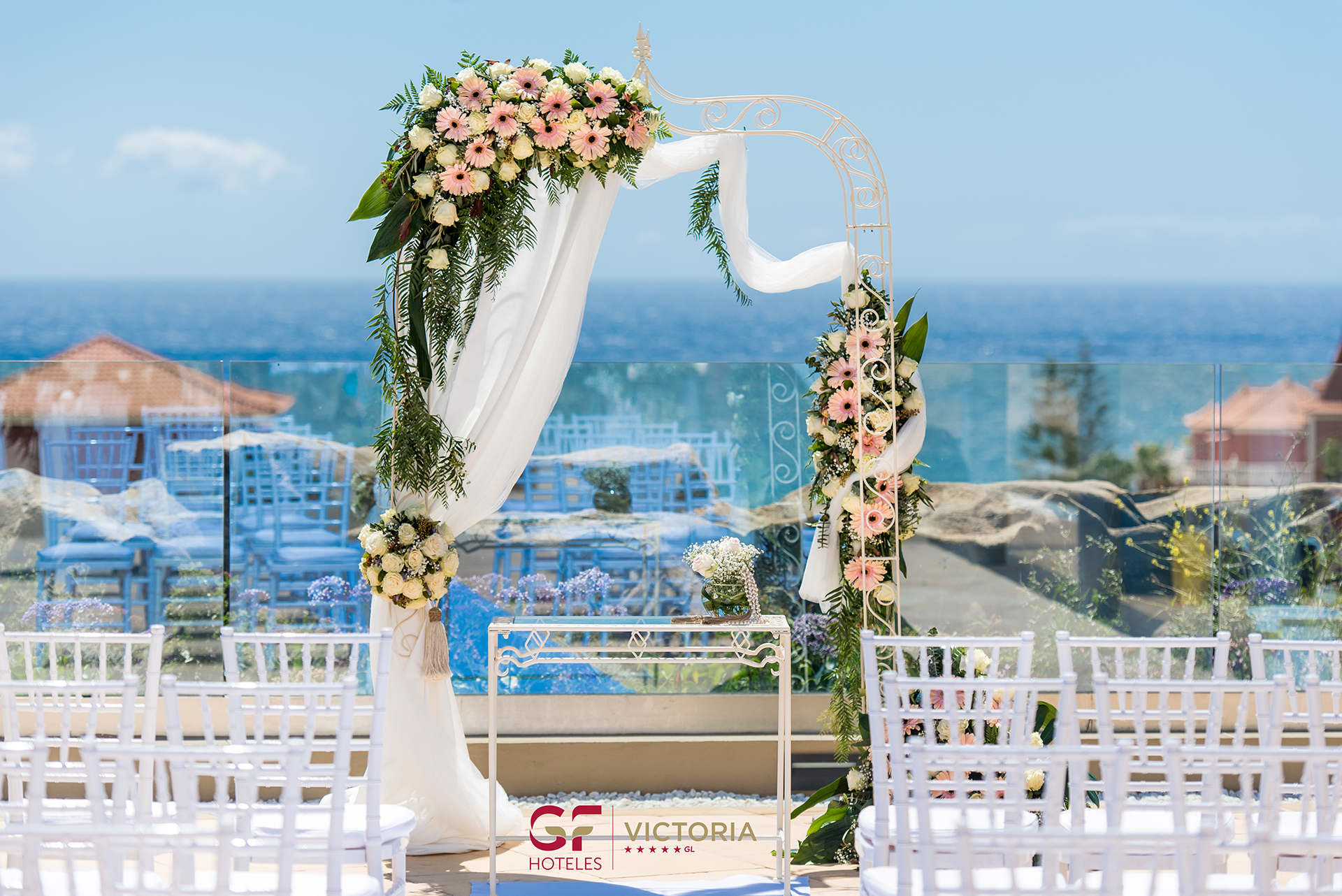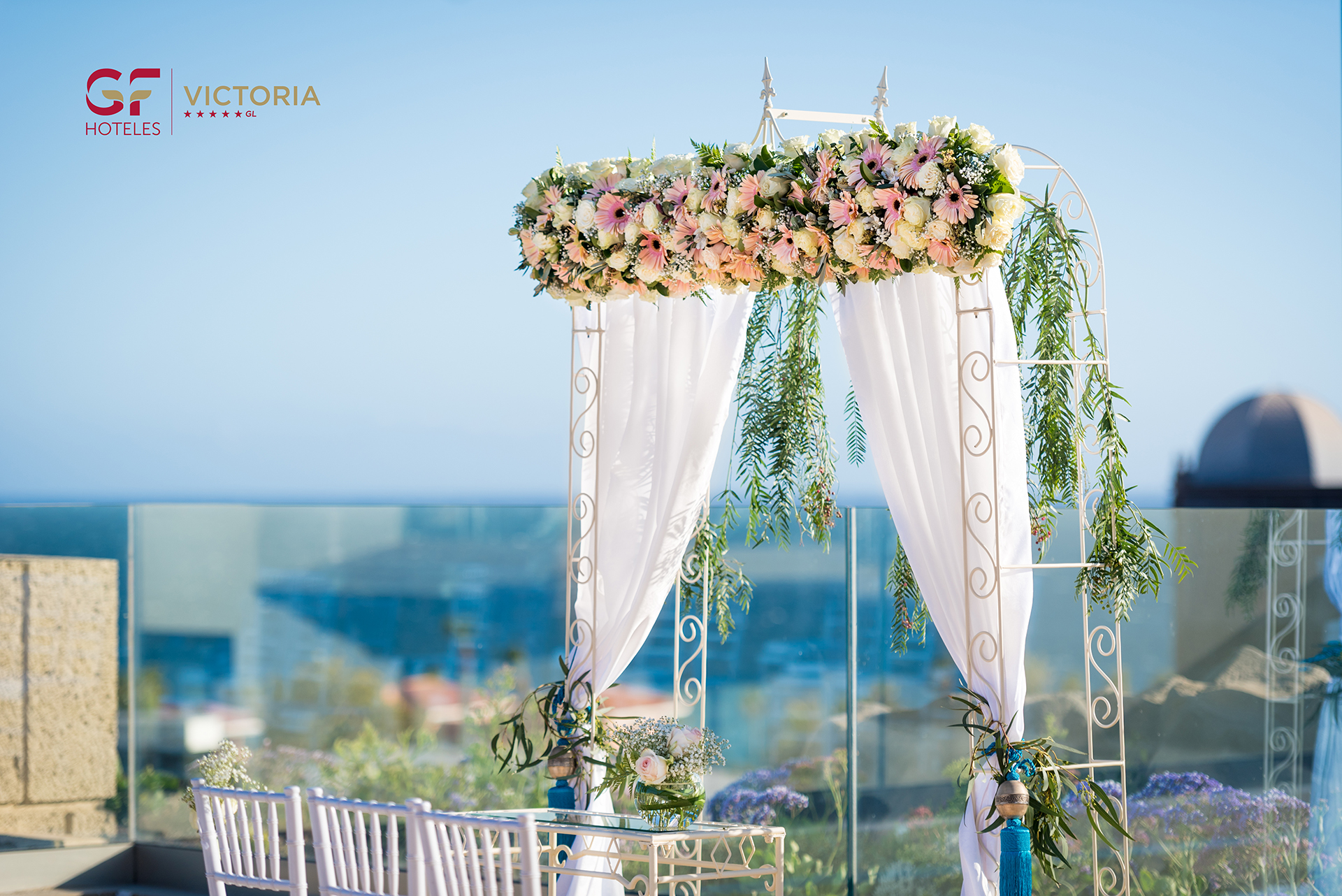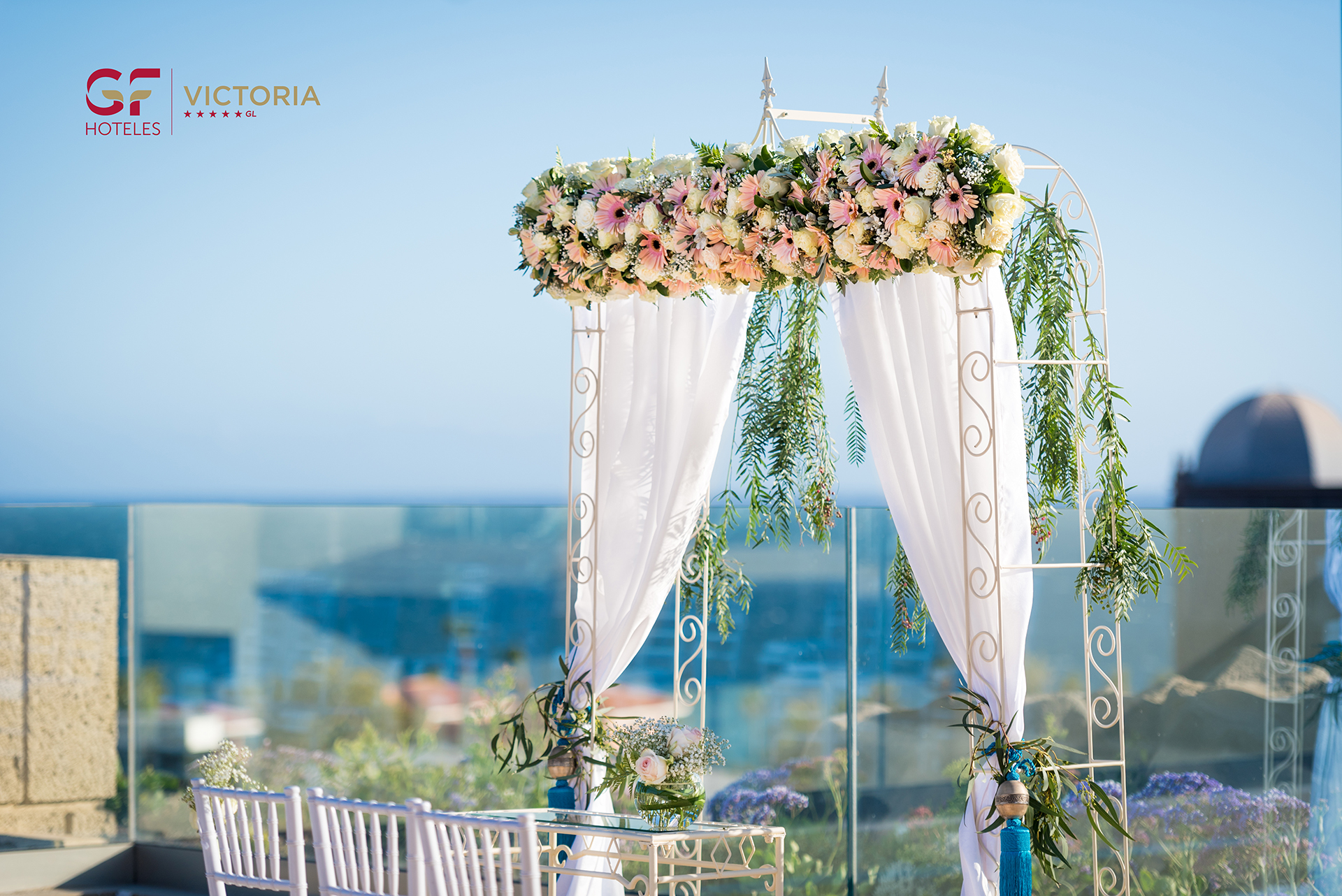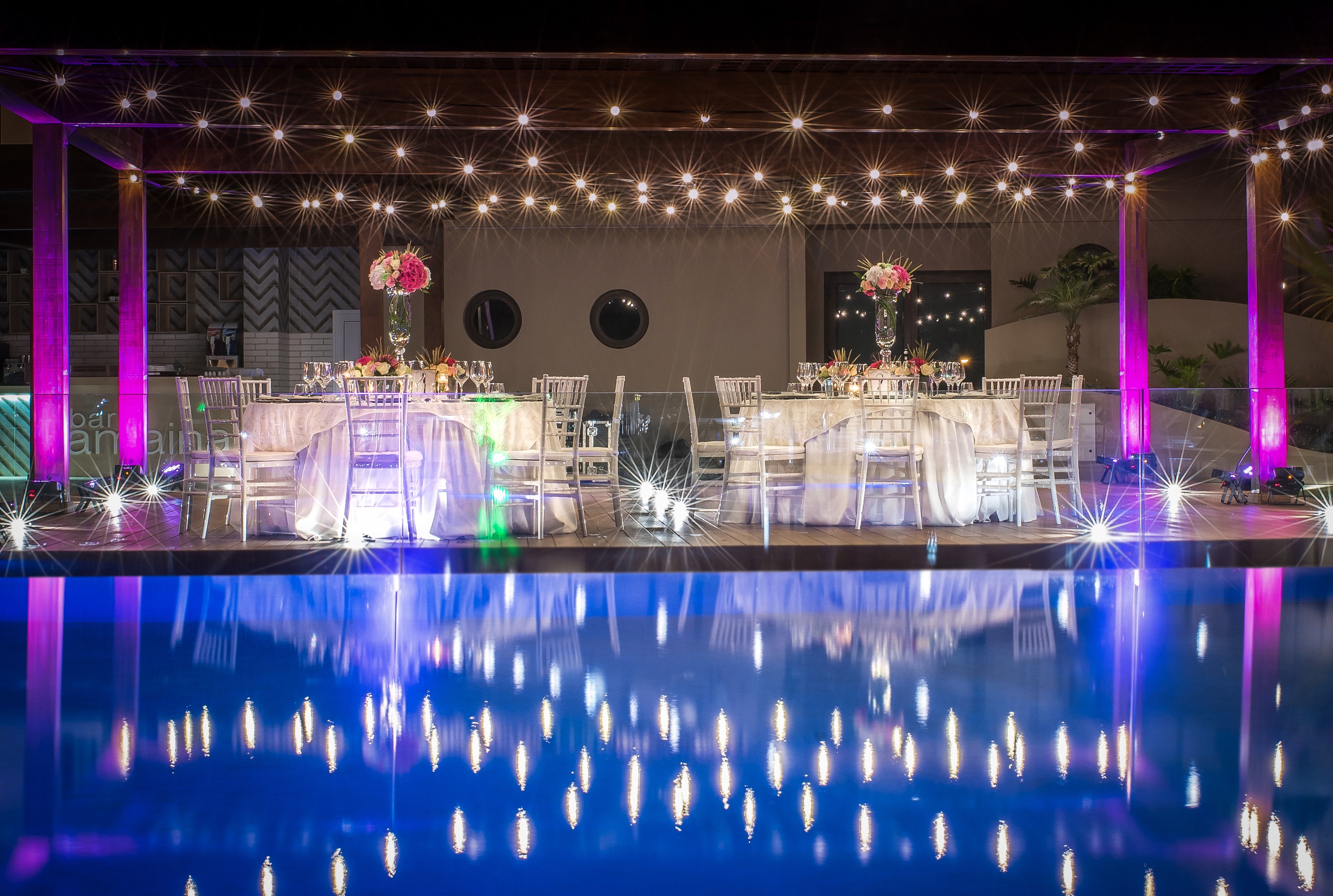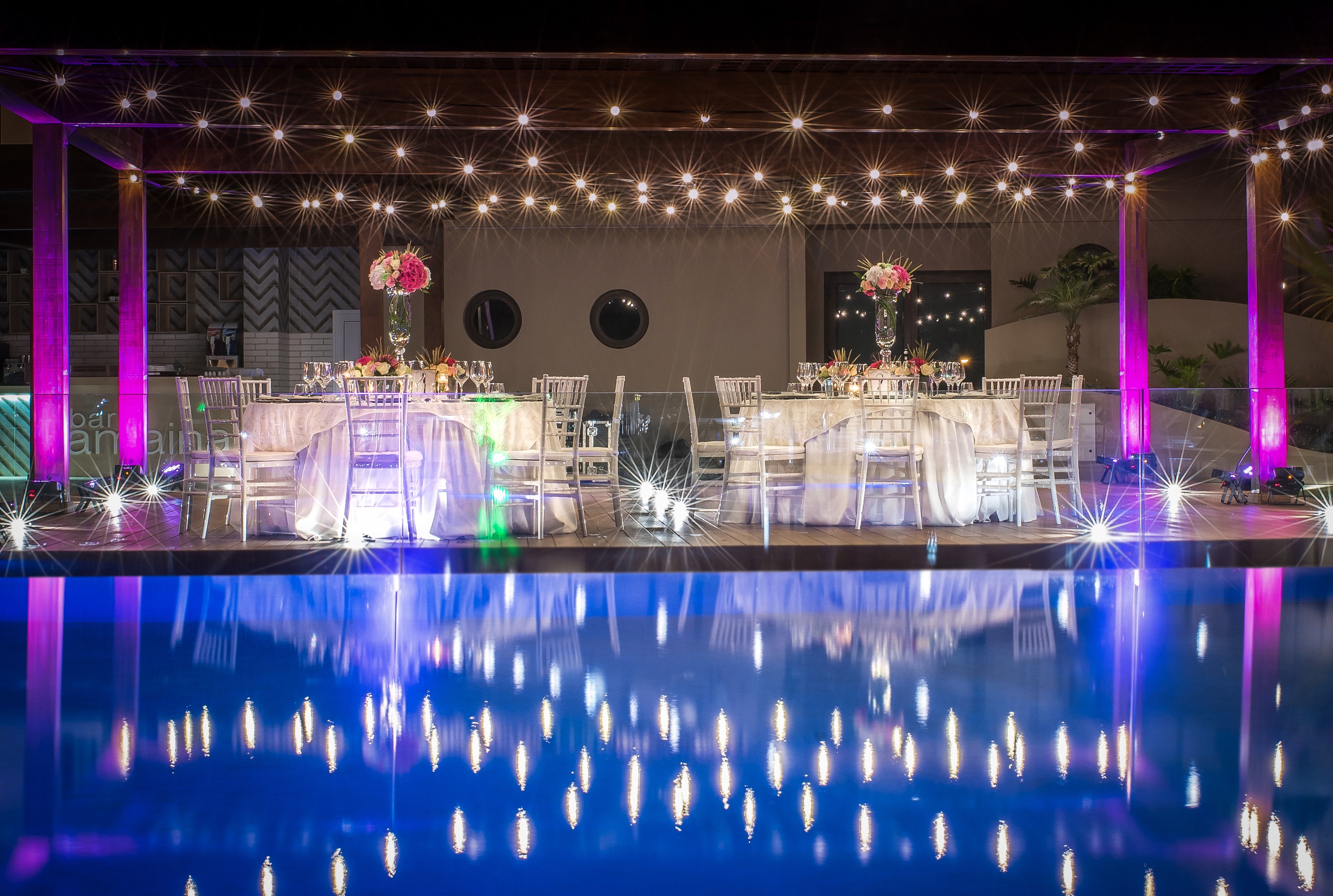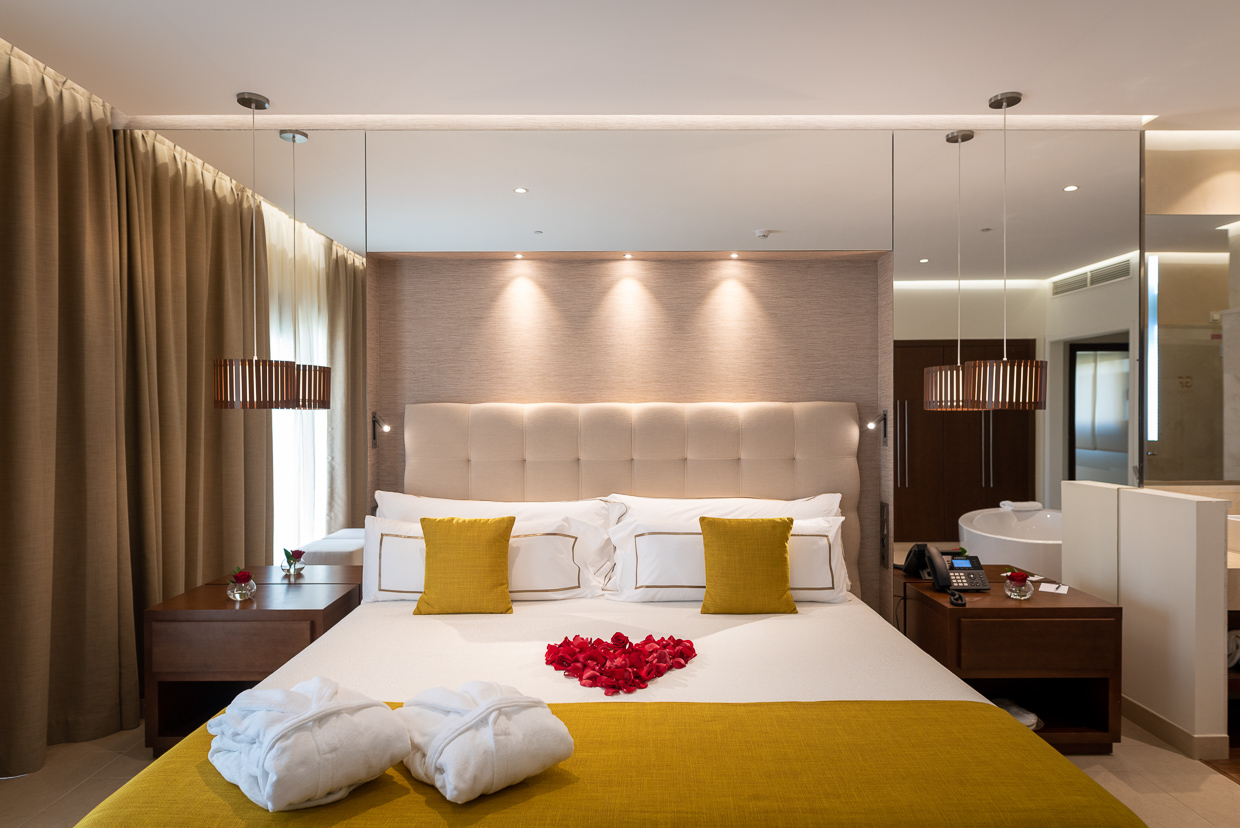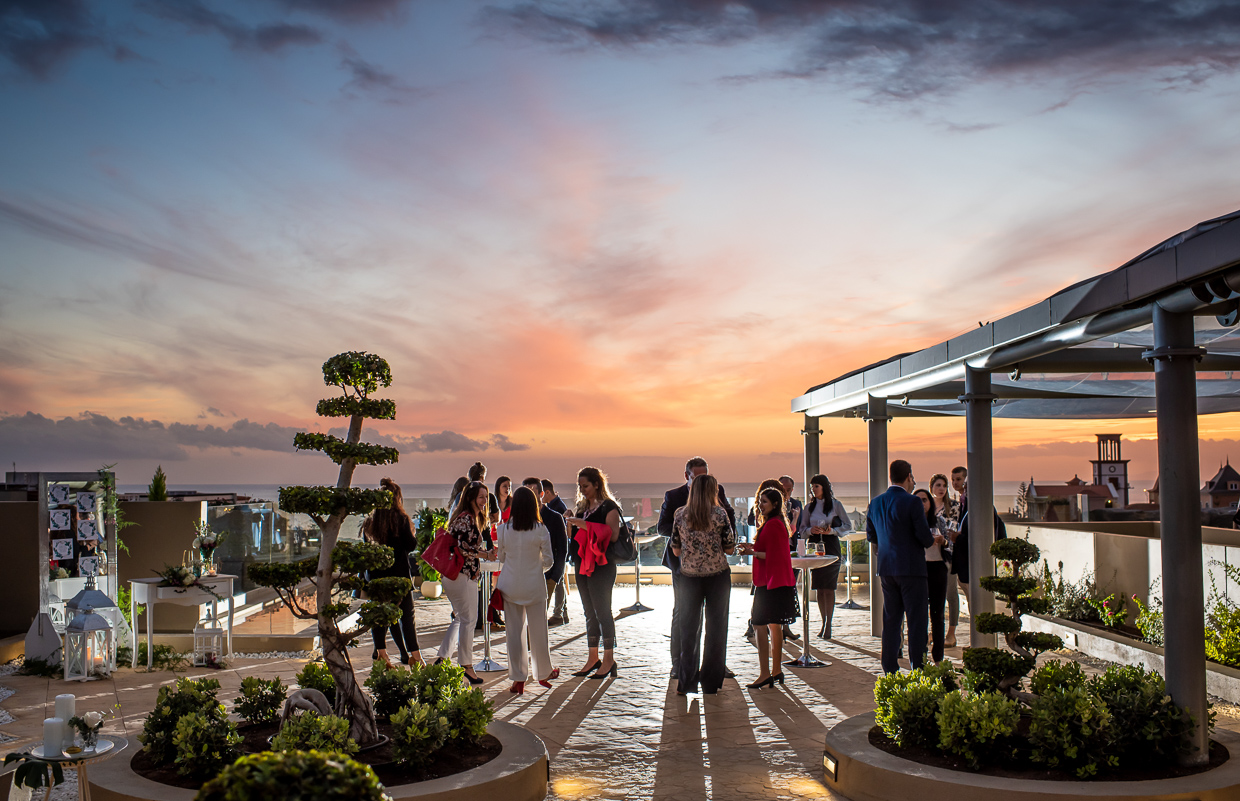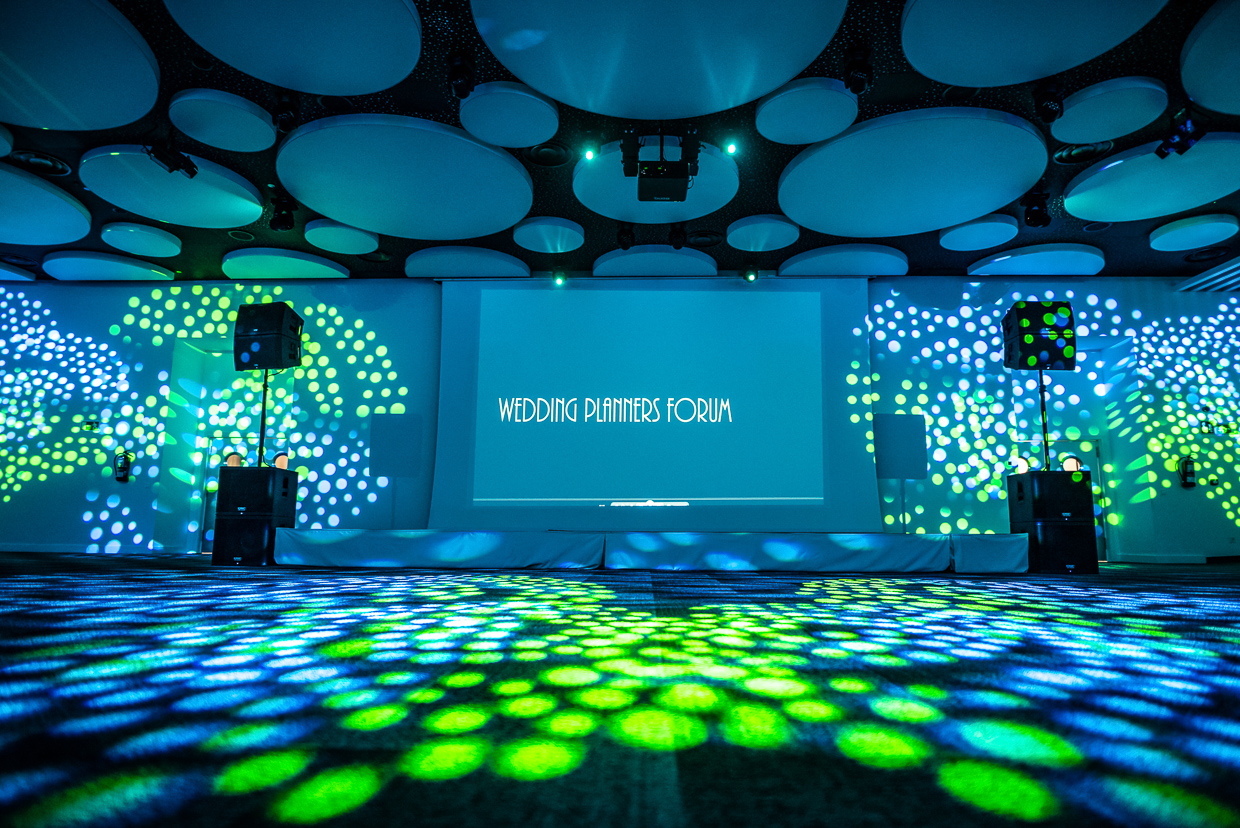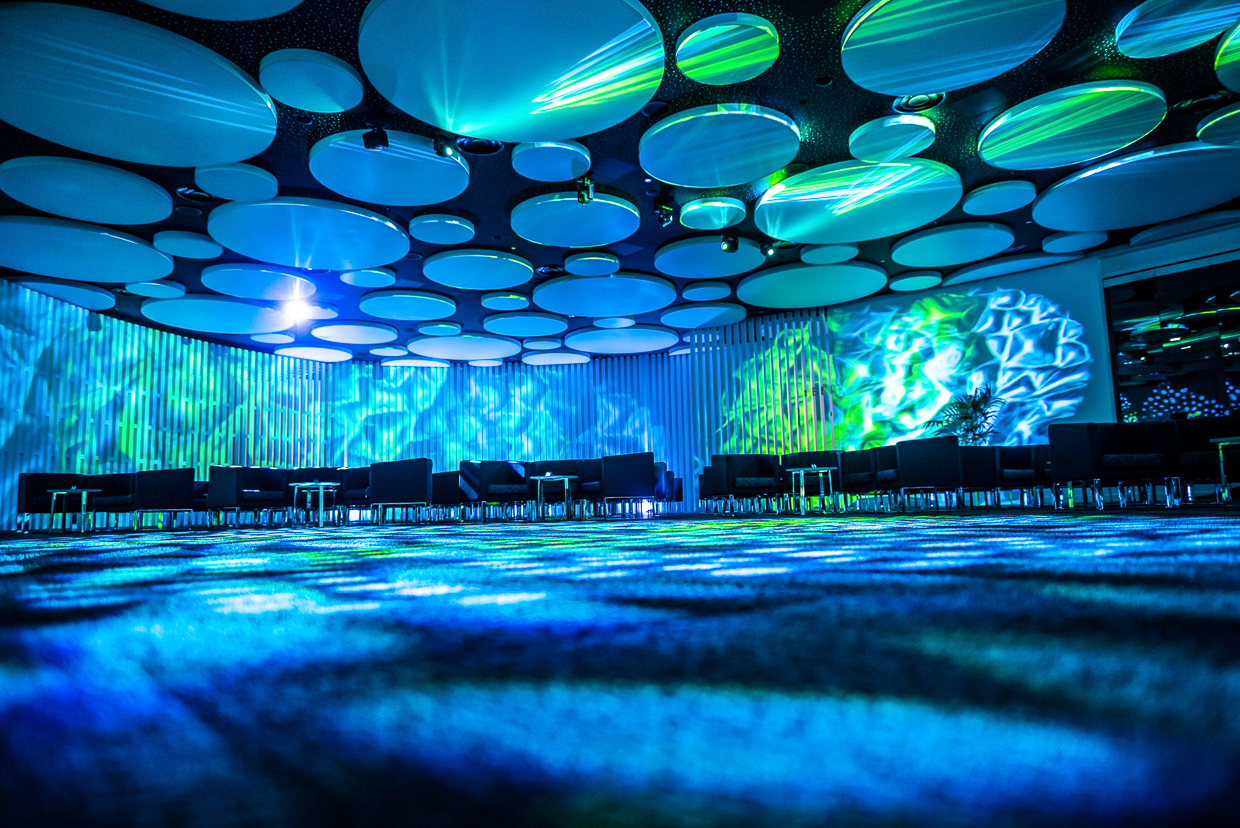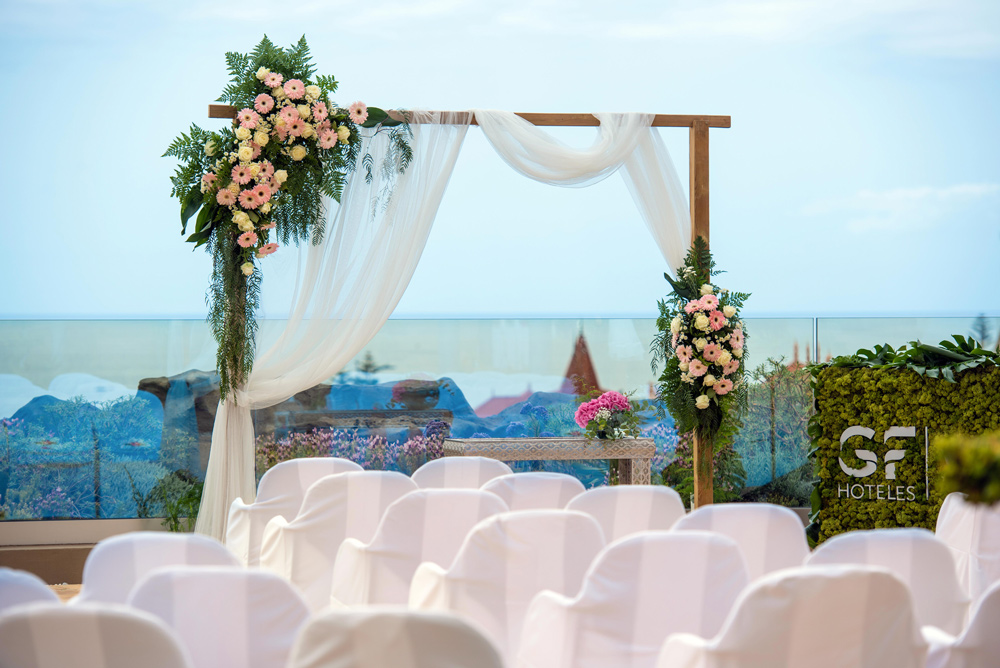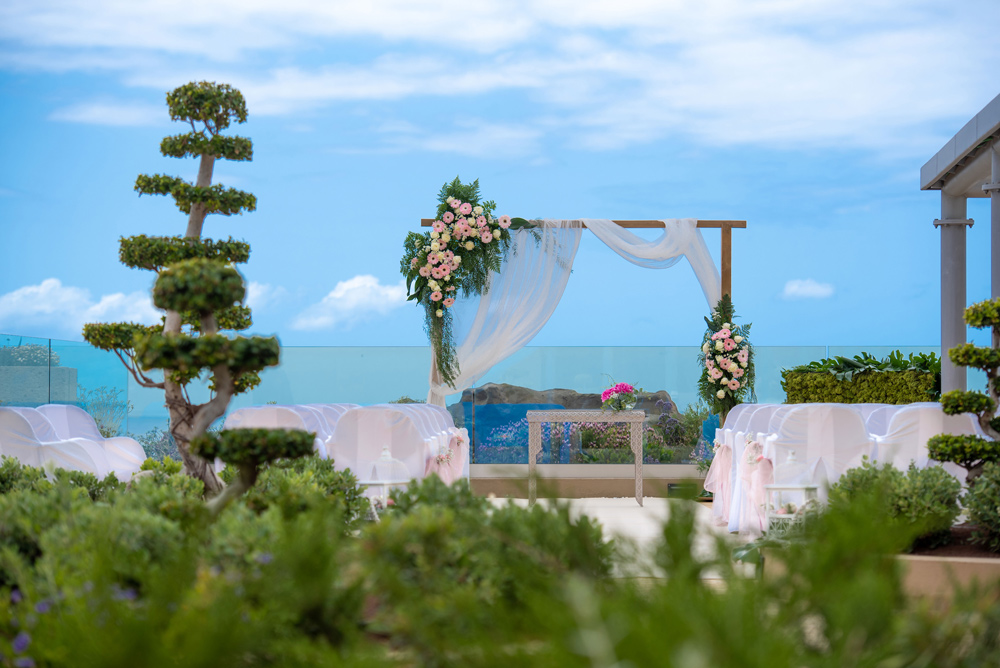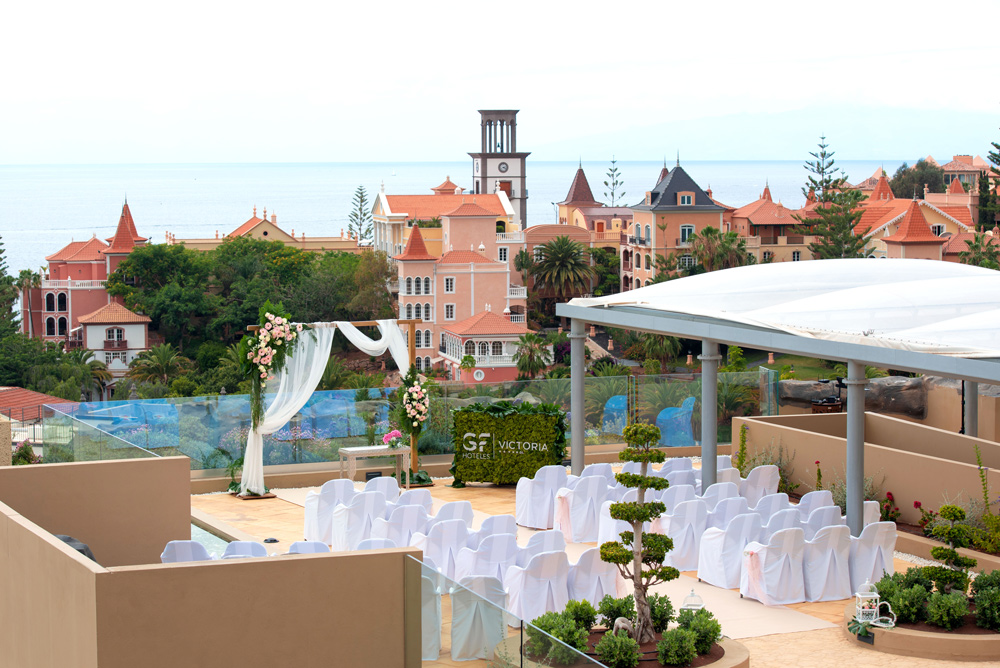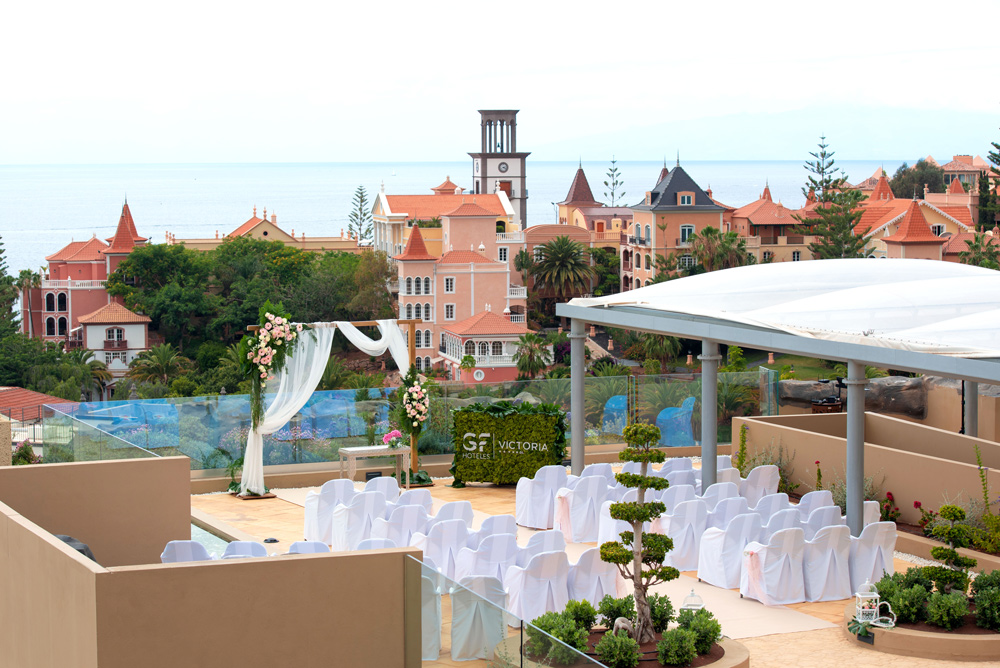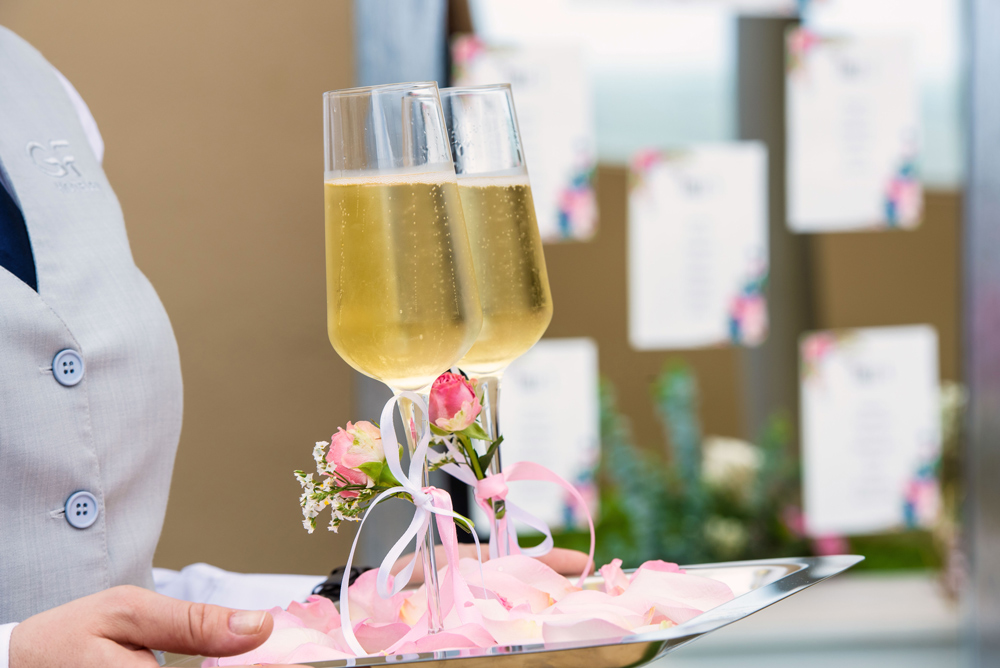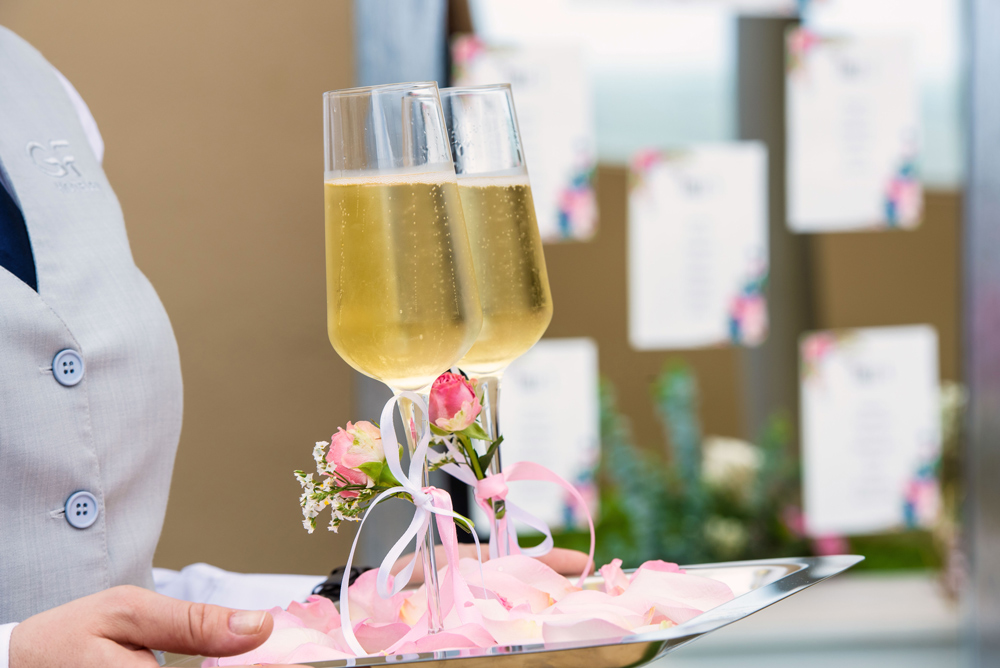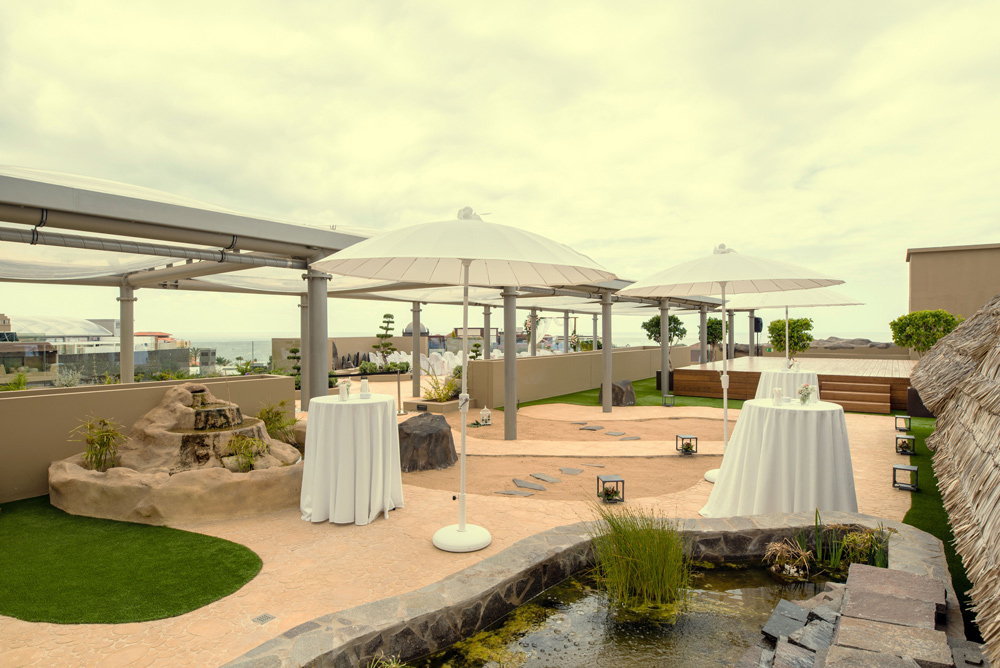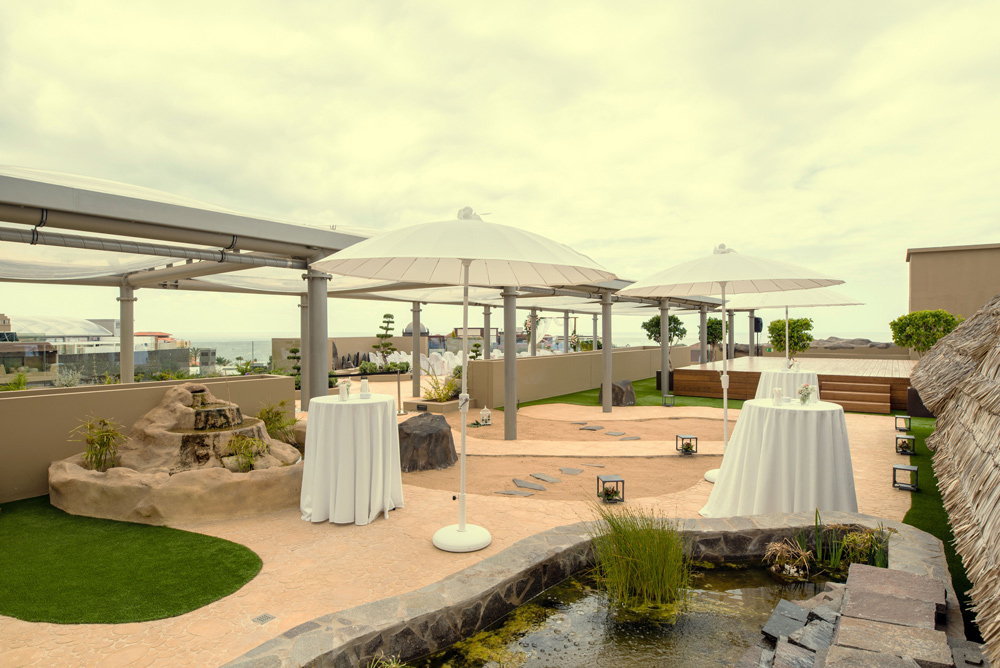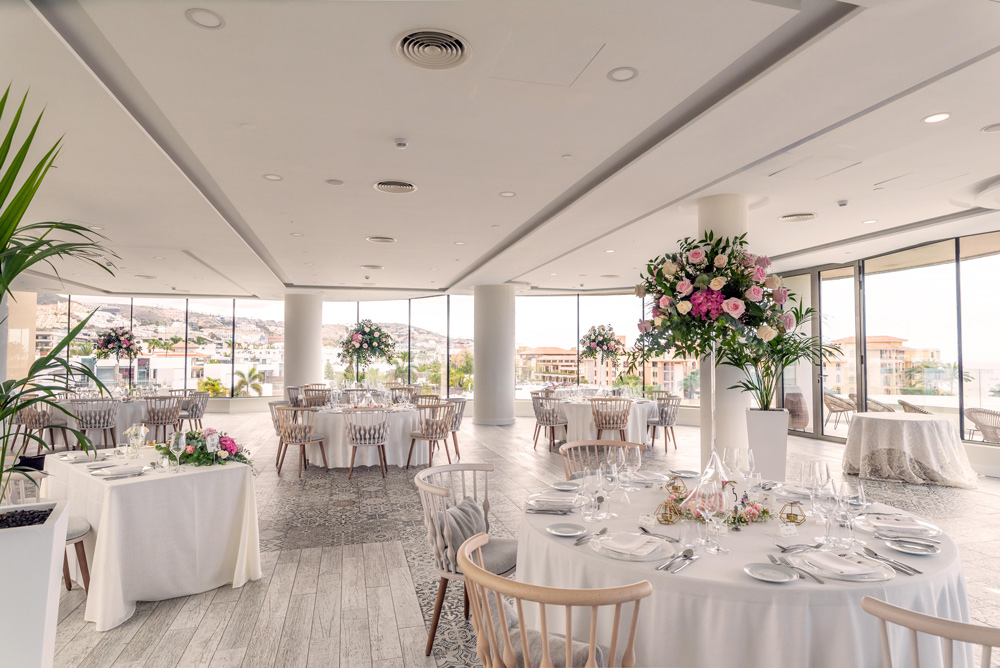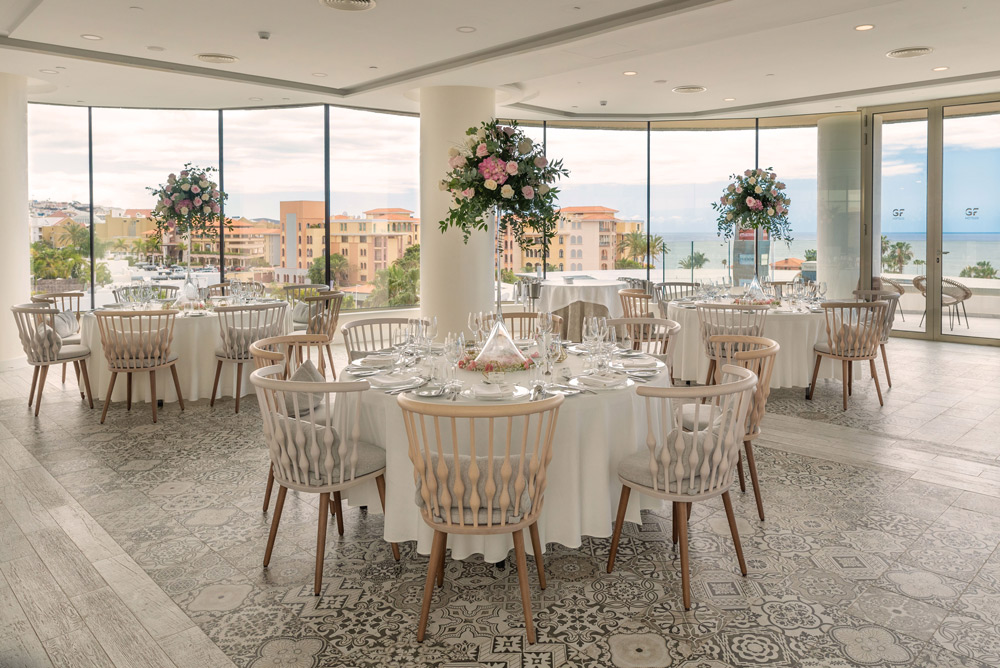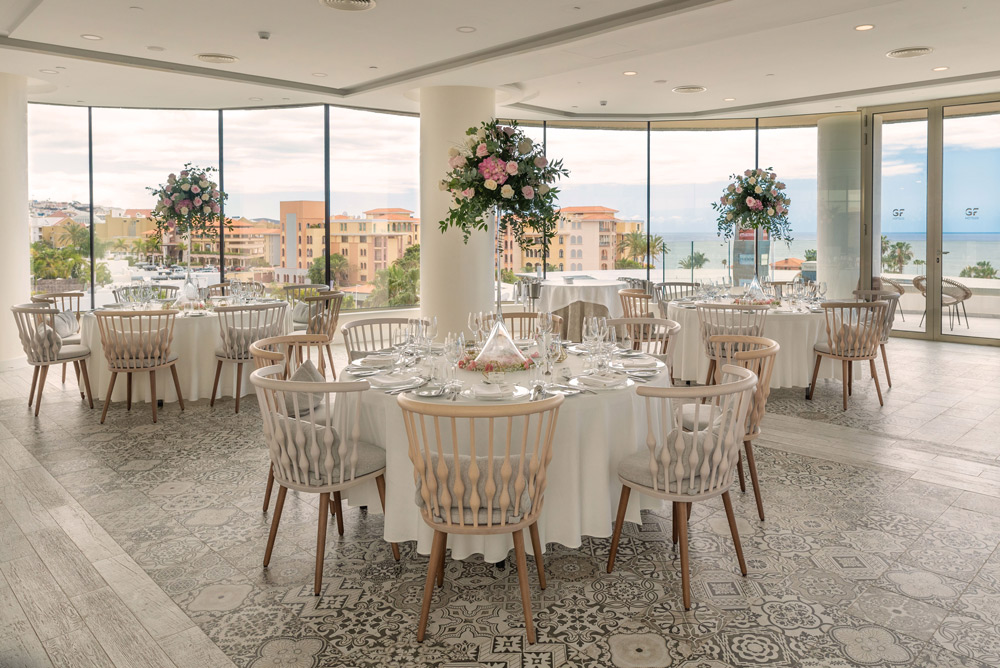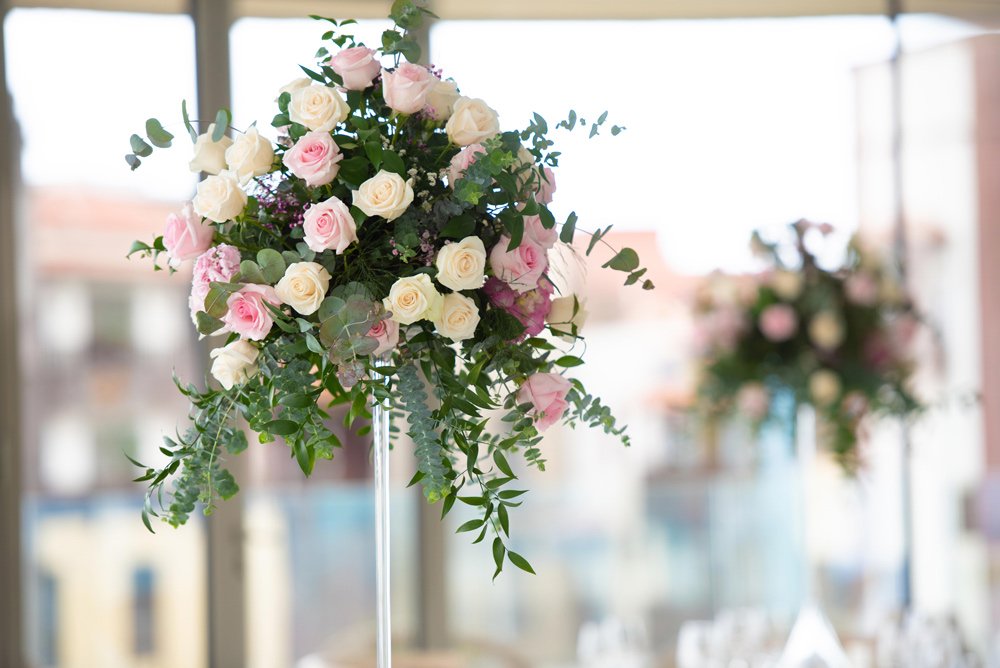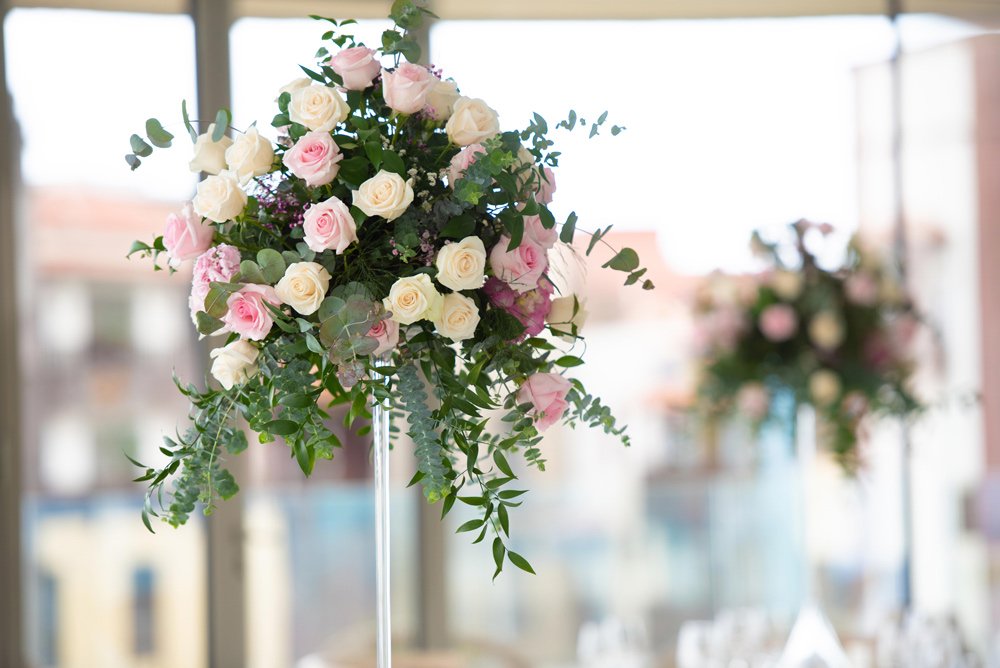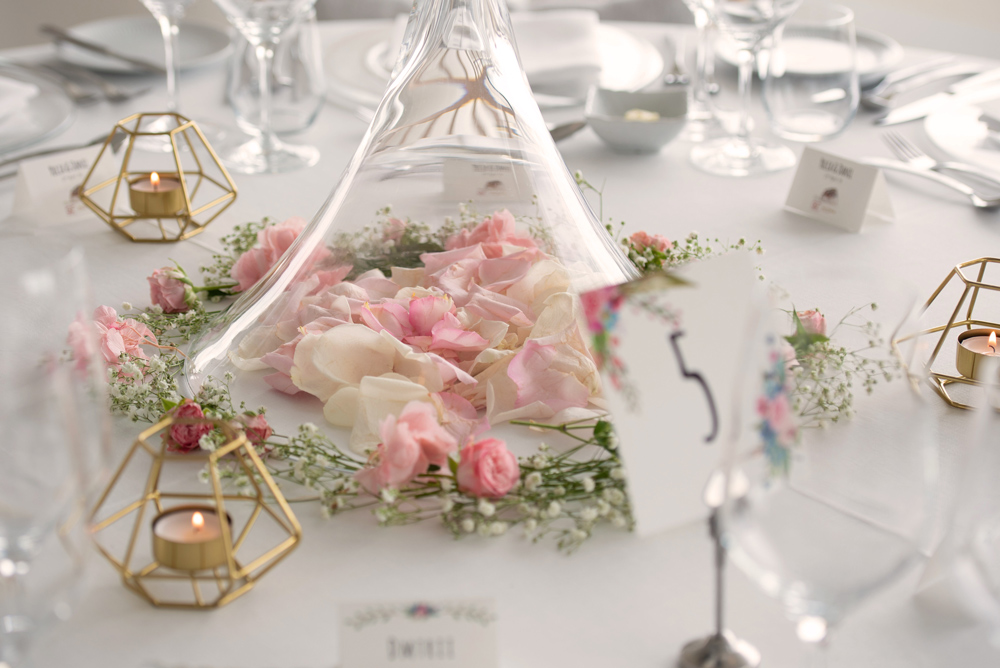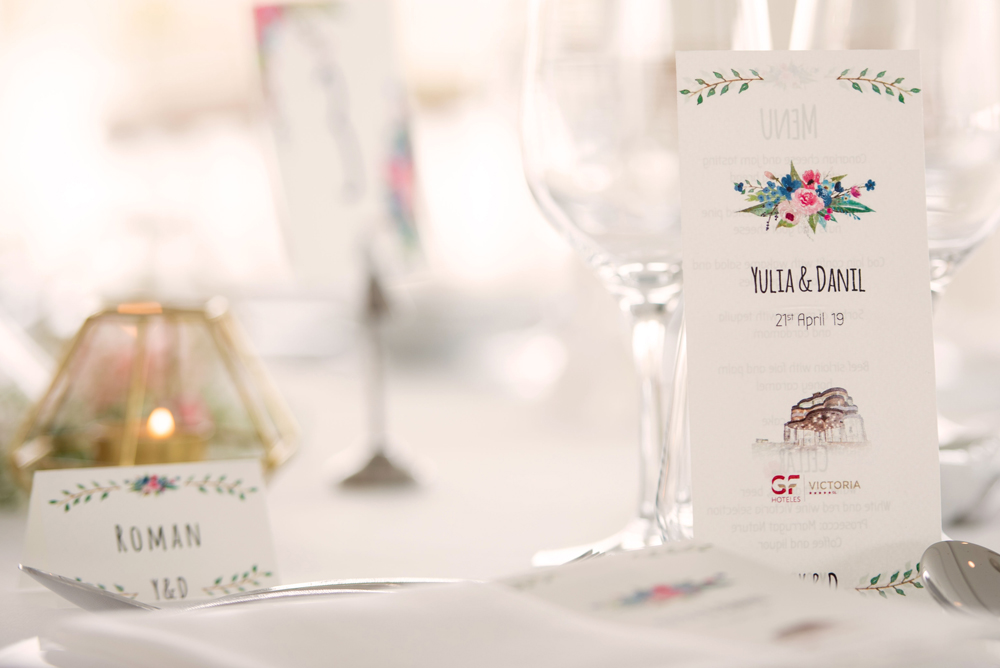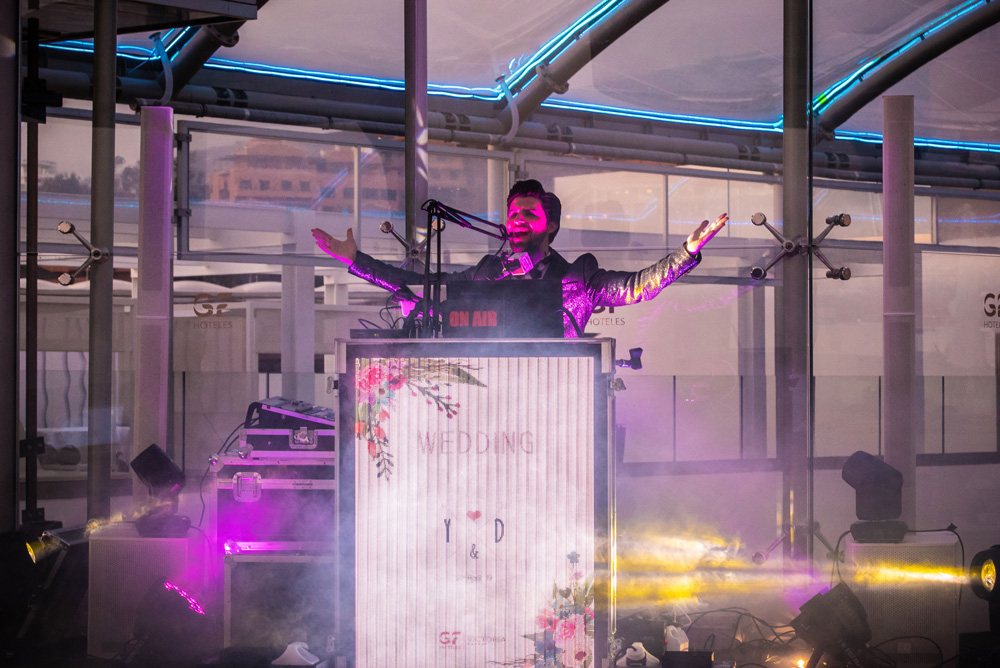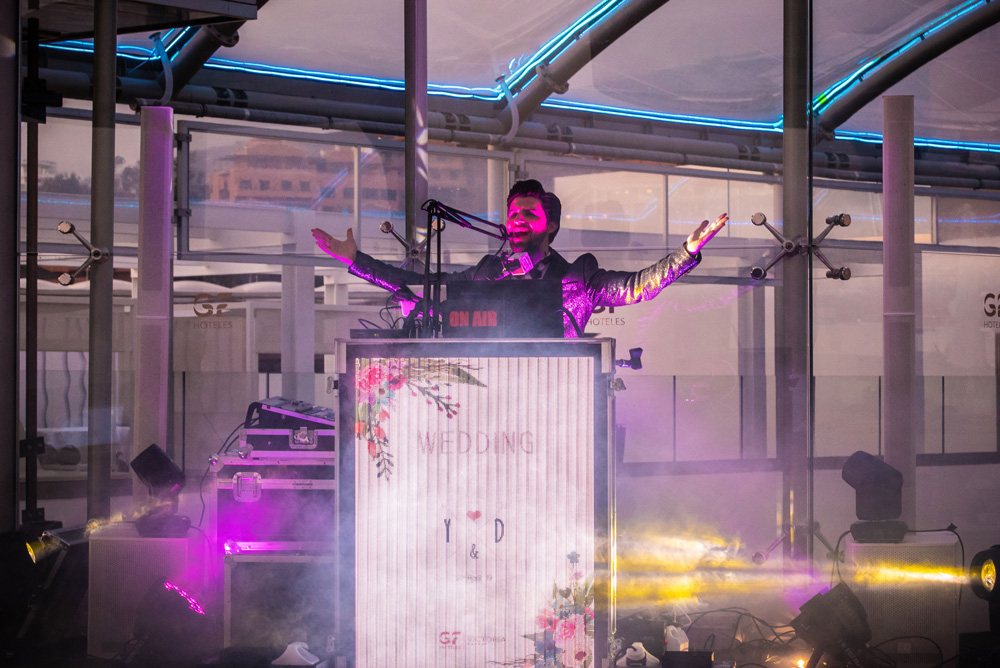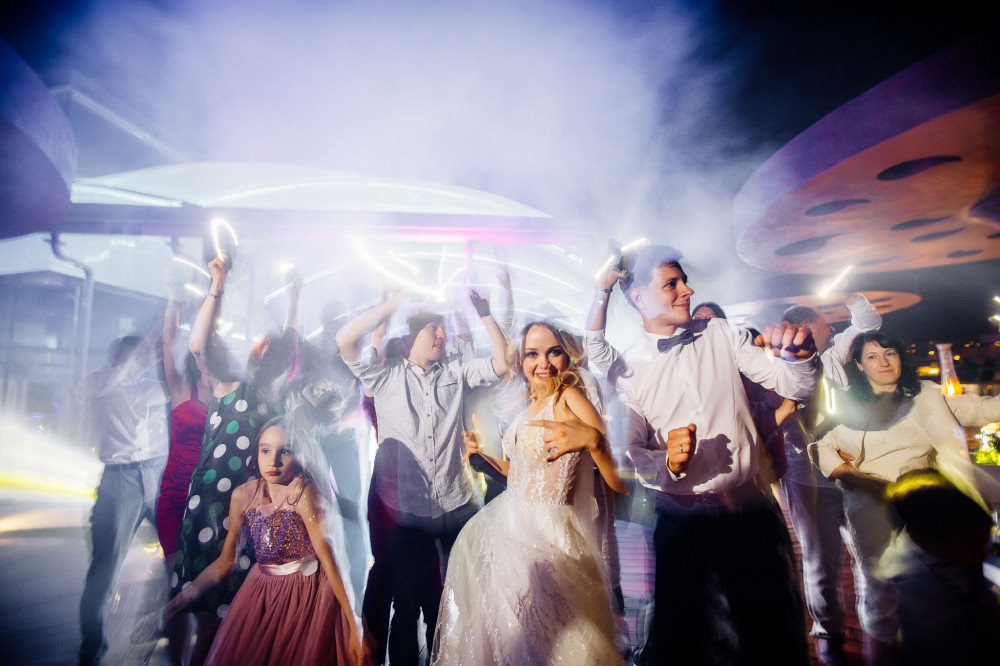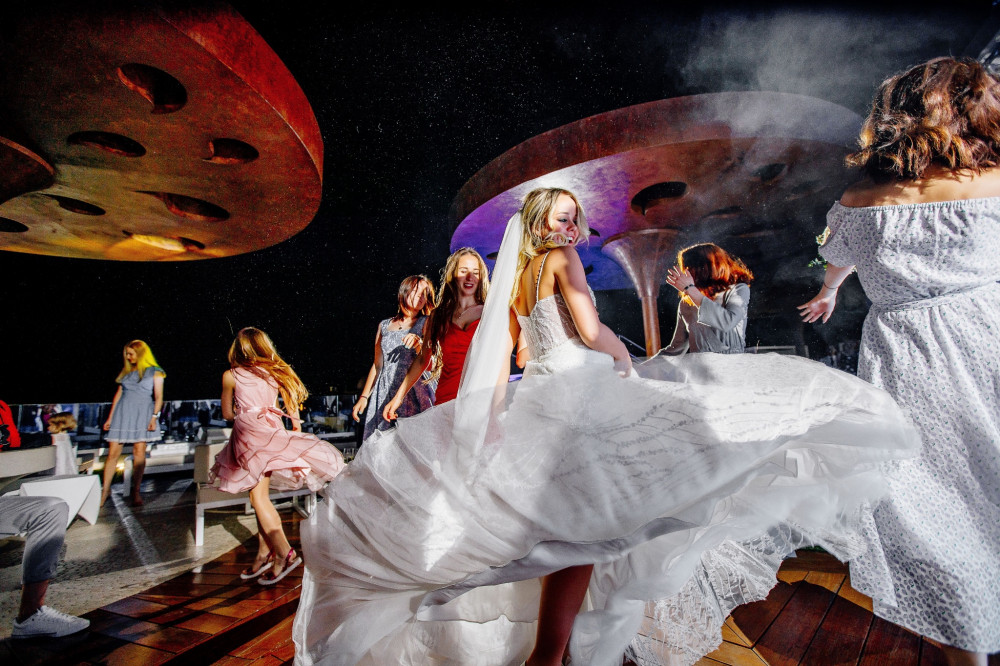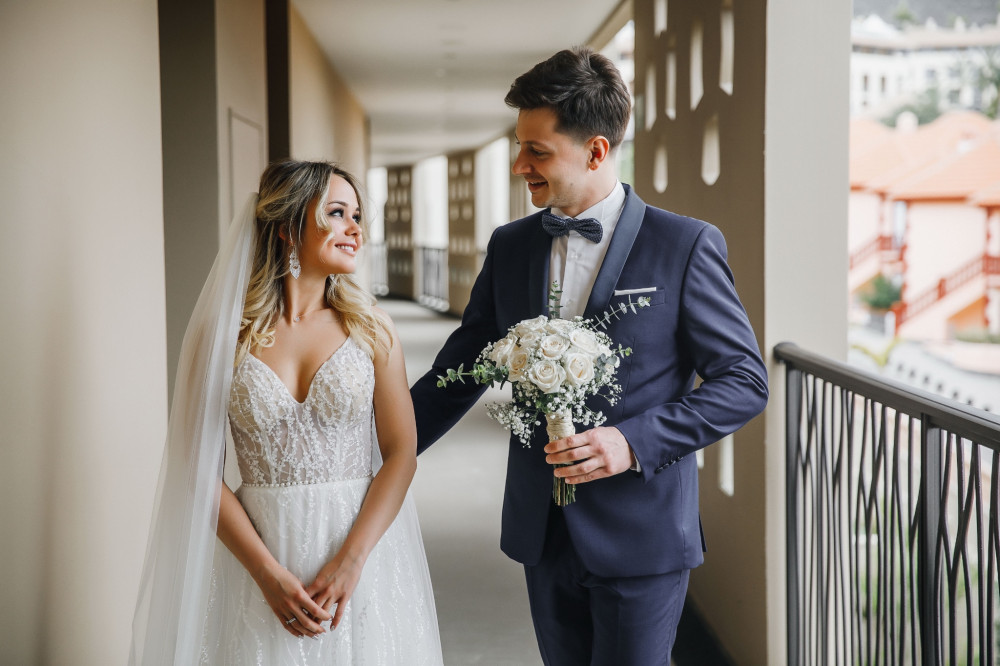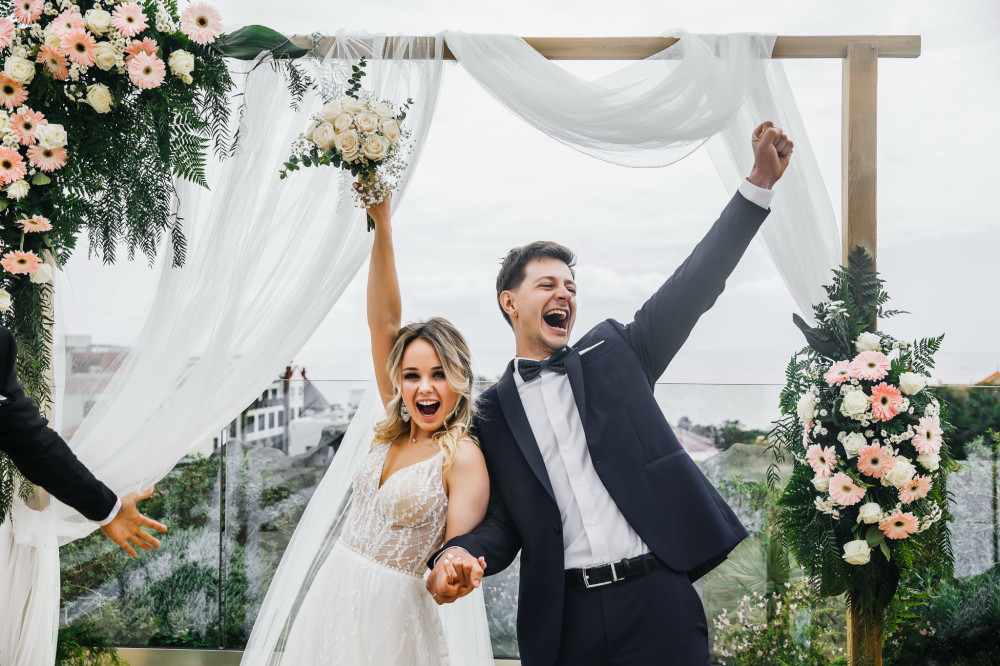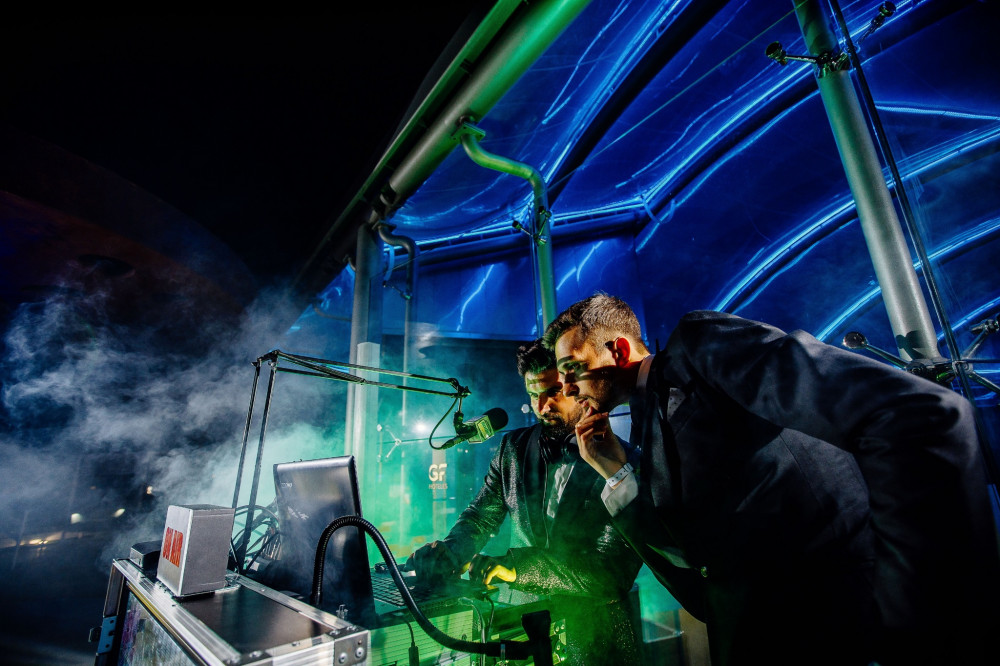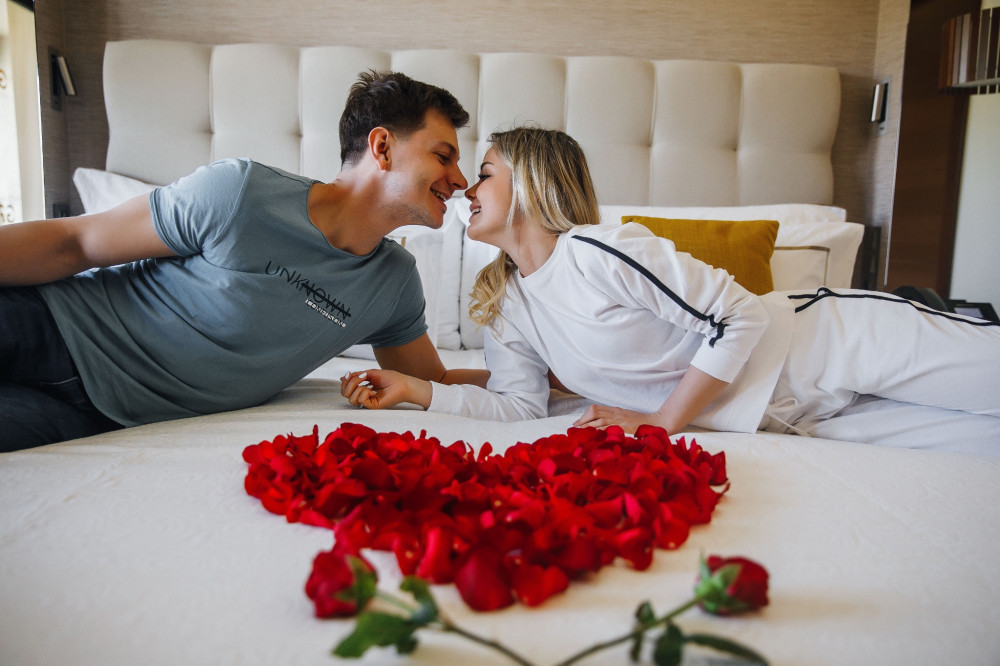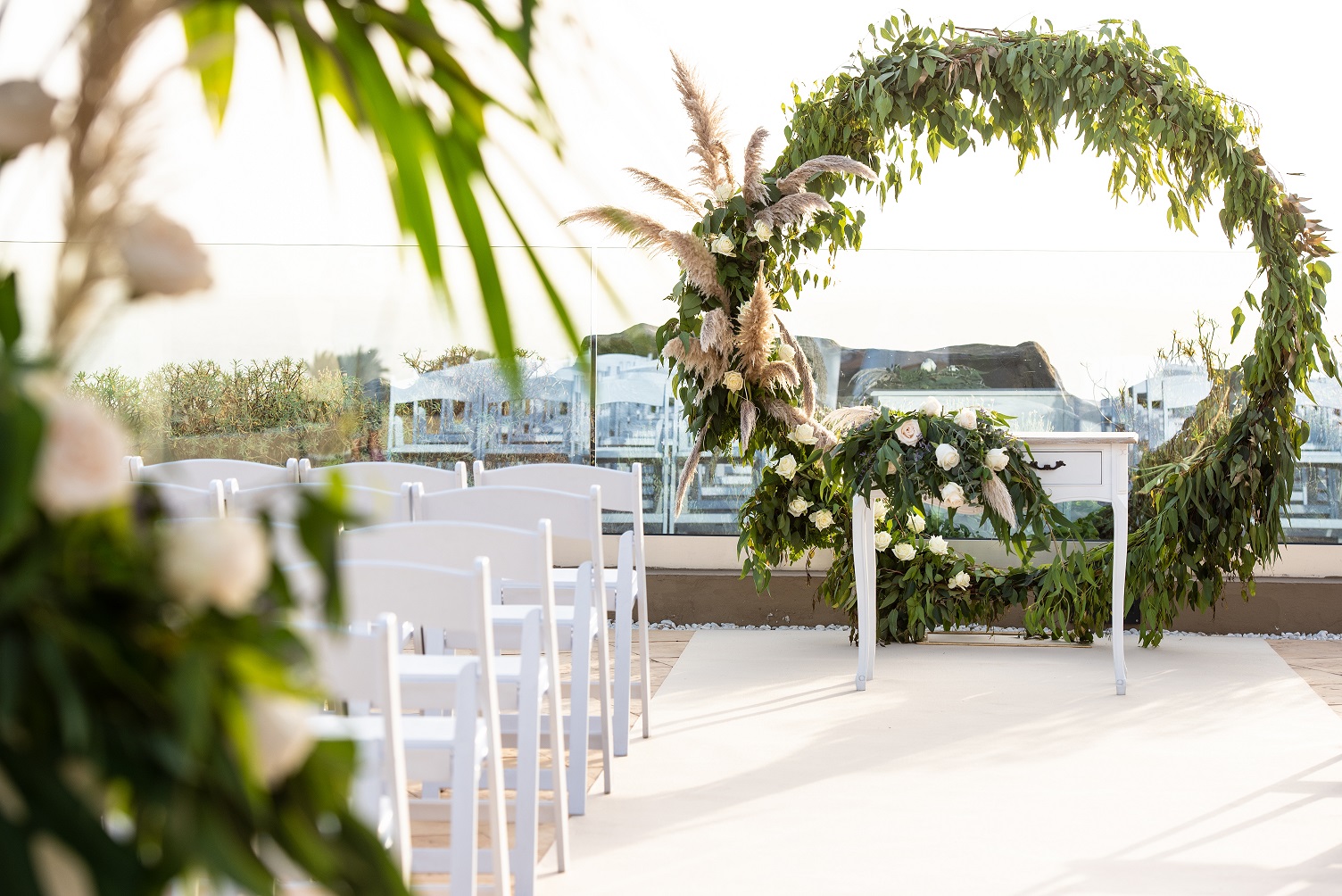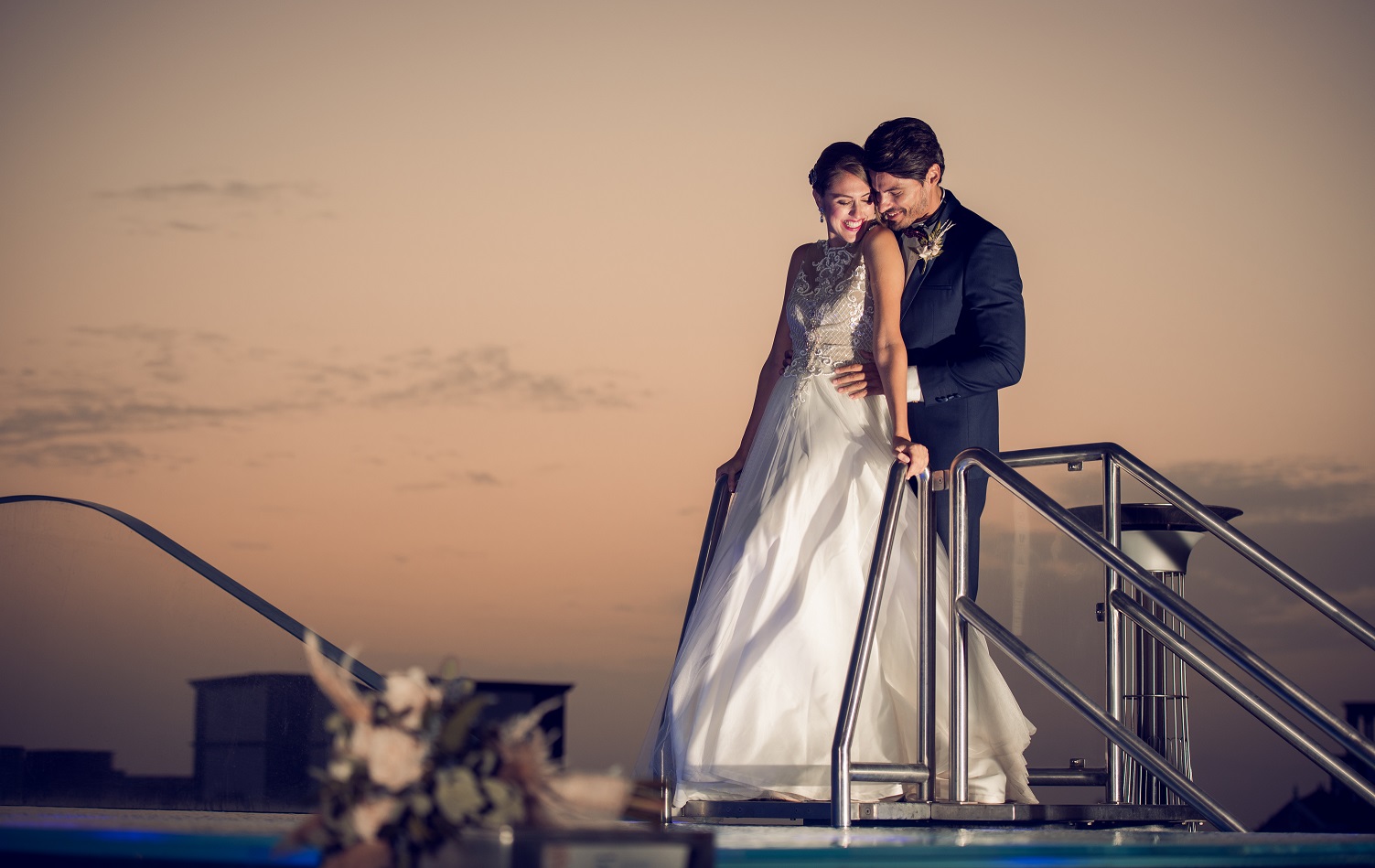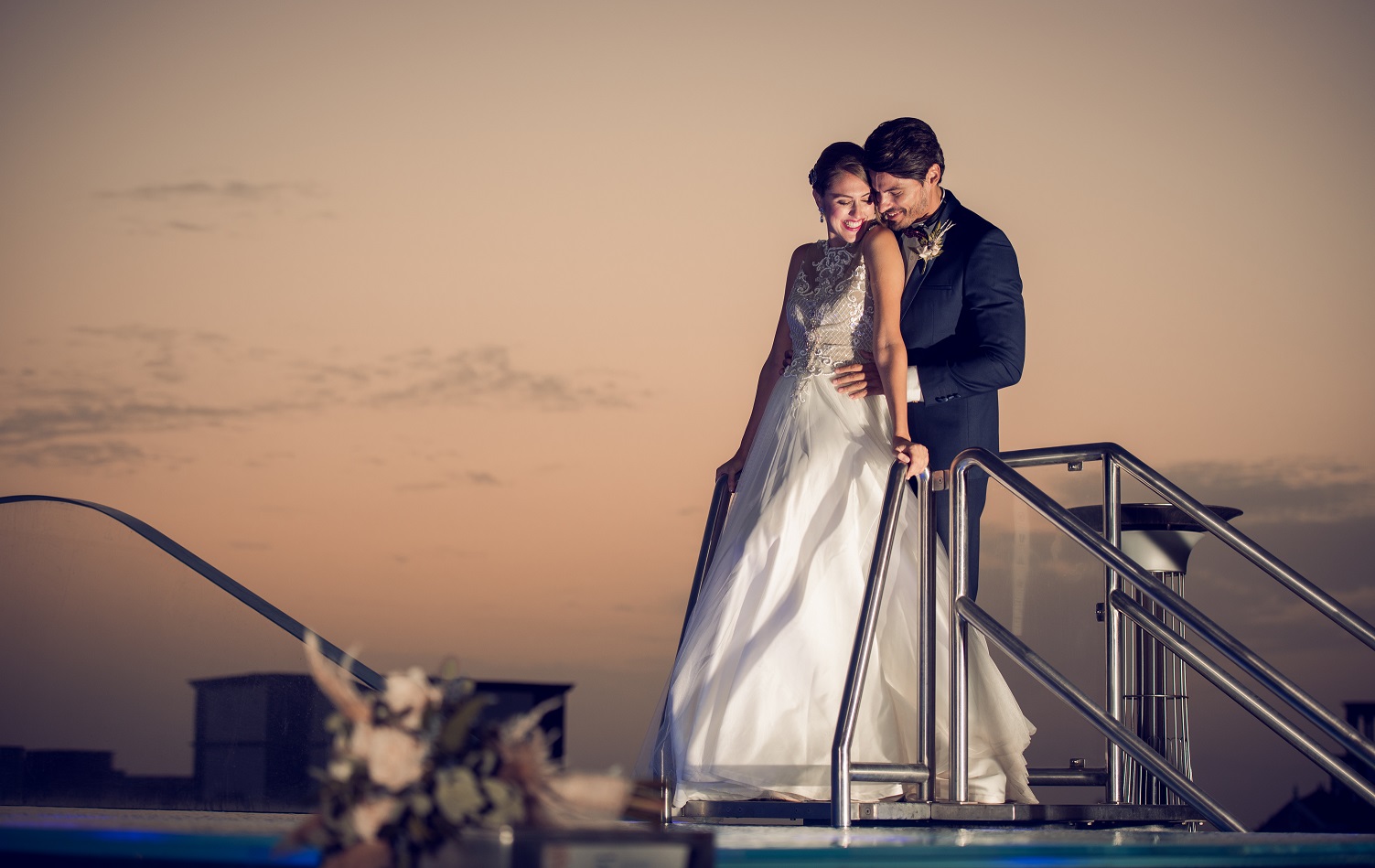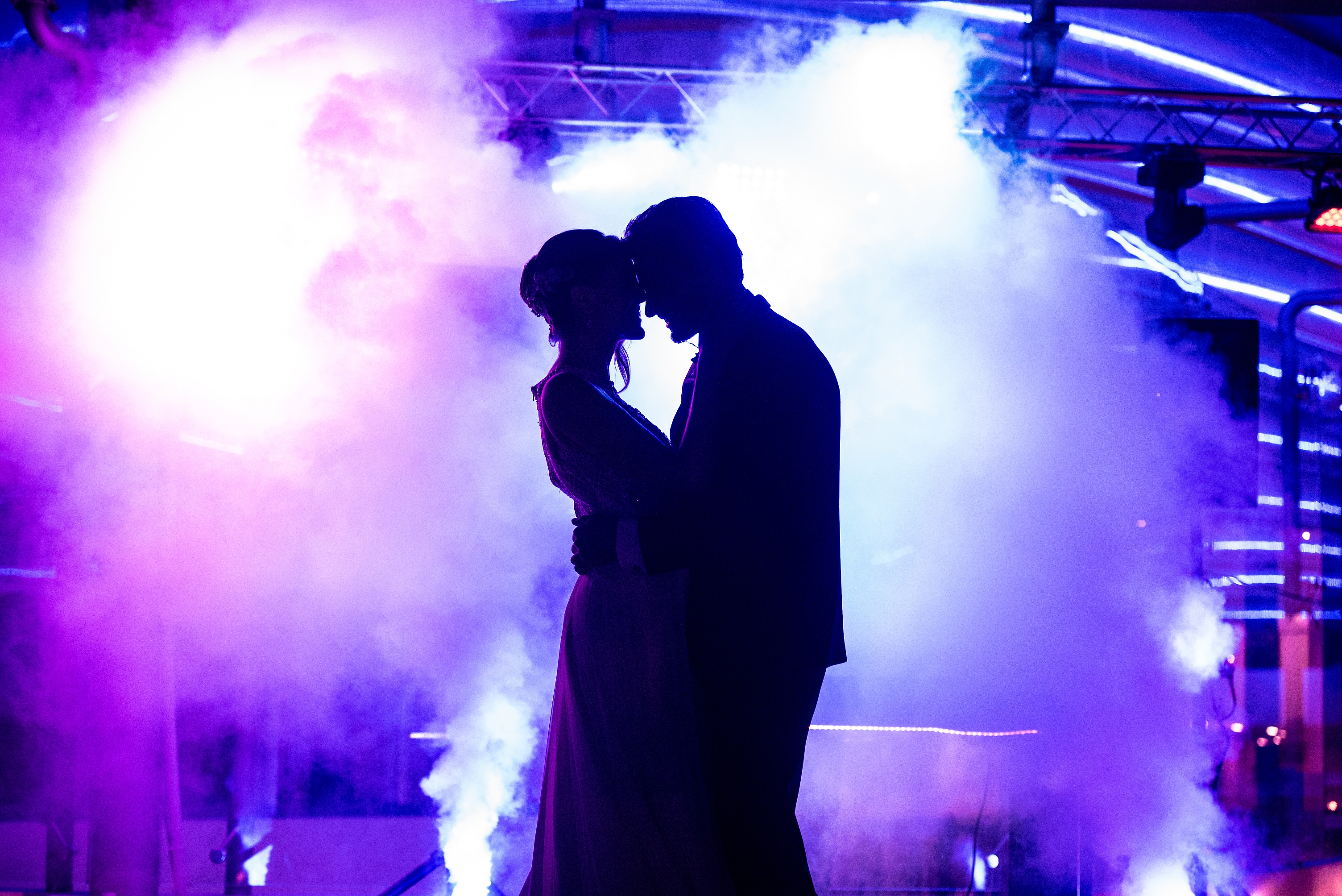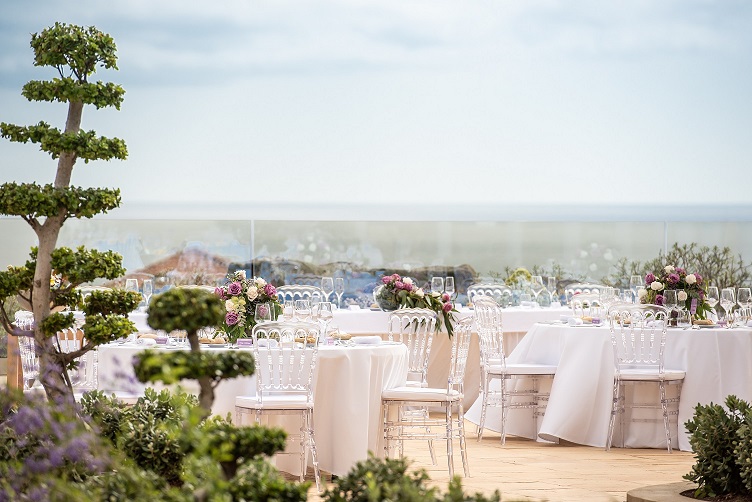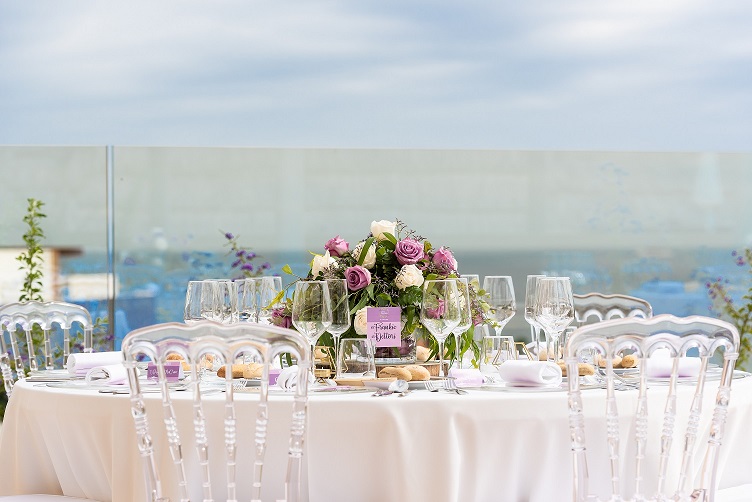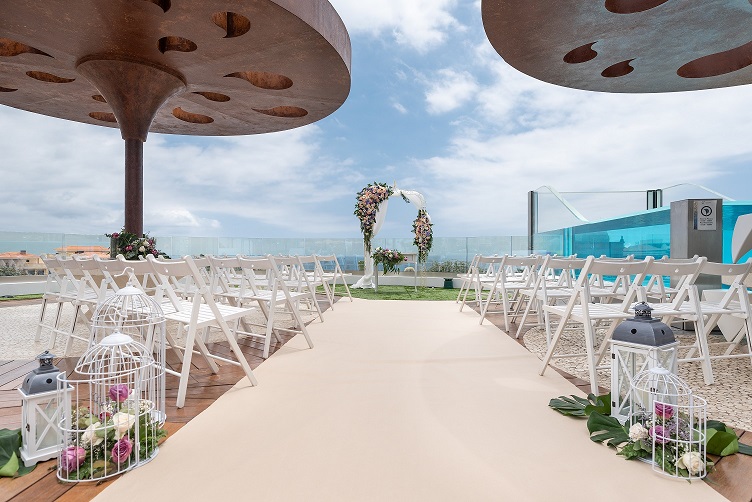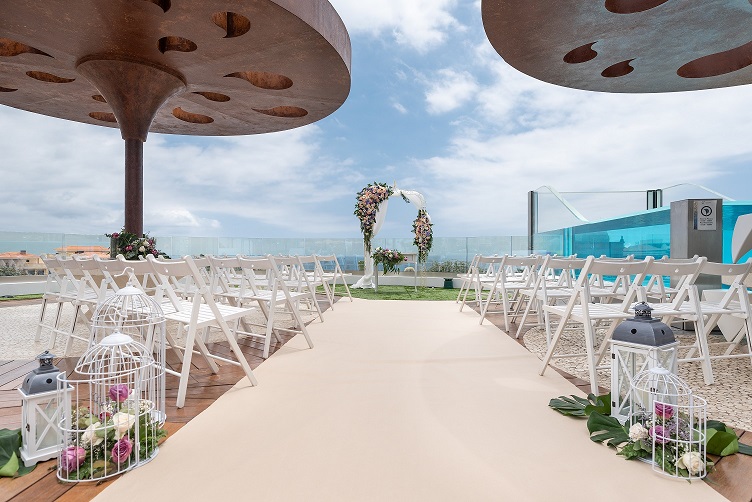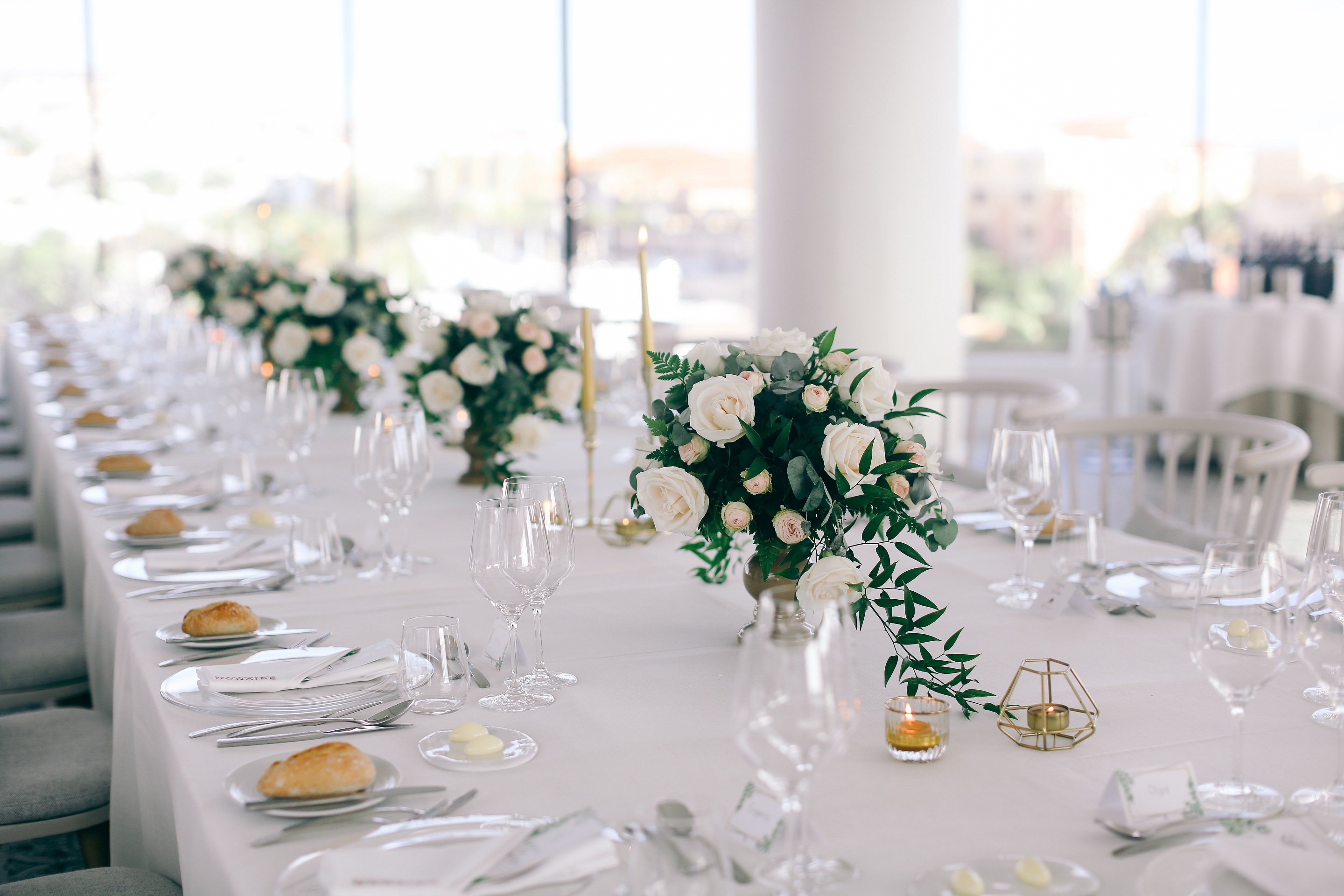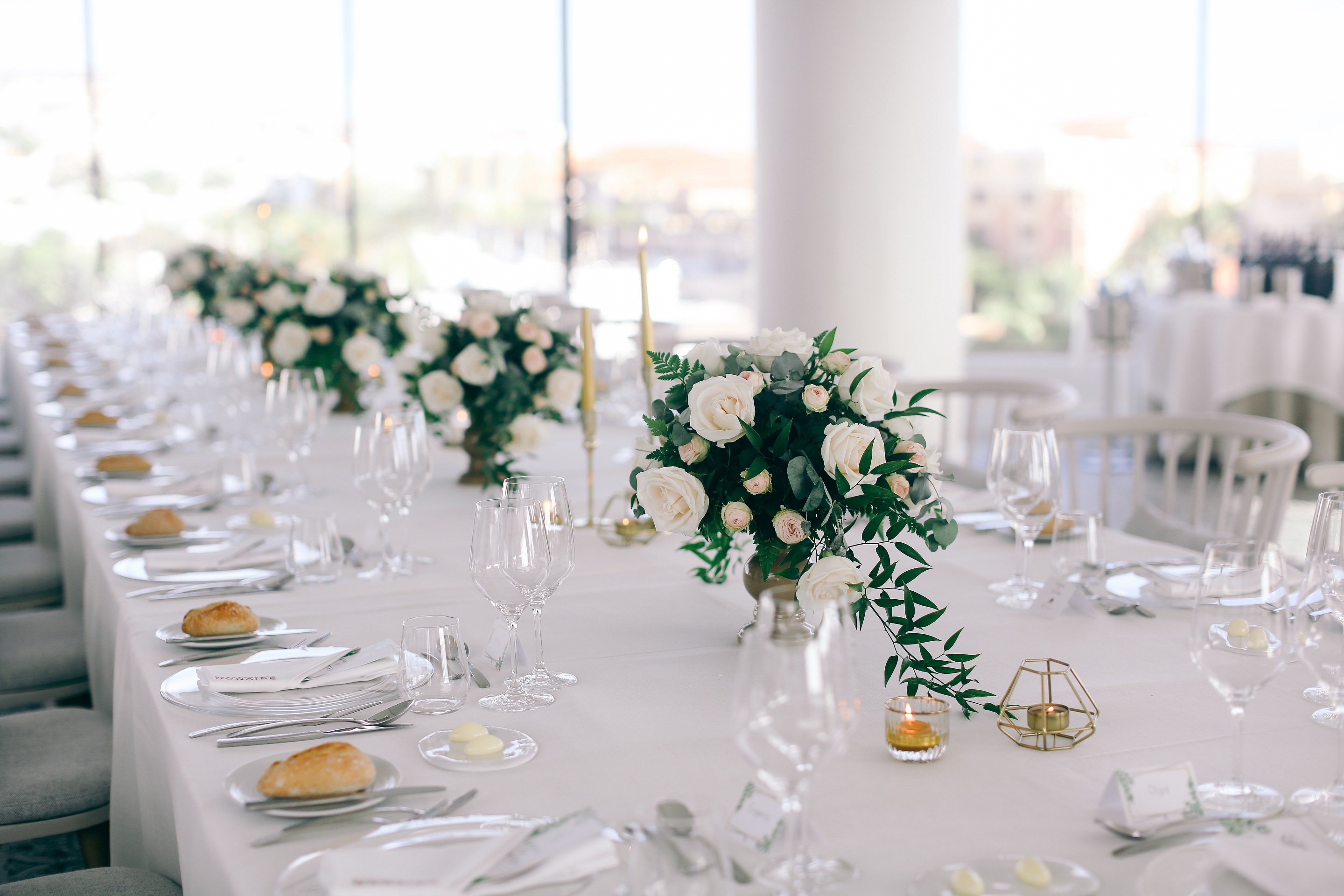 Book your Wedding Date
Facilities:

24h Room Service

Babysitting services

Basketball court

Bathrobe & Slippers

Beauty services

Body treatments

Car rental

Children's playground

Coffee/tea facilities

Concierge

Couples massage

Entertainment

Facilities for disabled guests

Fitness centre

Free parking

Free WiFi

Garden

Hairdressing salon

Hammam

Hot tub/jacuzzi

In-room safe

Kids' club

Massage

Mini Bar

Mini soccer/basketball court

On-site waterpark

Outdoor hot tub/jacuzzi

Outdoor swimming pool

Pool bar

Restaurant (à la carte)

Restaurant (buffet)

Room Service

Sauna

Shops (on site)

Snack bar

Spa and wellness centre

Spa lounge/relaxation area

Steam bath

Tennis court

Turn down service

Water park

Water sport facilities (on site)

Yoga classes
GF Victoria is a 5*GL hotel located in Costa Adeje just 150 m from Playa del Duque Beach,offering 4 bathing areas and a wonderful and very delightful gastronomy.
The full meaning of luxury and comfort is concentrated in the 242 exclusive suites offered by our GF Victoria 5* GL. They are designed to make you feel at home or even better. They were created to provide you with all the comforts that a VIP guest deserves.
Design, balance and a relaxed atmosphere await you in a choice of 4 different types of suites that go far beyond mere convenience and comfort. These unique spaces offer a cosy, warm and modern feel.
All are fully equipped, including minibar, SMART TV with 4K image quality, high-speed Wi-Fi, air conditioning, safe, amenities, 24-hour room service, a cabinet with fridge, kettle, coffee maker and microwave oven. Now all you have to think about is your ideal holiday and choosing what type of space best suits your dreams.
Swimming pools for all styles of life
Swim, float, play and even fly… these are just some of the things you can experience in the pools of GF Victoria.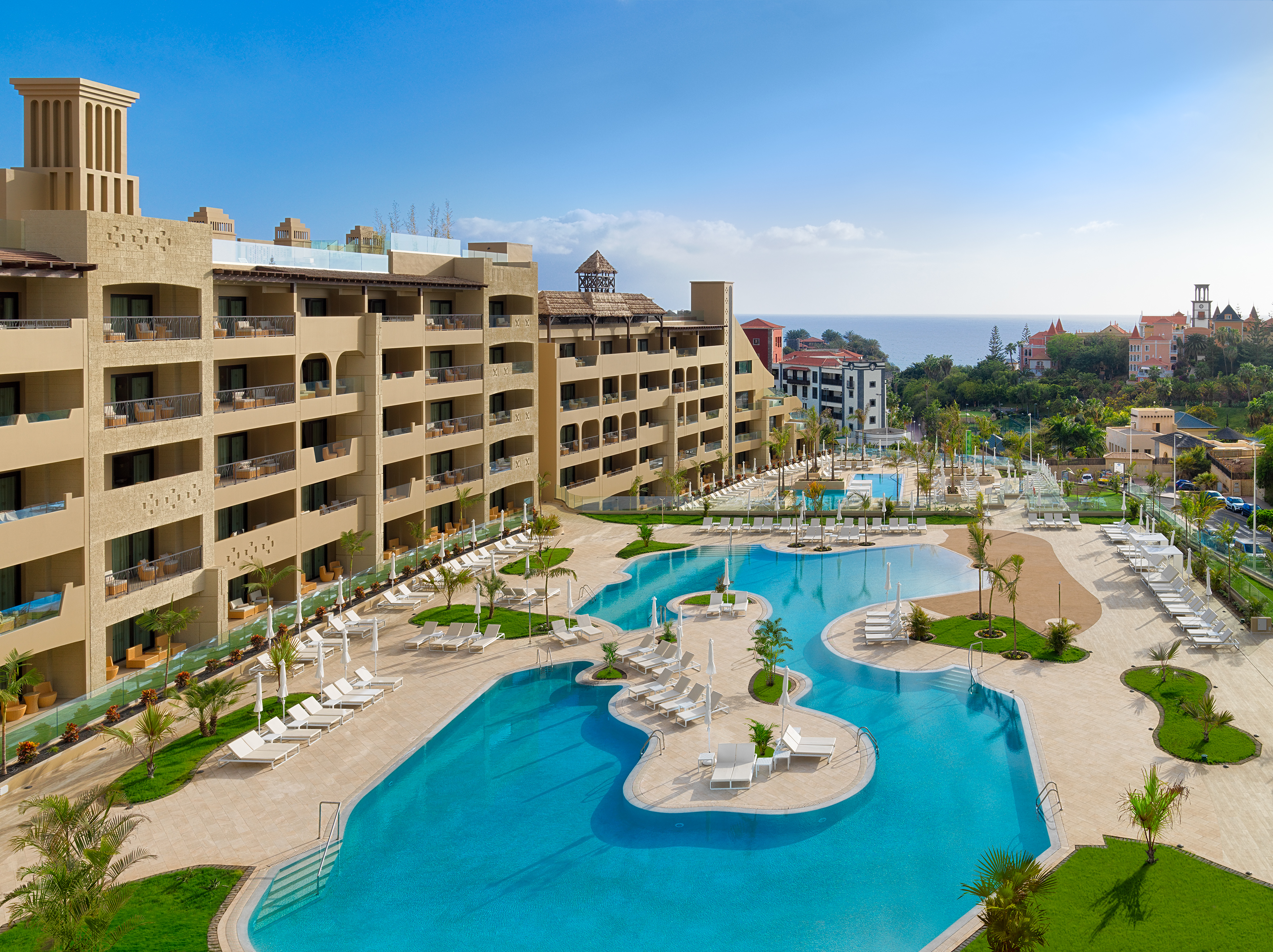 Ceremony venue

With wonderful areas surrounded by a modern style but still cozy and romantic we offer different venues where to enjoy an emotional ceremony.
Japanese Garden
At the top terrace with stunning views to the sea and a vertical garden from the 6th floor to the street, that provides an unique background to immortalize the memories of your wedding day. This venue has a capacity for up to 100 people for a ceremony and a cocktail.
Wedding experience:
https://youtu.be/C87OhkiNvhE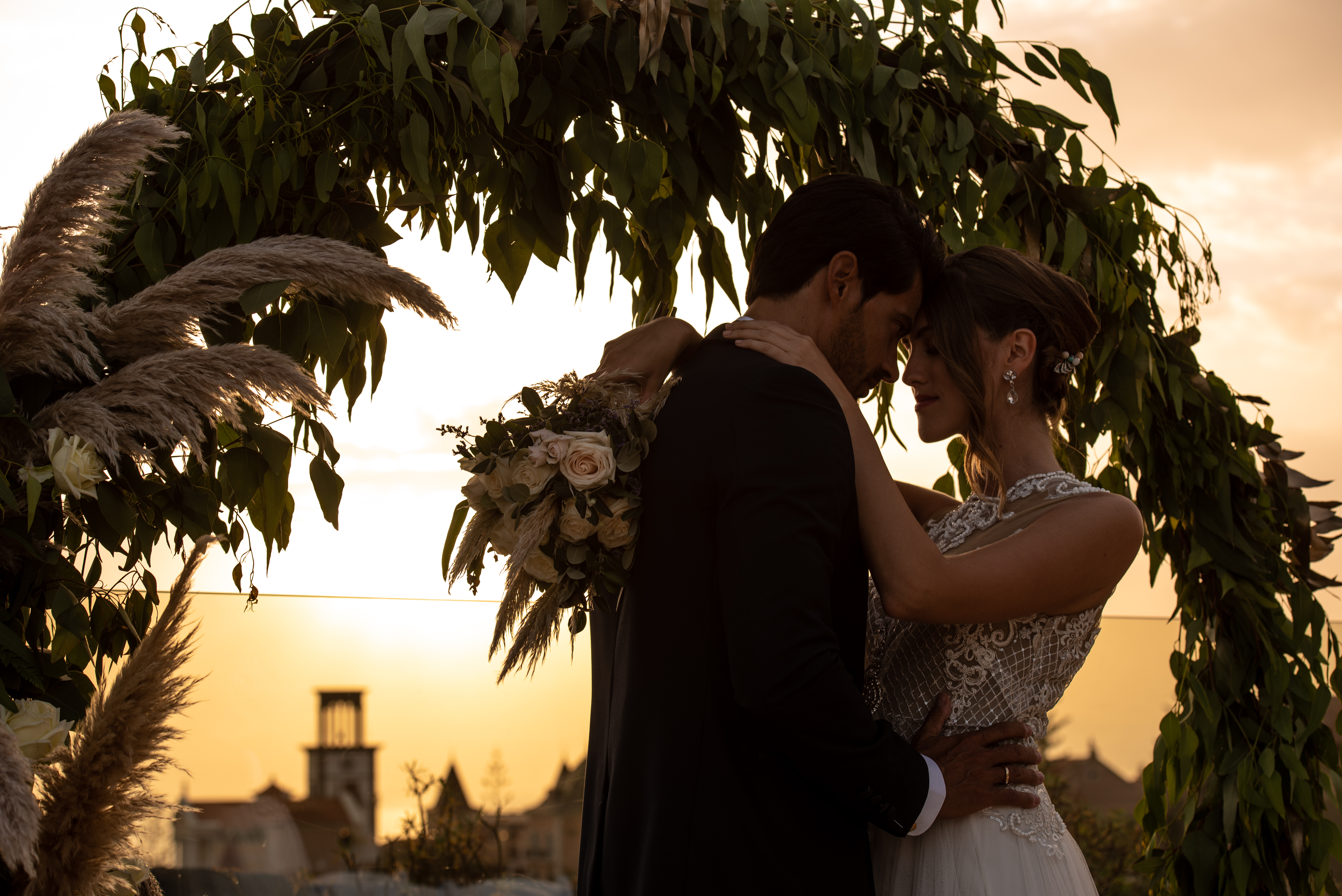 https://youtu.be/6ag5SYqkqX0?list=PLEConHJcjaELPIMEM3--LUxVMfDxSSq42
(Japanese garden top roof terrace)
Family pool
Offers a venue overlooking the sea with capacity for 200 people at its right hand side near the garden area, and for 25 people if we celebrate the ceremony in the middle of the pool island. This area is available for ceremonies in the late afternoon from 5 p.m. to 7 p.m. depending on the month of the year.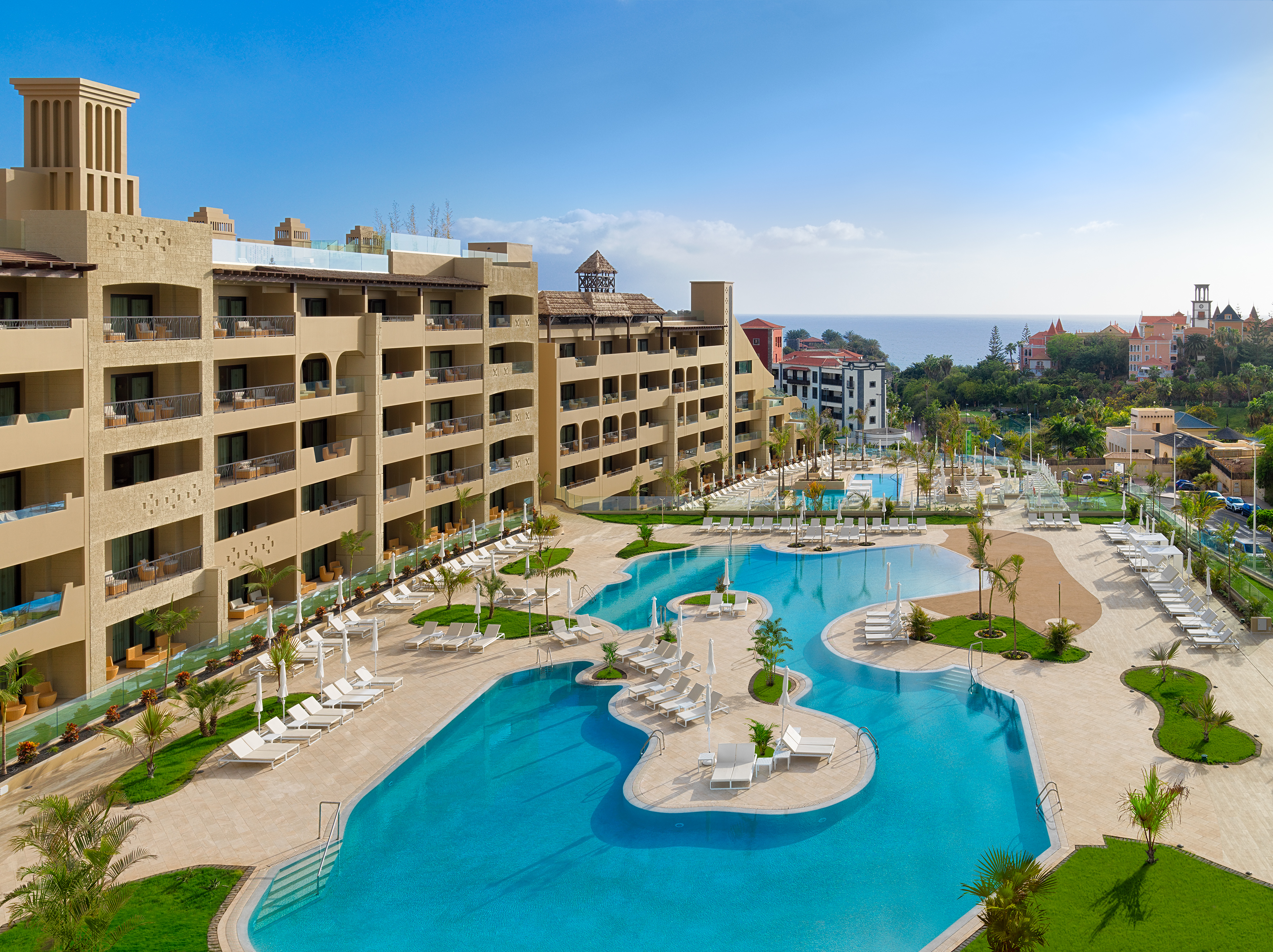 Garden Venue
With a tropical and sea background at the intimate pool, here the ceremony can be held in the late afternoon with capacity for maximum 100 people. (Garden at the right hand side of the smaller pool area when looking at the sea)
With bigger capacity at for ceremonies at any time of the day, we offer you the venue at the Sun Garden where different set ups are available between fountains or with palm trees as a background.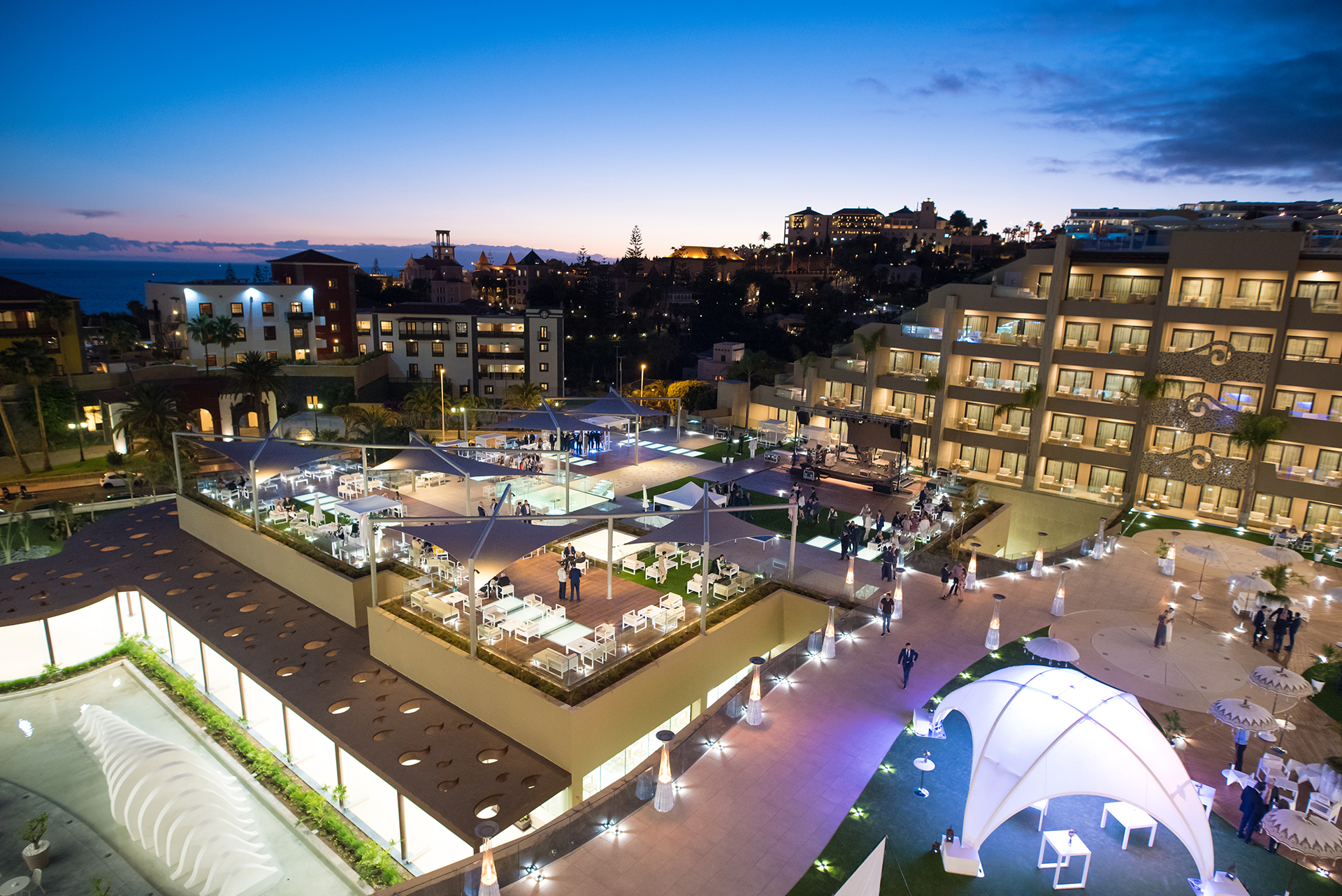 Sky Bar Zambra
Our last venue with a smaller capacity for maximum 50 people and with an exotic decoration with sade structures offers an incredible view of the sea similar to the Japanese garden. This venue has an additional fee when privately reserved for an exclusive event and its availability is subject to the hotel's occupancy. (Not available in August, Easter or Christmas time)
Wedding experience with ceremony and ending party at Sky bar Zambra:
https://youtu.be/JX2zLVFW_TI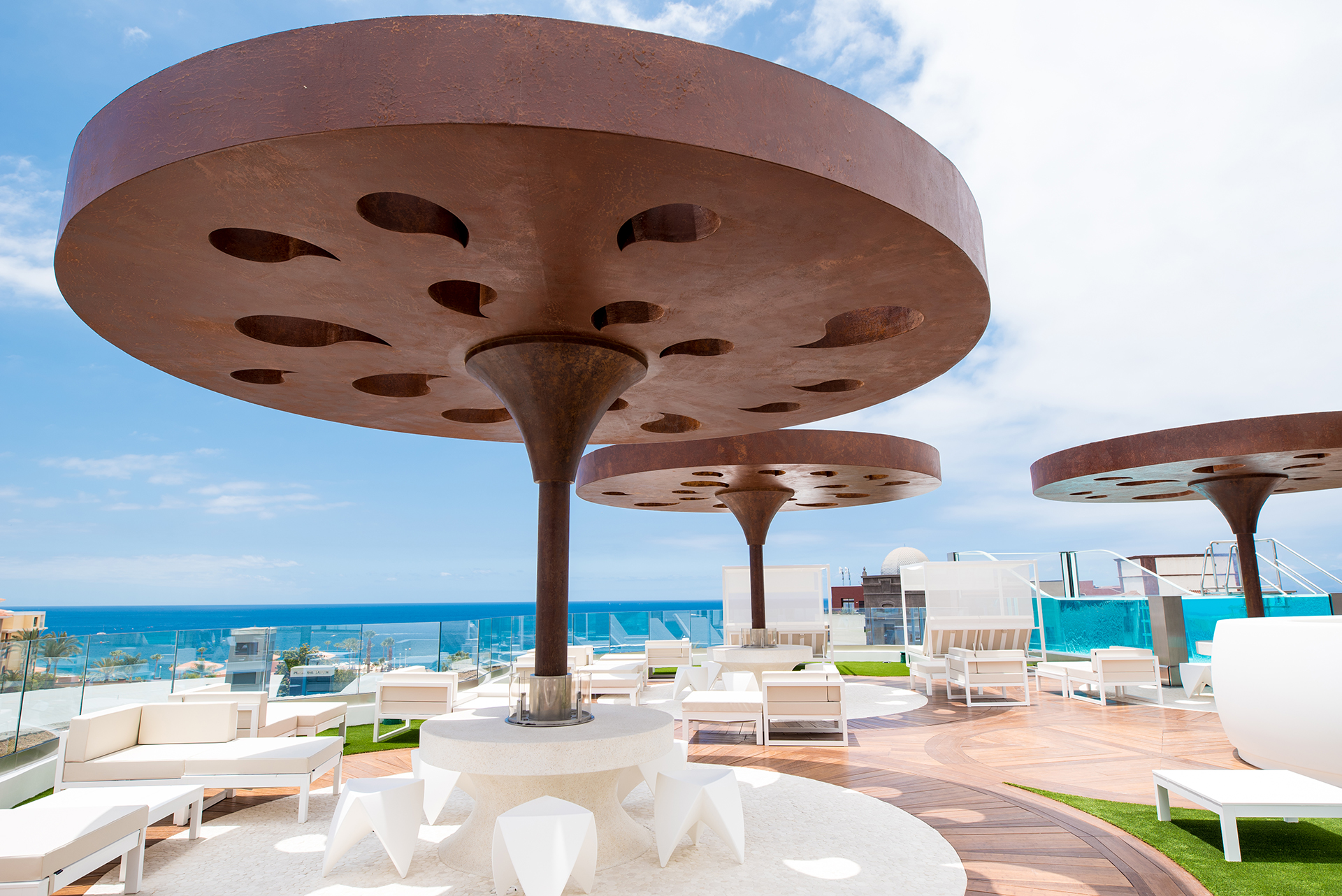 Banqueting venue

Celebrate your union, and say, "I do", with an exclusive luxury experience, personalized and close to your loved ones. For us, the key is to share; share with all your guests the joy and romance of one of the most special moments of your life. We would be honoured if you would place your trust in us. We will accompany you in your happiness and will work by your side to make every detail, from the decoration of the venues, the gastronomy and the stay, perfect and unforgettable.
Our gastronomy offers a wide range of dishes to customise your own cocktail and banquet with very high quality of ingredients. Our chefs take care of little details to make your wedding a success with elaborated dishes that show a perfect presentation as well as best taste.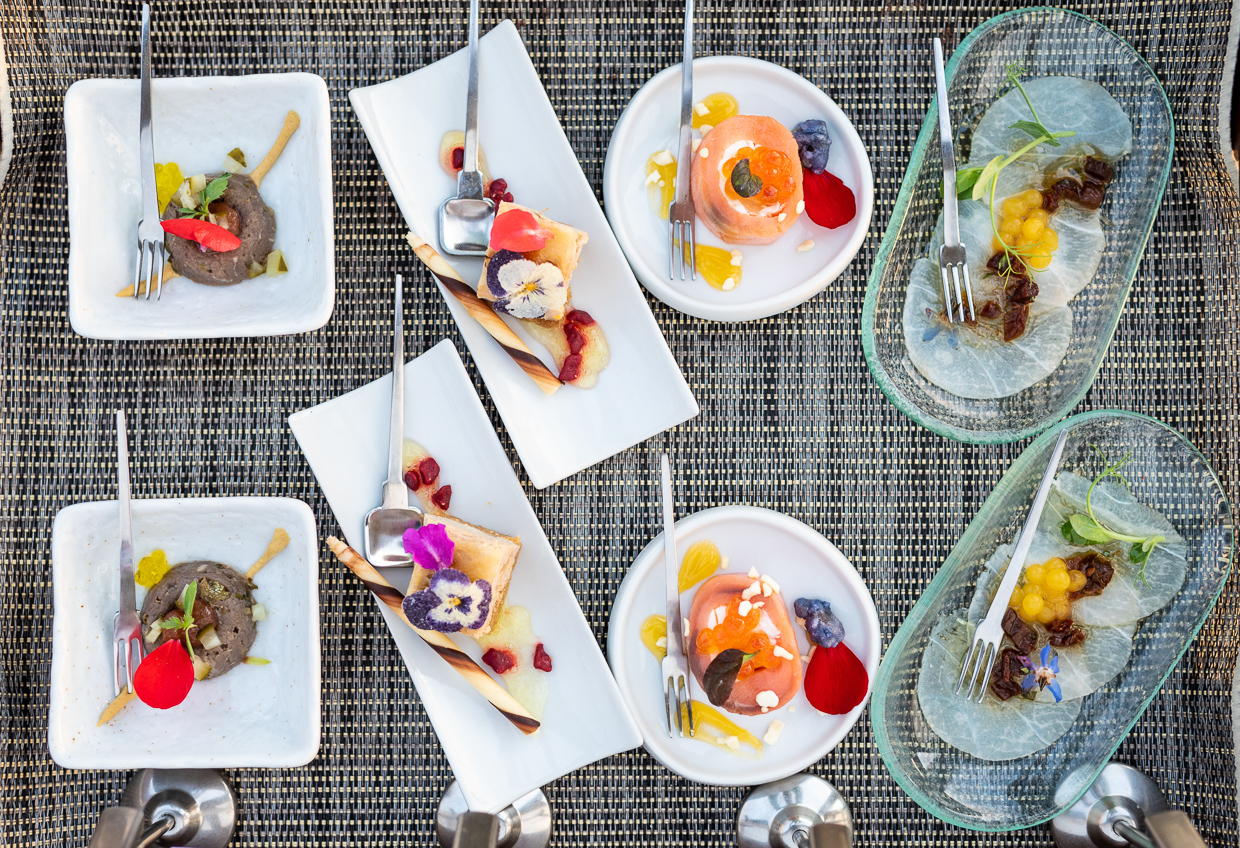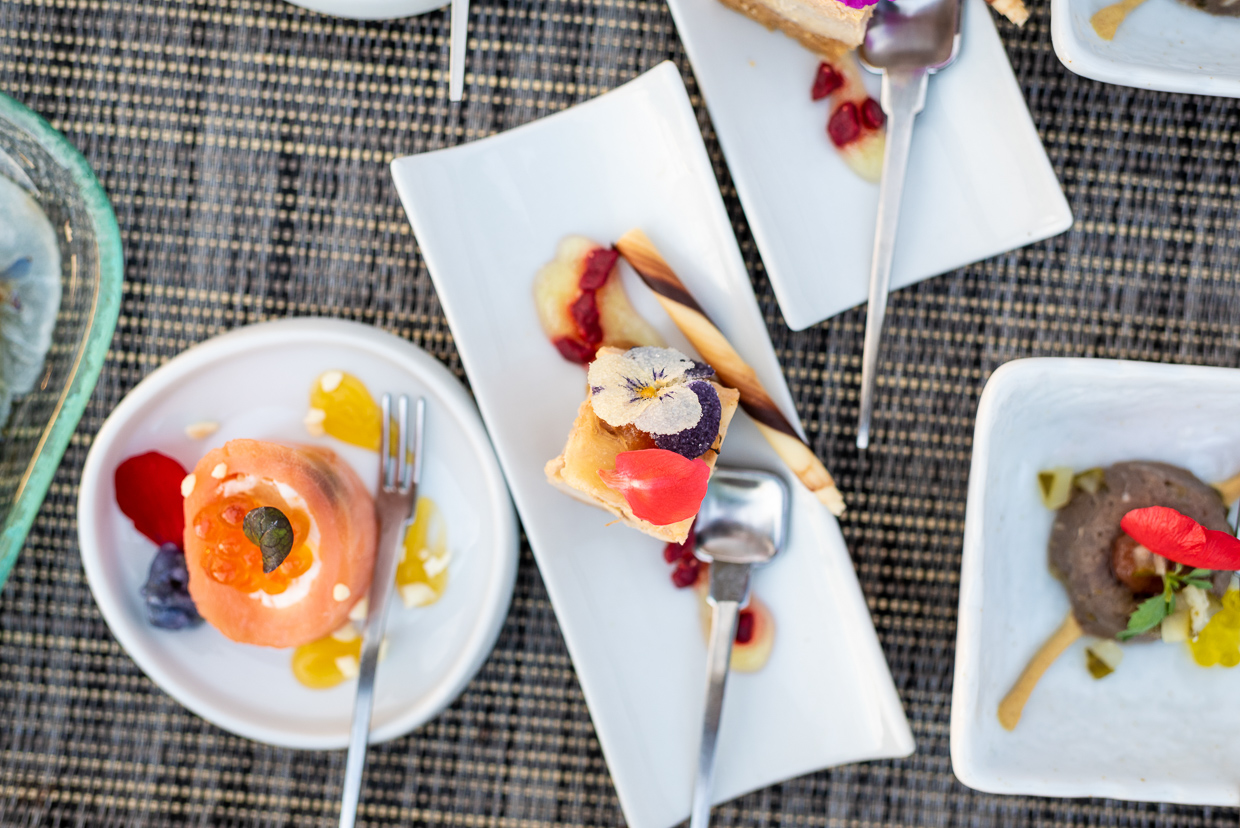 Our different venues are available for banquets according to capacity and timing of the wedding.
Restaurant Donaire
For intimate weddings and with a maximum of 60 diners, we propose you our stunning 'A La Carte restaurant with panoramic views of the sea and the sunset, to enjoy a beautiful menu customised personally by our head chef for your wedding with fresh market products. From 3 dishes to 5 dishes plus dessert, we will surprise you with an exquisite service and beautiful food.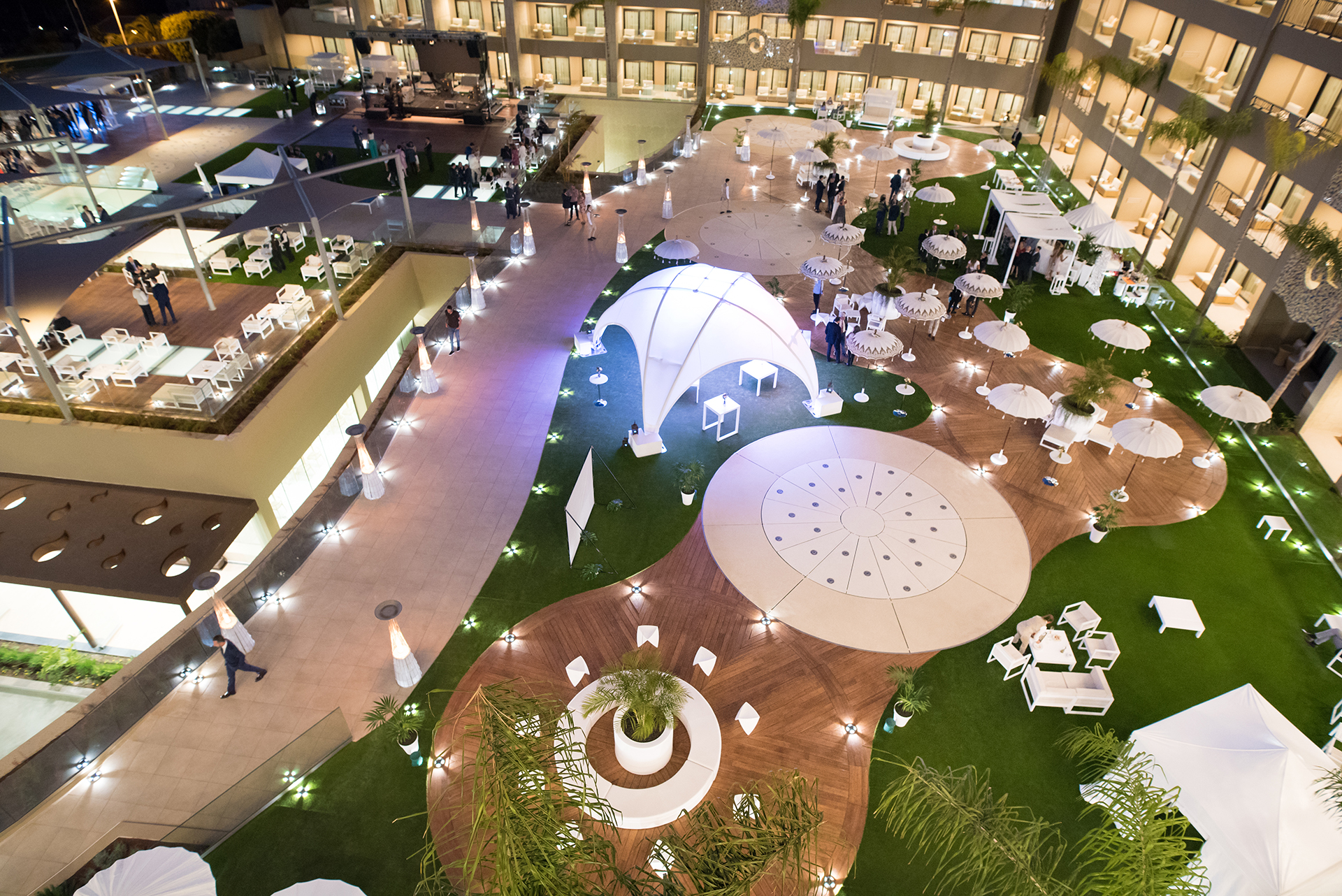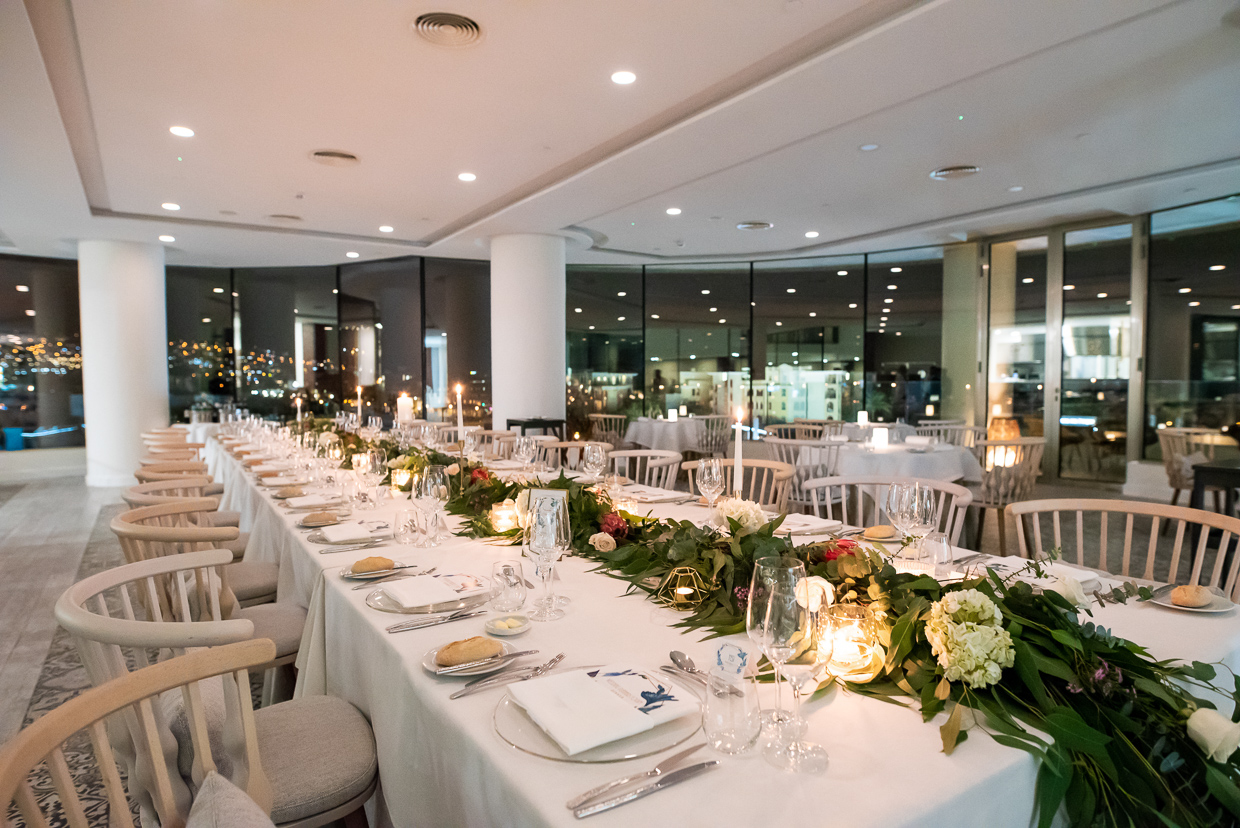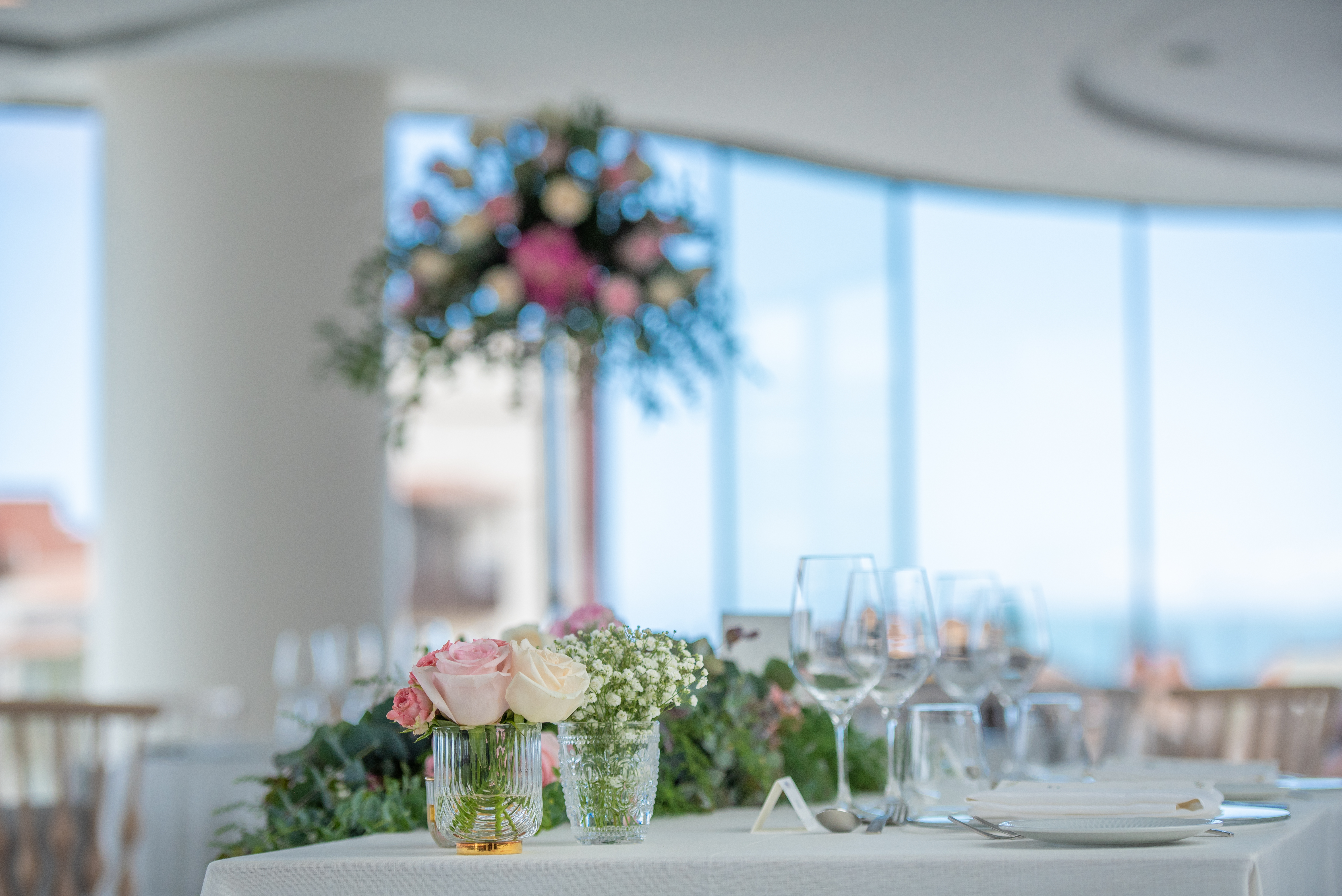 Japanese Garden
At the top terrace overlooking the sea, this is the best place for a Finger buffet for 100 people (Cocktail style) or banquet for maximum 60 diners. The options for any event here are not limited by other services, so it can be enjoyed at any time. Early banquets might require tent arrangements to provide shade for longer services when sitting.
In case of extreme wind conditions, the event might be reallocated to a different venue for security reasons.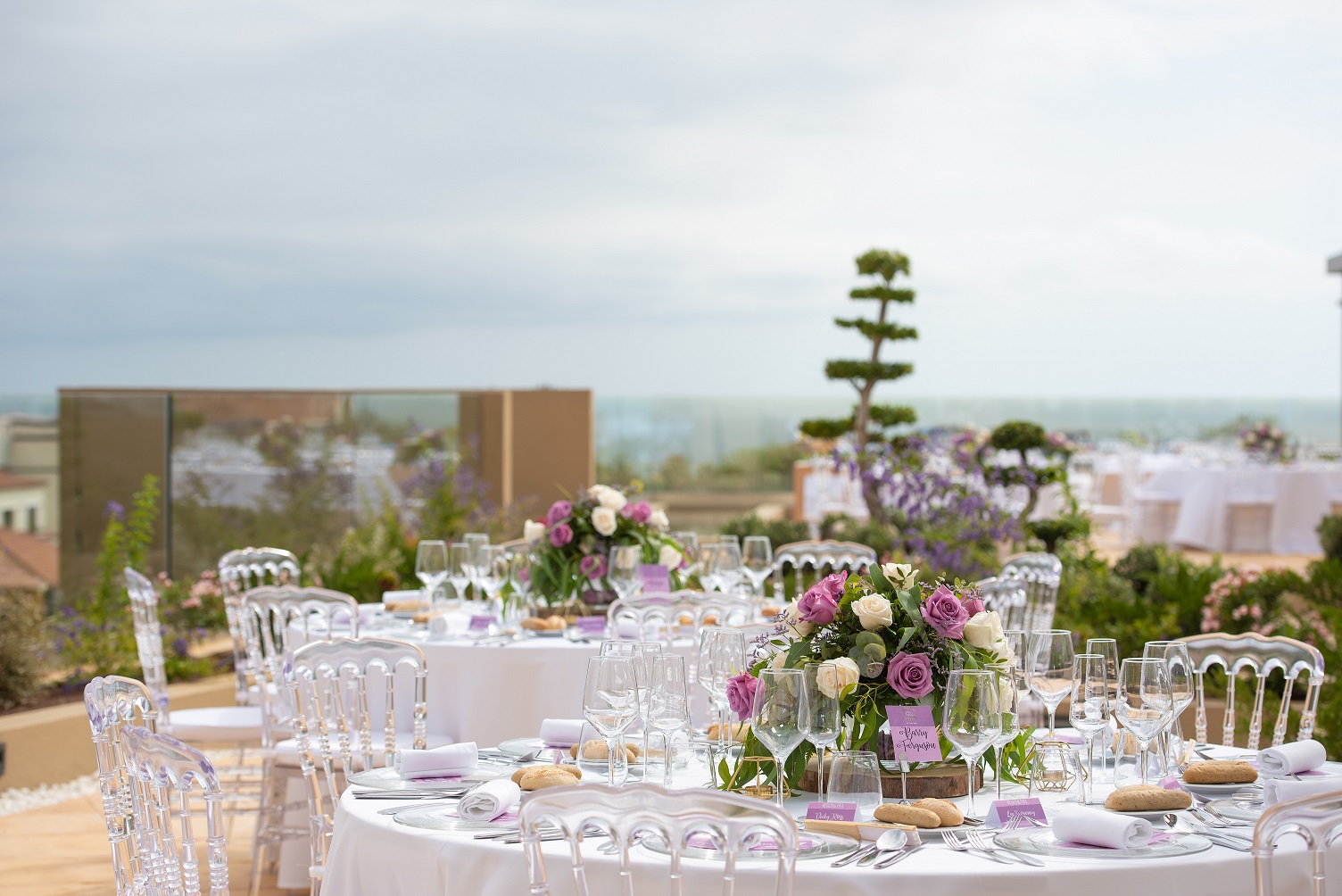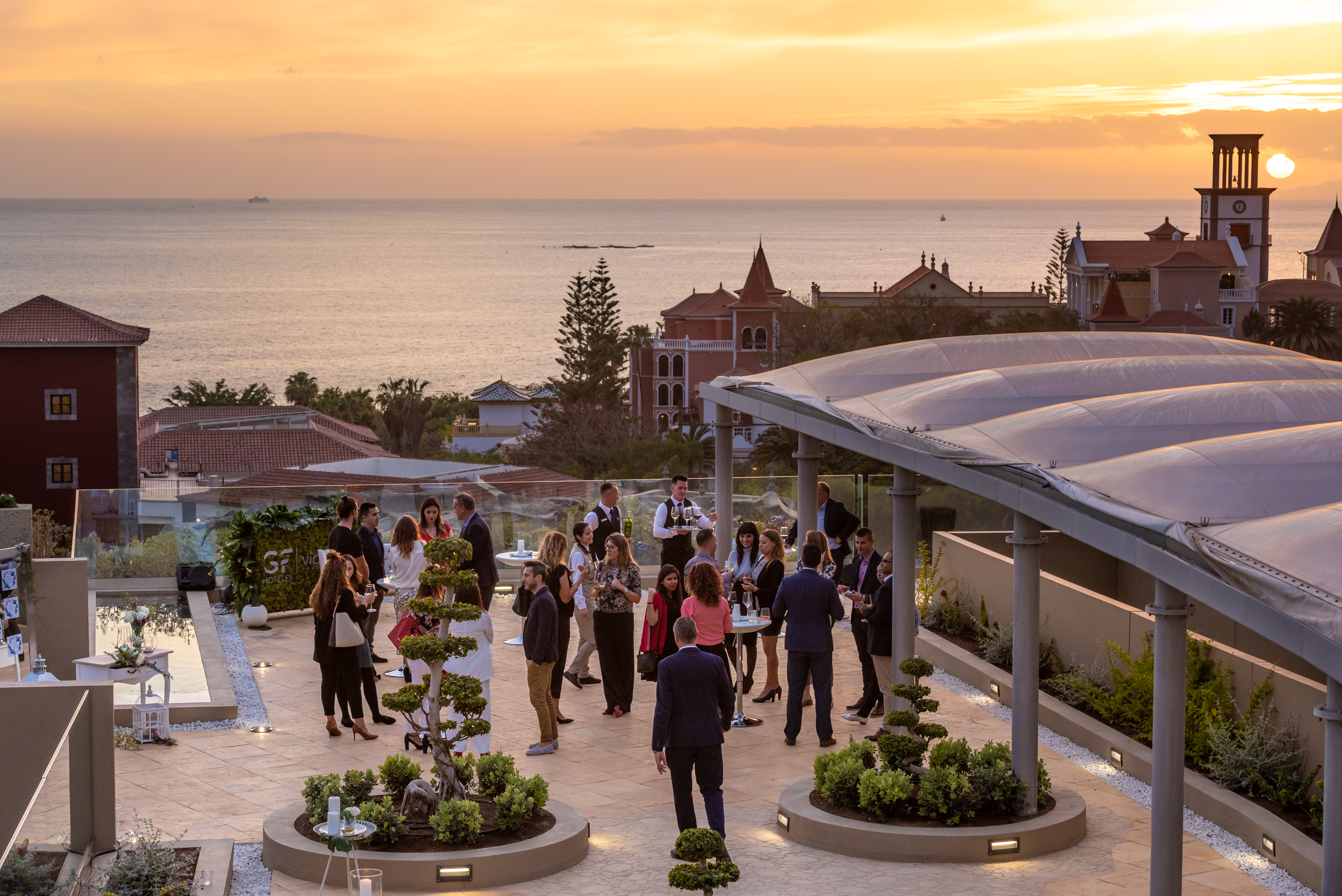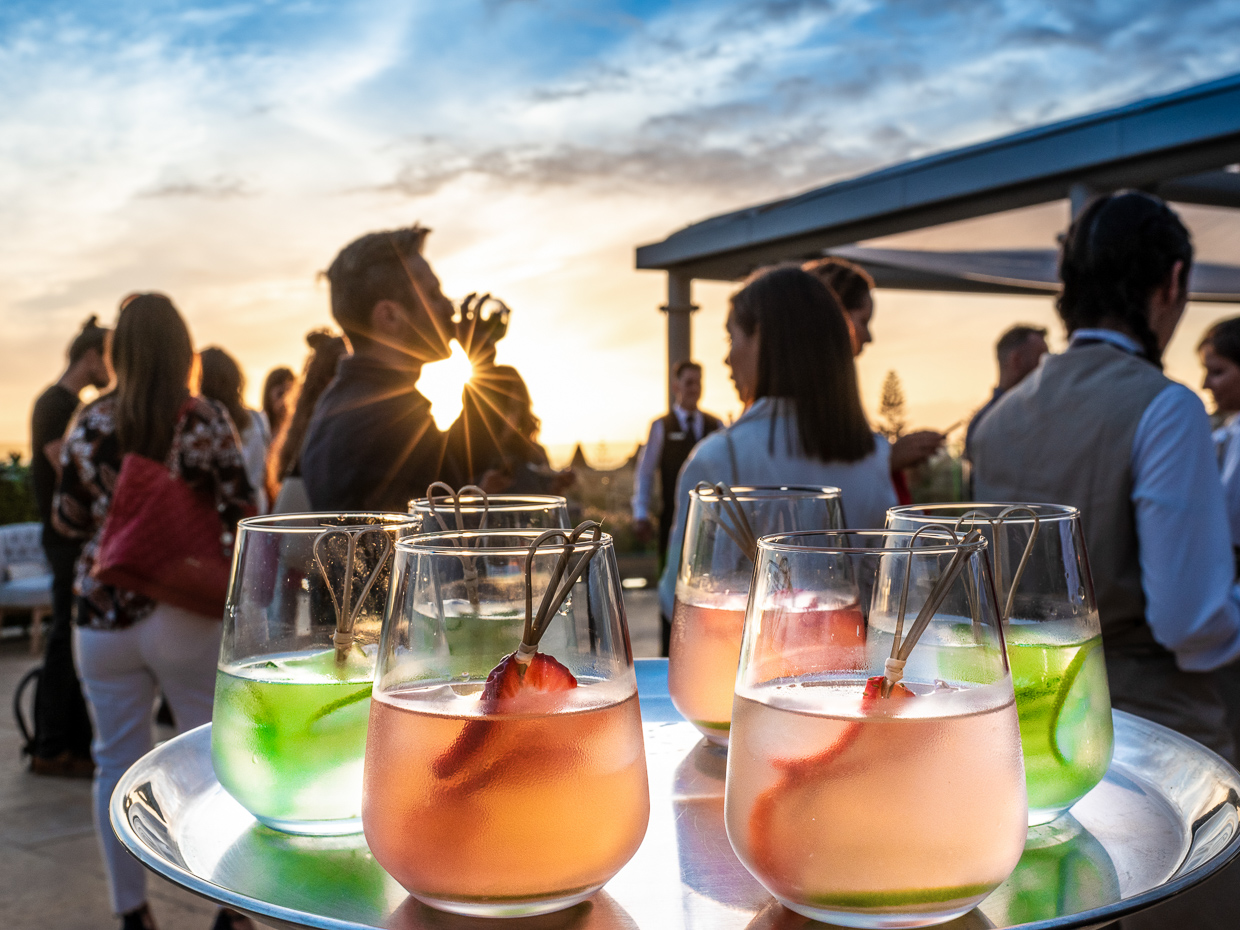 Family pool for late banquets
A lovely area with beautiful gardens and the ocean as a background following our pool view. We can offer capacity for 130 people under the pergolas at the restaurant Amaina with features to protect you from the wind and still enjoy the wonderful view.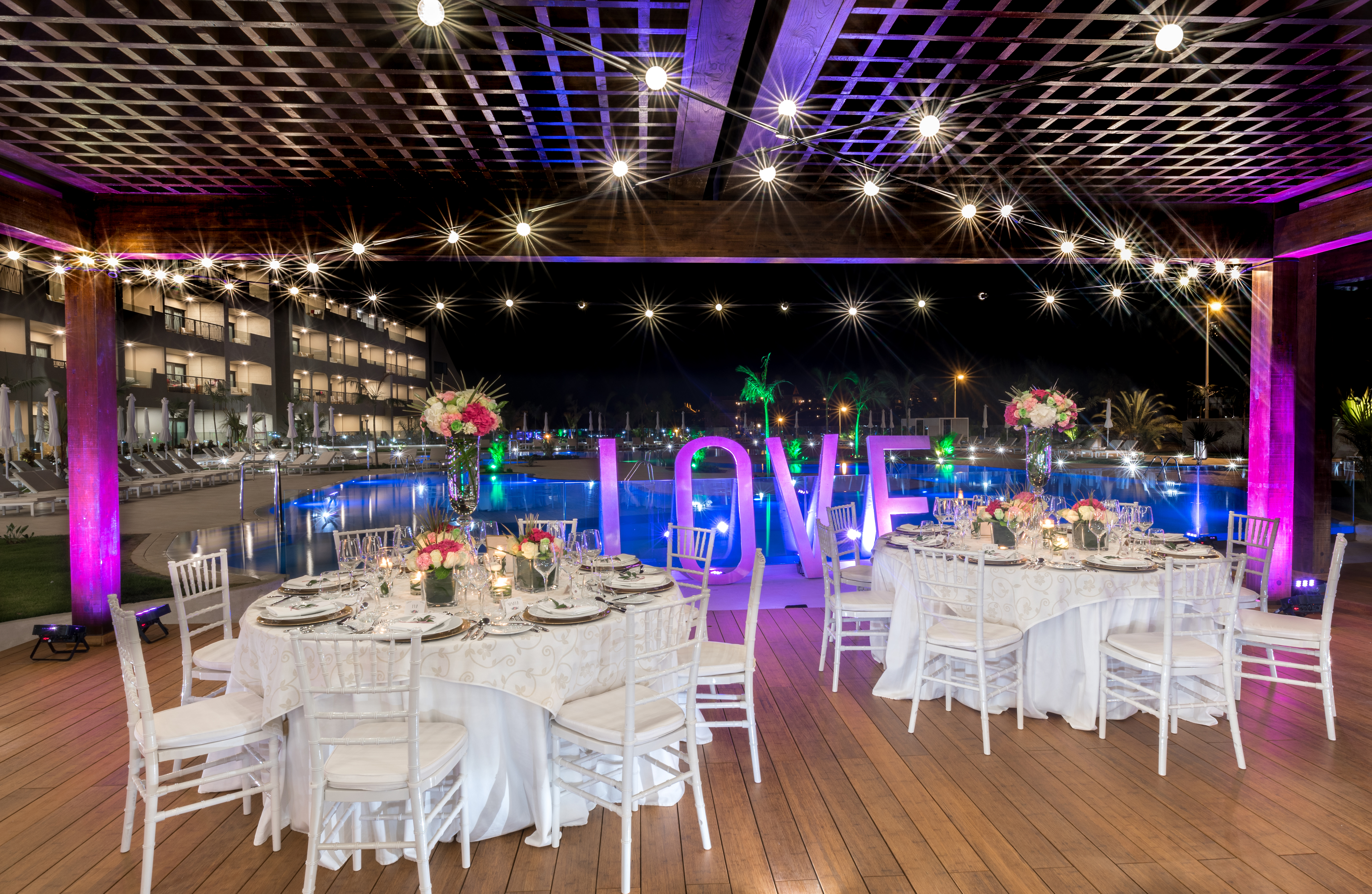 For larger weddings over 200 guests, we can offer you the pergolas and surroundings of the pool area.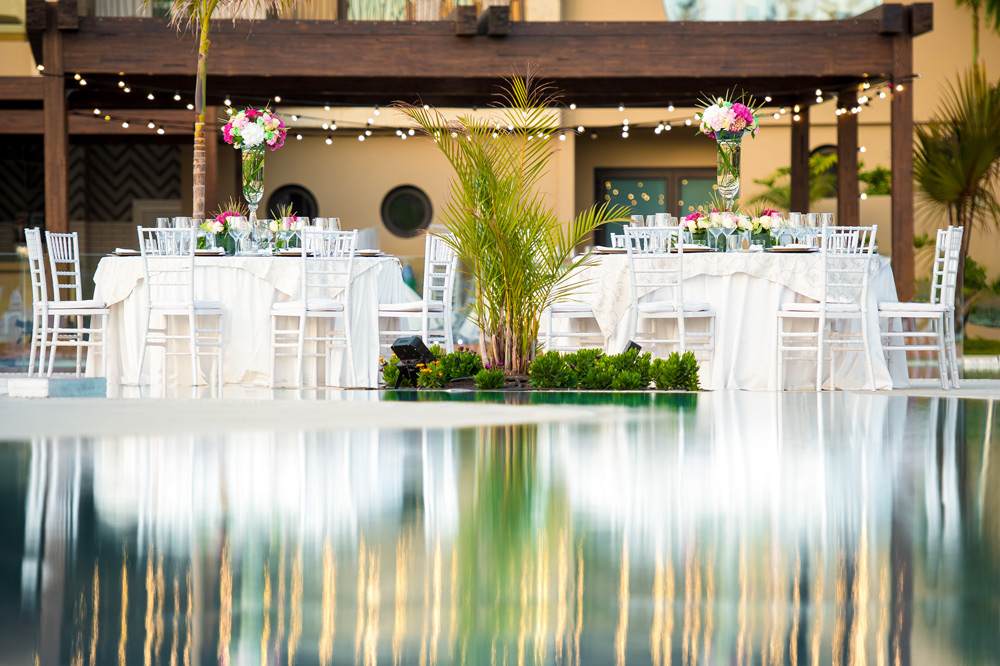 Sun Garden
A beautiful area decorated with fountains where banquets, cocktails and ceremonies can be held. Banquet option can be offered to a maximum of 200 diners and is surrounded by illuminated fountains.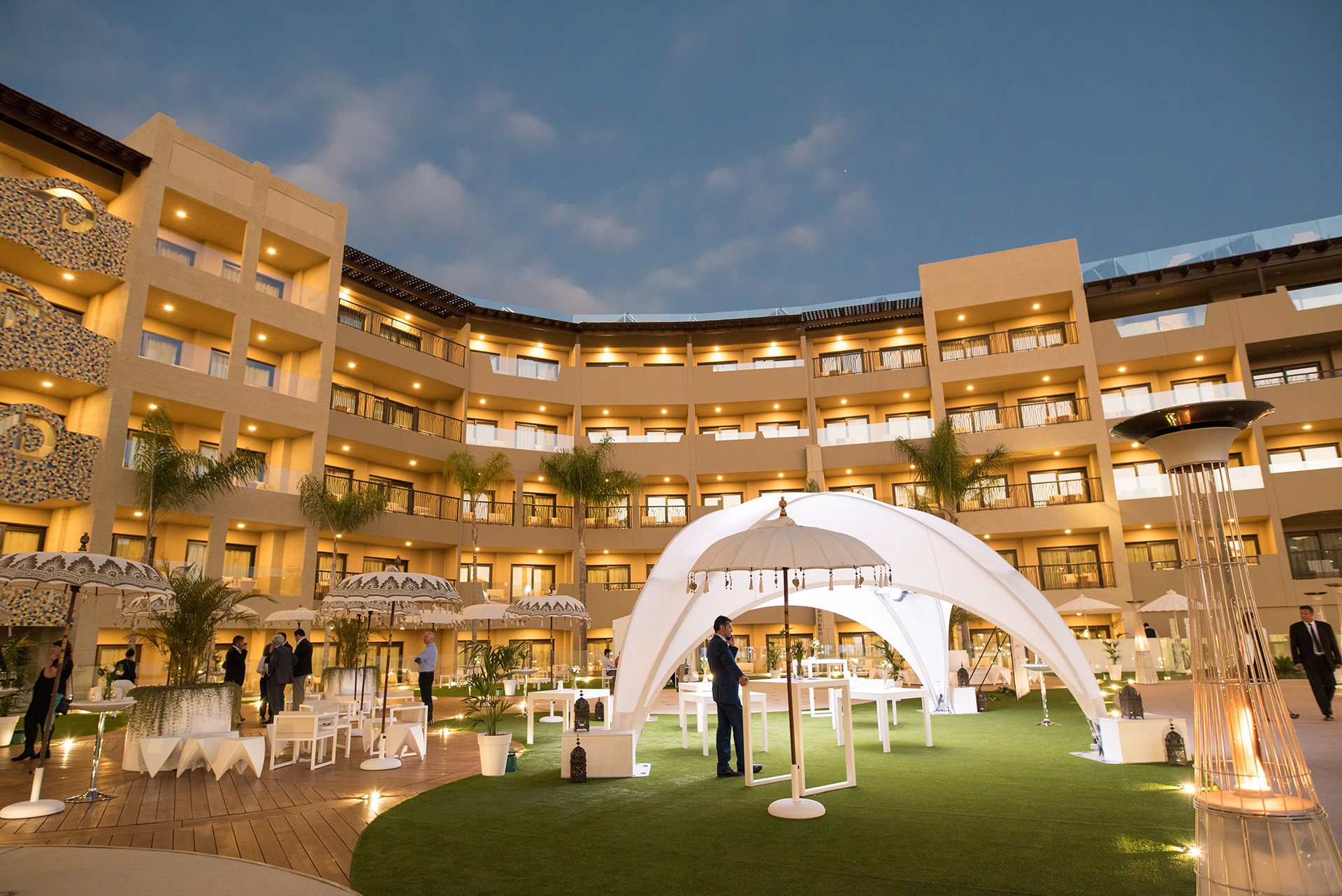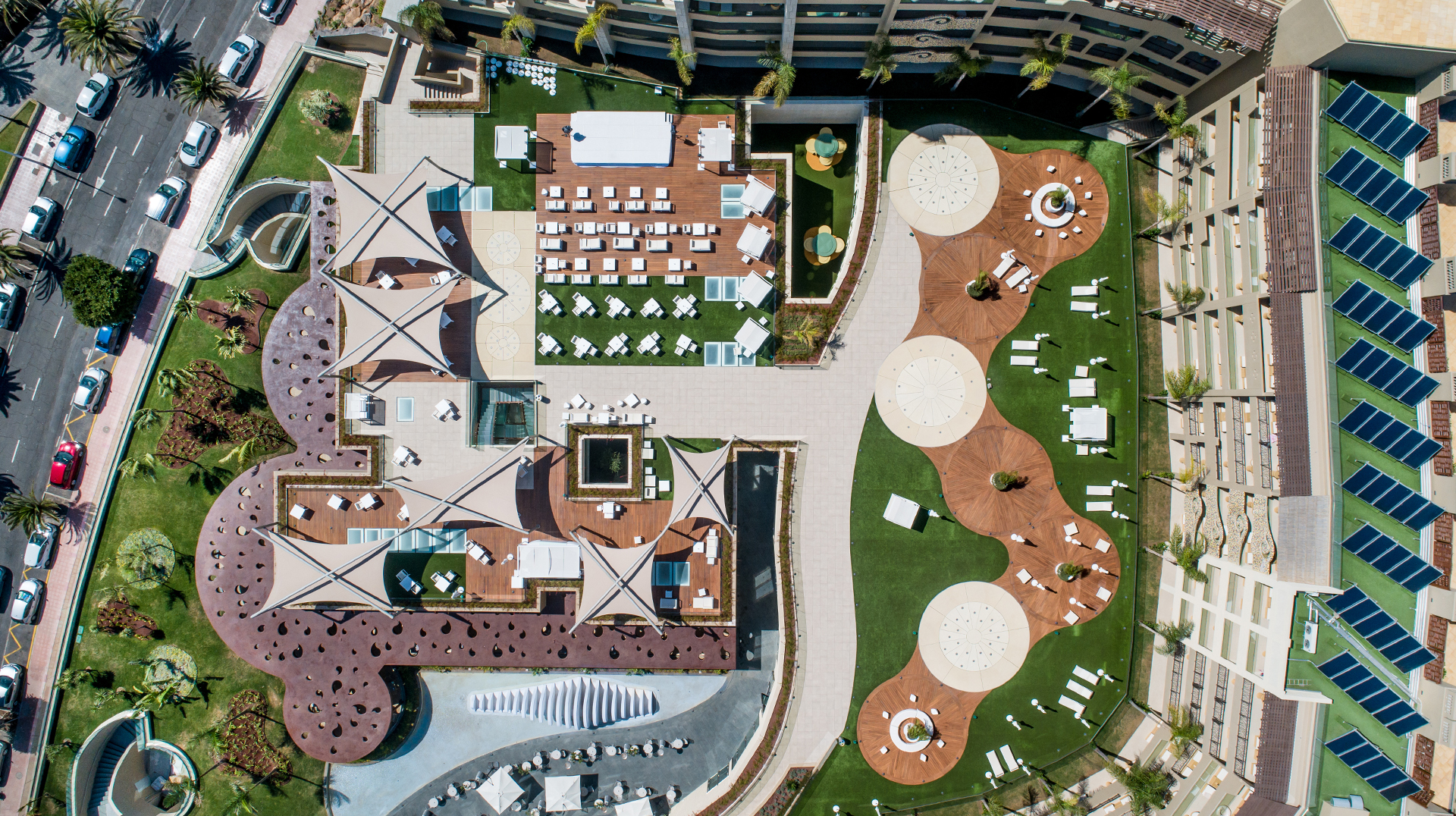 Room Las Olas
Our chameleon room can offer you the right space to impress your guests and get away from the Sun when the heat is too strong or to avoid uncomfortable weather conditions.
Illumination and shapes projected on the walls are customised by bride and groom to match their wedding theme.This indoor option offers the best sound system, illumination and projection features ever found in one place for events with not extra hire charges.
For those weddings that look for the convenience of their guests and they want to avoid moving venues for banquet and disco, this is also the right option as it can be changed completely when the disco party starts.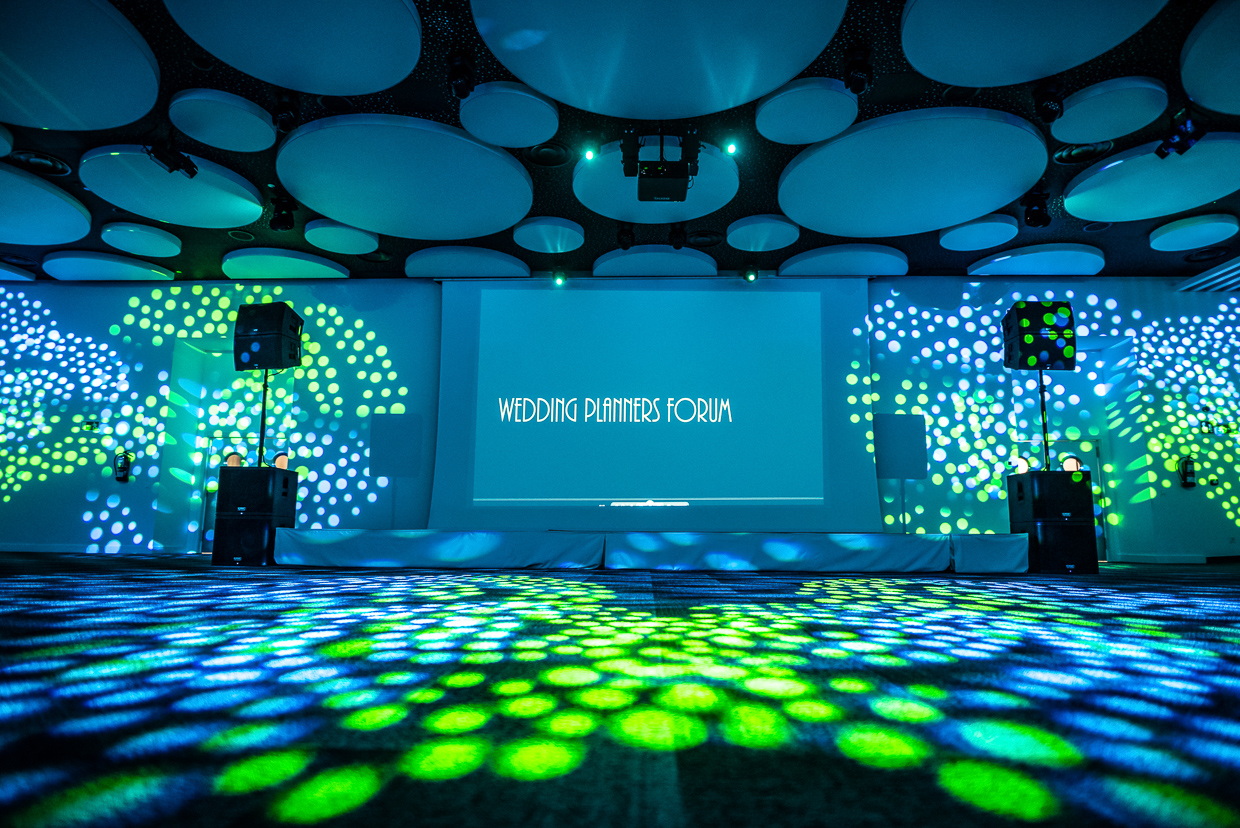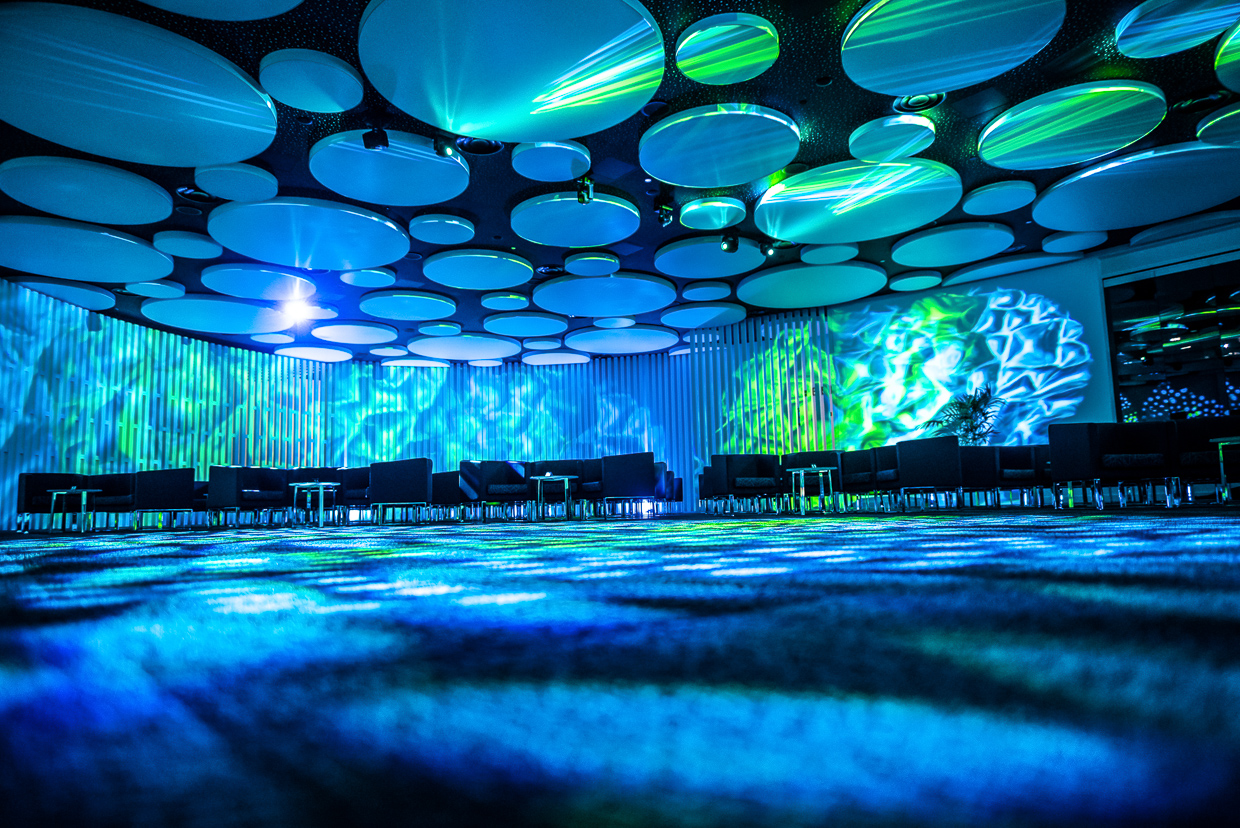 *Accommodation can be booked using this link for the most competitive rates
How are venue fees settled when booking via BookYourWeddingDay.com?

If your travel agent makes the booking, the venue fee may be included in your package.
If you book online yourself, contact the hotel/venue as soon as you receive your booking confirmation to settle the required venue fee.