Diamond Deluxe Hotel & Spa Adults Only Kos



































Book your Wedding Date
Diamond Deluxe Hotel & SPA is situated in one of the most ideal locations on the island of Kos; just across from the Lampi sandy beach, 2.5 km from Kos town, 24 km from the airport and 1,5 km from the shopping centre. The naturally inspired architecture harmoniously blends with minimal glamour, radiating a luxuriously chic aesthetic, both internally and externally.
Suites are beautiful spaces of comfortable proportion, all with sweeping views of the crystalline blue Aegean Sea and the immaculate 2000 sqm pool. State of the art facilities and exclusive, unsurpassed service create an idyllic have of sensual and modern sensibility. Each of the 110 rooms and suites exude an air of elegance and charm. Masterfully conceived and meticulously designed, the resort is truly a breathtaking abode nestled in endless blue. Surround yourself in style, whilst indulging in privacy, space and gracious service.
During your stay, choose between Buffet dinning at the Emerald Main Restaurant, Fine dinning medditerean flavours at the Peruzzi a la carte Restaurant, or alternatively, light casual snacks or drinks at the Marquise Lobby and Radiand Pool Bars.
The Mazarin Luxury Health Club, renowned for its wellness philosophy, offers a customized range of spa threatments in an ambient, zen atmosphere. It is one of the largest spas on Kos, a total of 100 sqm with an 80 sqm heated indoor pool, fitness center and sport facilities. Certainly an ideal way to keep fit and pampered while on holiday.
Relaxed, discreet luxury creates a world which mimics paradise itself. A World for the elite traveler, who expects and deserves only the best.
Ceremony venue

PRIVATE CHAPEL
Set within the hotel grounds the onsite chapel. Simplicity is the key, making sure you and your guest's can enjoy your special moment and the total beauty that surrounds you.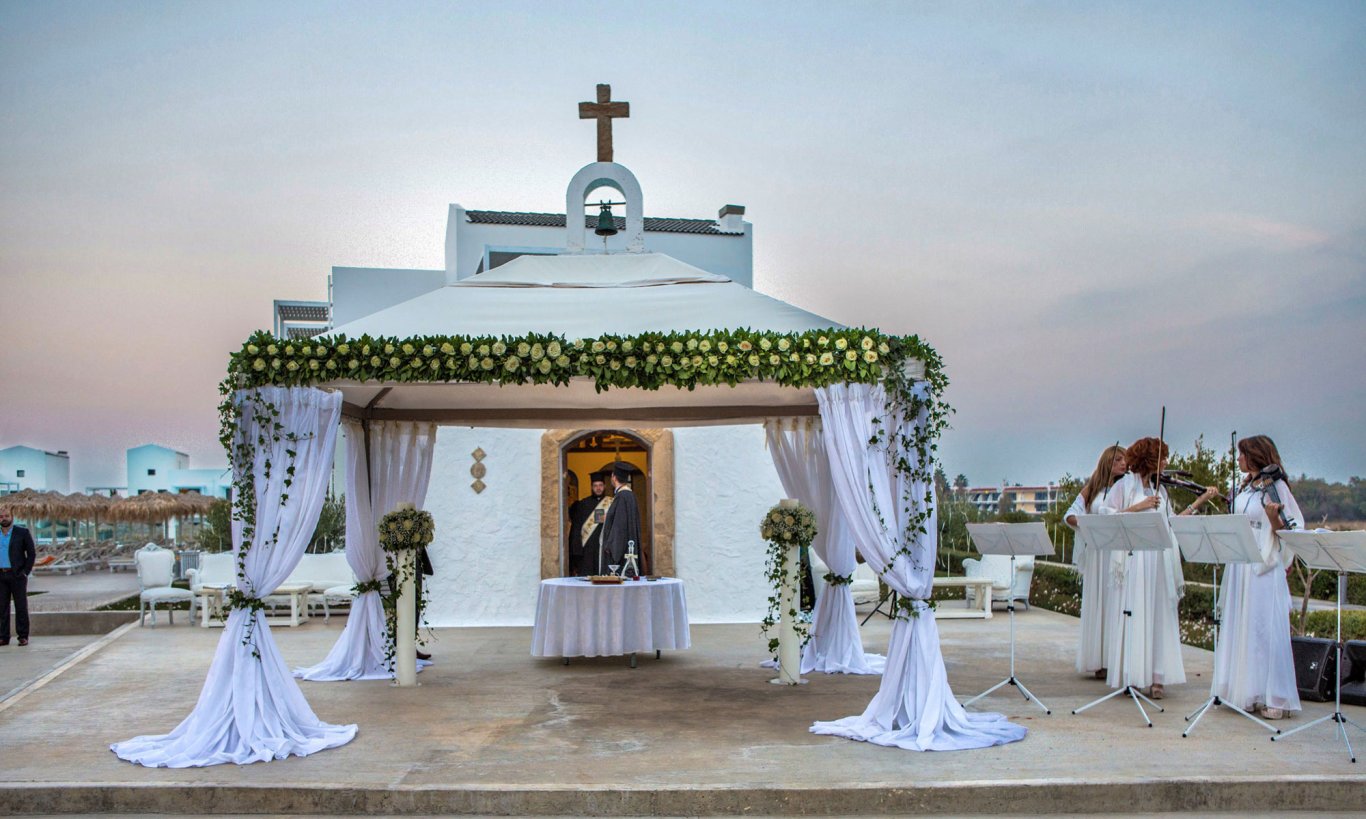 BEACHFRONT VENUE
The sandy beach and stunning views looking over to Turkey coastline is just another reason to bring on the "happy tears" on your wedding day. The venue is tastefully decorated and the floral décor is to suit your wedding theme.

Banqueting venue

PERUZZI A LA CARTE RESTAURANT
Located at the top floor of the hotel with a private balcony overlooking the Turkey Coastline and the Aegean Beach. The sunset view is magnificent. It can accommodate and cater 80 persons.
BEACHFRONT VENUE
The venue can be cater at the private beach of the hotel and it can be combined with the ceremony. It can cater up to 50 persons.
How are venue fees settled when booking via BookYourWeddingDay.com?