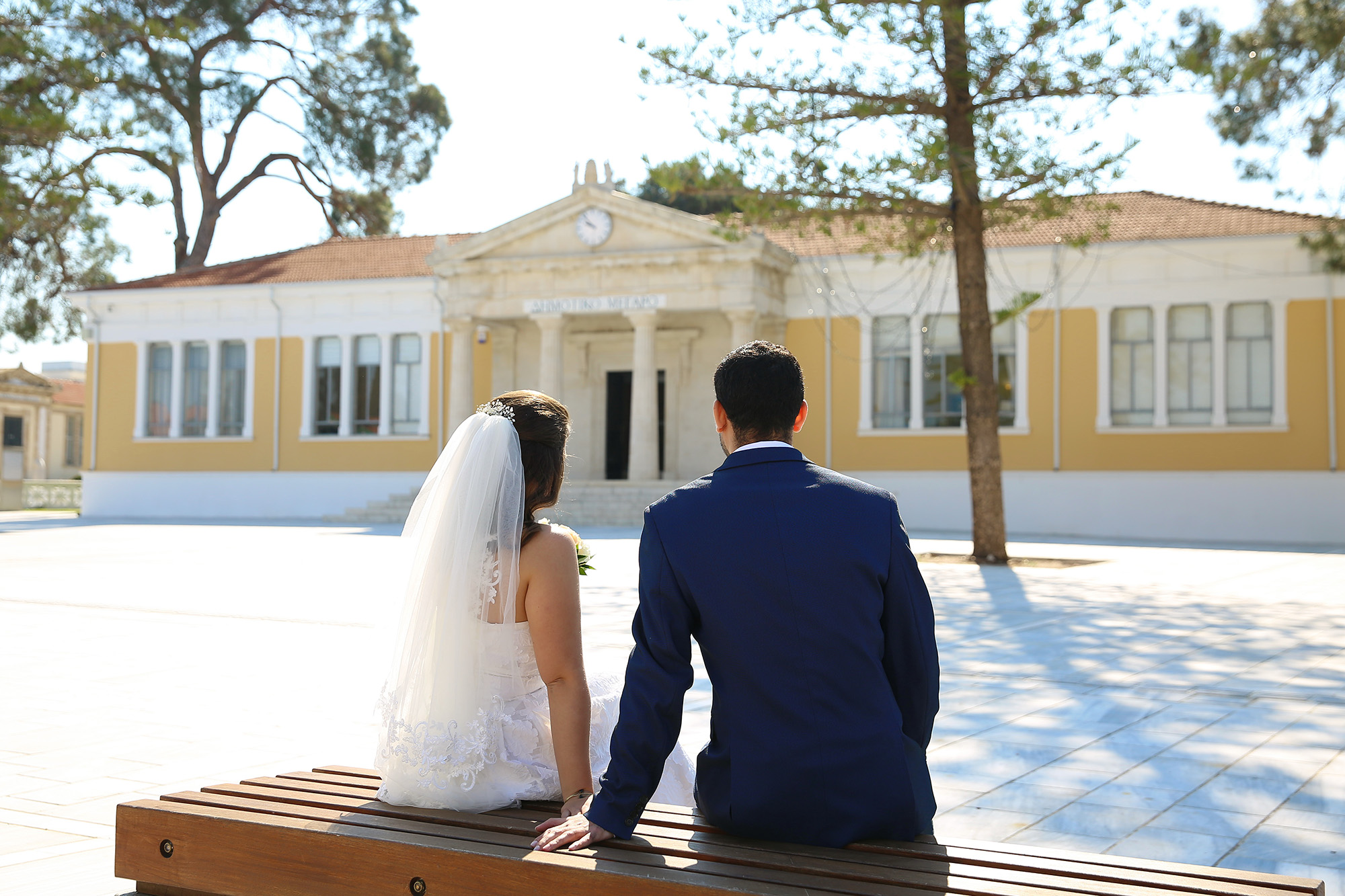 Book your Wedding Date
Cyprus is classified as one of the top class destinations for tourists all over the world, and during the last years has advanced to an ideal wedding venue for thousands of couples desiring to exchange vows and experience a romantic honeymoon. The Municipality of Pafos, for more than 20 years, is honored with trust by thousands of couples all over the world who wish to onset their common life in Pafos, the birthplace of Aphrodite, the Greek Goddess of Love and Beauty.
Located in the western coast of the island, the town of Pafos is the most popular wedding and holiday venue of the country. A town of history and culture, a place of unique beauty, a cosmopolitan resort, a hospitable locality; Pafos is definitely a challenging getaway, a dreamful alternative for those who seek to spend the most precious days of their life on a unique and breathtaking coastal resort.
Whether you are committing for a lifetime, or reaffirming your love, in the town of Pafos you are guaranteed a treasured wedding and honeymoon experience.
Please note that weddings on Sundays can be performed upon special request on support@bookyourweddingday.com
Ceremony venue

PAFOS TOWN HALL
Pafos Town Hall is located in the heart of the town and it is the most popular choice to celebrate a civil wedding. Built in 1955 in a classical style and surrounded by a range of historical buildings, the Pafos Town Hall is the most elegant choice to memorialise your wedding. An excellent choice for couples that wish to have their wedding at an inside venue, fully airconditioned which can hold up to 20 people sitting.
Εxtra fee: €100,08 (non-working hours). Total charge: €281,92 (working hours) and €382 (non-working hours).
The Municipality of Pafos offers a wide range of ceremony options to suit the interest, budget and style of each and every couple. The choice of another ceremony venue other than the Town Hall, provides the advantage of holding your wedding ceremony in the same venue as your reception and/or accommodation.
The license fee is €281,92 and an extra fee is applied on the license fee according to the chosen wedding venue.
HOTEL RESORTS
The wedding can be performed in one of the top-ranged luxurious hotels of the town. Located along the coastline and overlooking the Mediterranean Sea, all hotels provide specially decorated wedding venues, in their gardens or on the beachfront.
Extra fee: €350,08. Total charge: €632.
YACHTS - https://www.bookyourweddingday.com/easyconsole.cfm/page/destinations/city/372/country/72
For a truly special experience, you could charter your own private yacht to perform your wedding. The wedding is performed on board on a prestigious yacht at the Pafos harbor followed by a romantic cruise along the coastline. Extra fee: €350,08. Total charge: €632.
ETHNOGRAPHIC MUSEUM - https://www.bookyourweddingday.com/easyconsole.cfm/page/venue/vid/152
For a stylish wedding with a touch of local history the Ethnographic Museum of Pafos is the ideal choice. In a specially decorated outdoor area you can have a private wedding ceremony in a traditional environment.
Extra fee: €100,08. Total charge: €382
MUNICIPAL PARK - https://www.bookyourweddingday.com/easyconsole.cfm/page/venue/vid/208
A wedding can be performed in a truly idyllic environment, among trees and bushes, located only minutes away from the Town Hall. A romantic hidden spot of the town with; an alternative option for those couples who seek the privacy of a little eden.
Extra fee: €100,08. Total charge: €382.
OTTOMAN (TURKISH) BATHS : THE HAMAM - https://www.bookyourweddingday.com/easyconsole.cfm/page/venue/vid/143
Found near the old market place, the Ottoman (Turkish) baths provide an ideal choice for those who seek to celebrate their wedding in an environment that combines the old and new with perfect harmony. The Ottoman Baths operate today as a Municipal Cultural Center and a marvelous outdoor area has been landscaped to meet the needs for an exclusive wedding ceremony. Smaller weddings can also be performed on the inside.
Extra fee: €100,08. Total charge: €382.
LEMBA BEACH - https://www.bookyourweddingday.com/easyconsole.cfm/page/venue/vid/306
An undeniably romantic place for a wedding with its postcard-perfect stretch of sand. From simple to elegant ceremonies, the Lemba beach can make magic happen. The picturesque waters of the Mediterranean provide a gorgeous backdrop to enjoy a dreamful wedding. The marvelous beach front of Lemba lies at a convenient location just 15 minutes from Pafos town centre.
Extra fee: €200,08. Total charge: €482.
VRYSI OF LEMBA
The Vrysi of Lemba is not a place to miss. If you are an outdoor kind of gal looking for a fresh approach to your wedding nothing beats a natural setting, plenty of sunshine and a marvellous view of the Mediterranean. The Vrysi of Lemba lies in an idyllic and private setting with panoramic views of the Mediterranean. Only minutes away from the Cultural Village of Lemba, the first cultural village of the country, one can combine a truly romantic ceremony with a traditional yet lavish wedding reception.
Extra fee: €200,08. Total charge: €482.
MUNICIPAL GALLERY - https://www.bookyourweddingday.com/easyconsole.cfm/page/venue/vid/588
Τhe Μunicipal Gallery is located in the center of the Municipal Park of Pafos only few minutes away from the Town Hall. The Gallery hosts the artworks of local artists and constitutes the perfect choice for couples who seek a quiet and private ceremony in the yards of a marvellous two-storey renovated mansion. A class choice with a traditional touch.
Extra fee: €100,08. Total charge: €382.
Banqueting venue

As the Town Hall does not offer banqueting, your travel agent or the wedding coordinator of your hotel can arrange for your wedding reception to take place at one of the amazing restaurants in the area, or at your hotel premises.
IMPORTANT NOTICE
The couple has an option of two types of ceremonies, civil, church or both. They are both perfectly legal and recognized worldwide. The same paperwork is required for either ceremony venue. The required original documents the couple needs to possess the following during the application procedure are the following:
Passports
Documents of single status confirming that each person is single and free to marry valid for at least 6 months.
Copies of two witness passports over the age of 18.
and/or the following original documents (if applicable)
Decree absolute
Deed poll proof of name change
Death certificate of spouse
Evidence of parental consent if under 18 years old
For a list of the required legalities for Cypriot, British, Irish, Scottish, Russian and Israeli nationals please click click here. For other nationalities, you can contact the Civil Marriage Office.
Religious Ceremony
In case the couple wishes to have a religious marriage, the same legal requirements and procedure applies as in the civil wedding. However, in addition, during the application procedure, the couple is given a "Certificate of notice and fixing date and place of the celebration of marriage", thus allowing them to have a religious ceremony at a church within the municipal boarders. The chapels or churches in Pafos where the couple can contract a religious wedding are the following:
Agia Kyriaki Chrysopolitissa (The church by St. Paul's Pillar)
St. George (at St. George Hotel)
Virgin Life Giving Source (at the Elysium Hotel)
St. Savvas (at Kefalos Beach Tourist Village)
All Saints (at Azia Hotel)
St. Catherine (Aphrodite Hills Resort)
For an Anglican Wedding contact Mrs Trudie Murphy at:
Mob. + 35799212627
Fax. + 35726952486
Εmail: anglicancofp@cytanet.com.cy
For a Catholic Wedding contact Mrs Suzie Allen
Mob. +35799613715
Fax + 35726931640
Email: suzieincyprus@yahoo.com
Homepage: www.stpauls-catholic-parish-paphos.com
How are venue fees settled when booking via BookYourWeddingDay.com?